Calling all pumpkin pie lovers! A new take on an old classic is all over TikTok: pumpkin pie dip. This dessert is far simpler than a pumpkin pie but still packs the same fall flavor punch. While there are many variations on this trend, most only require three to four ingredients. It's easy as pie (dip)!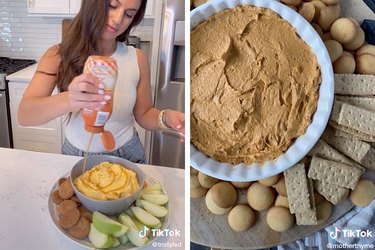 The first variation on this no-bake pie dip comes from TikToker @tnstyled. Their recipe calls for one 8-ounce container of light Cool Whip, one 15-ounce can of pumpkin pie mix and one block of cream cheese. All you have to do is blend these ingredients together, top the mixture with optional caramel sauce and serve the dip with your favorite snacks. @tnstyled recommends pairing the dip with green apples, pretzels and gingersnap cookies.
If you'd like to skip the cream cheese, TikTok creator @motherthyme came up with a version that includes Jell-O pudding mix instead. This recipe list includes a 15-ounce can of pumpkin purée, one container of Cool Whip and one package of pumpkin spice pudding mix. Like the previous recipe, you can just blend these three ingredients and then serve. @motherthyme recommends serving the dip in a pie dish with Nilla Wafers and graham crackers.
If you're unable to find pumpkin pie pudding mix at the store, @aquickspoonful has a hack for that. For their take on the pumpkin pie dip trend, they first mix together one 15-ounce can of pumpkin, one packet of Jell-O's instant vanilla pudding and 1 teaspoon of pumpkin pie spice. They then fold in one container of Cool Whip. As far as dipping options go, @aquickspoonful's choice is your favorite cookie.
Tip
TikTok creator @aquickspoonful recommends refrigerating your pumpkin pie dip for one hour before serving. We think this is a great idea for any of these three versions because it will help the dip set and ensure an even temperature throughout the dip.
Personally, we're going to try all three of these pumpkin pie dip recipes over the course of fall and decide which one is our fall favorite!