One thing that most people agree on is that they like to eat, but cooking is a different story. The constant cleaning and searching for the right spoon is almost enough to make you use an app to order instead. Cooking can be fun but it could be even more exciting with a few lively gadgets. Here are few appliances that can make kitchen time a fun time.
Have you ever gone into your freezer and stared at bag of unidentifiable something? If yes, then Extreme Notes is the perfect kitchen tool to keep track of what you have. They're made with ultra-strong dura-hold paper and adhesive and come in orange, green and yellow. Extreme Notes are water resistant and stick on in hot and cold environments, thereby making them nearly impossible to miss.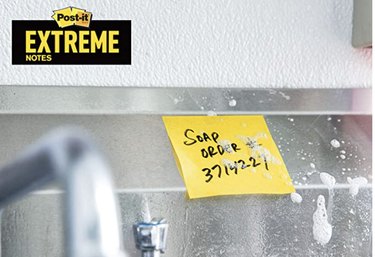 This second pair of gadgets can be thought of as a second pair hands. The So Handy finger mitts are made of silicone and exactly what you'd grab when reaching into the oven for that pizza. They also have a unique grip texture that would make it quite difficult for a dish to slip through your fingers. All in all, these are perfect for pandemic kitchen activities.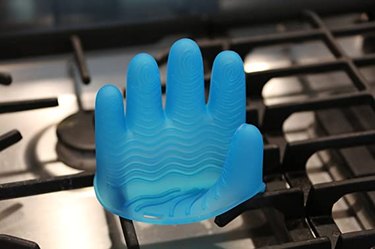 The Pop-ular Choice is a great gadget for those movie nights or days, or just for times when you're feeling snackish. It's also simple to use—the lid is for measuring the correct amount of popcorn which is then poured into the glass container and popped, no pun intended, into the microwave for 3 minutes or less. I don't know about you but I love when I don't have to expend too much effort for a snack.
4. Hamilton Beach Breakfast Sandwich Maker
This sandwich maker is a game changer. You would no longer have to consider buying a breakfast sandwich when you could just customize your own in 4 steps. This gadget cooks your choice of bread, meat and egg at the same time so the sandwich is ready when you are. The pieces are also easy to clean, so there would be virtually no excuse to not do it.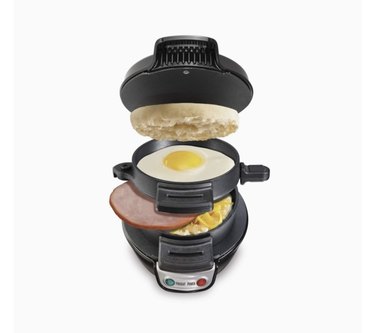 The Nice Spread is going to make your avocado toast look more than worthy of an Instagram post. This knife is made from stainless steel so it's durable and has 3 distinct uses; spreading, cutting and making 2 different types of butter curls. Your bread will look aesthetically pleasing right before you devour it.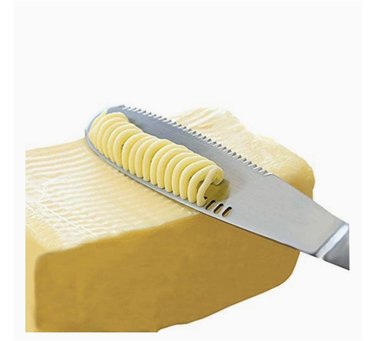 Main Squeeze takes all the guesswork out of pancake sizing. Pancakes are delicious breakfast staples, but worrying about making the perfect size almost makes you not want to bother with them. Main Squeeze is described as a pancake pen allowing the user to make any shape they want and then eat them! There wouldn't be a need for longer, messy spoons and ladles with this nifty thing in your pantry.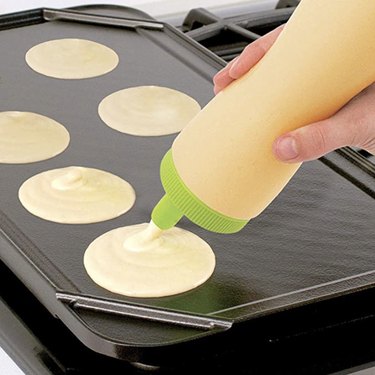 7. Whisk Wiper Multipurpose Tool
Baking is going to be so much easier with the whisk wiper. The wiper helps to keep all of that extra recipe mix in the bowl instead of all over the sides of the whisk. This would be a great gift for someone who loves to bake or as a hint for someone to bake you something; either way your stomach and your kitchen will be happy.
Air fryers were huge in the last year, so it comes as no surprise that they would be included in this list. They can do so much—toast a bagel, bake salmon, fry dumplings, and reheat old takeout. The Ninja Air Fryer is no exception, plus it's quite powerful and does the above very quickly. It's also black so it will definitely match any kitchen.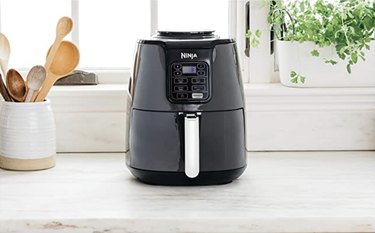 9. Vegetable Slicer Gadget
Cutting vegetables is going to be such a breeze with this little tool. The slicer takes the guesswork out of sizing the slices just right. It's advertised to be used with onions and tomatoes, which in my humble opinion are the hardest vegetables to get just right. This gadget would definitely save time and tears, if you're cutting an onion.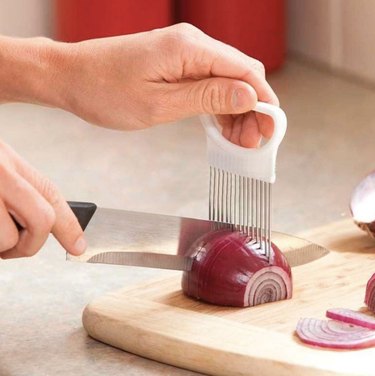 10. Prepworks by Progressive Avocado Keeper
You've seen the meme about the avocado. You have to catch that magical moment that it's ready to be eaten, otherwise there's just sadness and a brown film left. The keeper is perfectly sized for the avocado and allows the user to only use however much they need. As someone who loves avocados and hates seeing the dreaded brown film, this will definitely be put into my cart.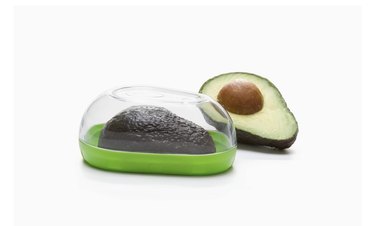 If you have resigned yourself to using delivery apps to sustain yourself, that's totally understandable—but if you're trying to add a little spice to your daily routine then at least one of these tools will make that journey much more fun. It could even turn into a hidden talent or a beloved hobby. You won't know until you've given one of these little babies a try. Happy adventuring!