Things You'll Need
Used wool clothes

Washing machine

Laundry soap

Dryer

Scissors

Rotary cutter

Rotary mat

Rotary ruler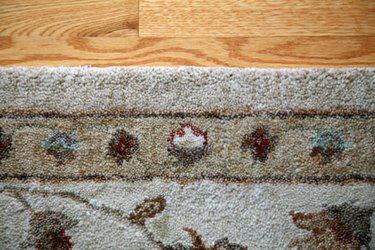 Hooked rugs have been made in the United States for centuries, and they are one of the greenest, most frugal craft items you can make. A spool of thread is the only new item that's absolutely necessary to complete a finished rug. While many modern crafters opt for new rug backing instead of recycled burlap bags, using previously-worn wool clothing is a money-saving option for the actual rug strips. Search thrift stores and your own garment storage for gently used wool garments for your rug-hooking supplies.
Step 1
Place the used wool clothing into a washing machine. Add the recommended amount of laundry soap for a regular wash. Wash the load of clothing on warm water to help release the dirt from the fabric. Dry the clothing in the dryer when it is finished washing.
Step 2
Cut apart the clothing at the seams and snip away any stitched-together pieces. Remove any buttons or trim and save them for another project, if desired. You will be left with an assortment of oddly shaped larger pieces of wool fabric.
Step 3
Look at the fabric to see the lines of threads that run across and up and down. These are called the grain lines. Lay a piece of fabric on the cutting mat with the grain lines running parallel with the cutting lines printed on the mat.
Step 4
Lay a rotary ruler onto the fabric near the right edge. Hold the ruler down with your left hand so that it stays in place on top of the fabric. Hold the rotary cutter in your right hand. Roll the cutter along the fabric right next to the ruler, slicing off the edge of the fabric. This will create a clean edge for the beginning of your first strip.
Step 5
Move the ruler 1/2 inch to the left. You can tell how far you moved it by checking the lines on the ruled cutting mat. Cut another slice of fabric, keeping the cutter right against the ruler. You have now made a 1/2 inch strip of wool fabric.
Step 6
Cut the rest of the fabric piece into 1/2 inch strips, stopping the slicing when you have very little usable fabric left. Don't bother cutting if the pieces will turn out to be only a couple of inches long. Move on to the next piece of fabric, and slice it and all the other pieces in the same manner.
Tip
Place the fabric with the longer side going up and down so that you get the longest strips when you cut. Washing the wool fabric will felt the wool if it has a high wool content.
Warning
A rotary cutter is basically a round razor blade on a handle. Be very careful when using it, as it is very easy to cut yourself with this tool.