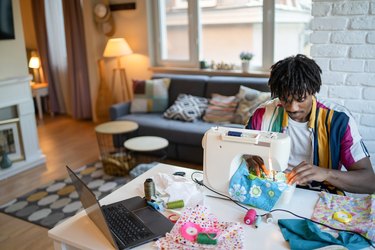 If you find yourself balancing a full plate of spaghetti on top of a half-sewn garment, bowls of pins, pattern books and quilt squares that are all strewn about your dining room table, it might be time to purchase a special table dedicated just to sewing. Walking up to an organized and comfortable workstation when the urge strikes to sew or quilt will change your world. Whether you have loads of space to devote to your hobby or even if your space is limited, there is a perfect sewing table to serve as your command station. We're here to help you narrow down the choices and find a sewing table that will suit your sewing and quilting needs.
What to Consider When Purchasing a Sewing Table
​Size:​ Sewing tables come in many shapes and sizes so determining what kind of sewing you do most often will help to establish the size of your sewing table. If you just plan on doing a few alterations or mending a bit, then a smaller, more compact table will be plenty for you. But, if you spend a good portion of your time sewing garments, quilts, home decor and gifts, then you'll need a much larger table or cabinet. More frequent sewing will also require a table with lots of storage and a larger work surface.
​Sewing Space:​ You also need to consider how much real estate you can devote to a sewing table or cabinet. If your space is a multifunctional room used for many different purposes, you might want to consider a table that will double over as something else when you're not sewing. If your area devoted to sewing is small, then you'll want to stay with a modest work surface that fits in your space or folds up and can be put away when not in use. However, if you're fortunate enough to have a large room devoted to your craft, then you can entertain the idea of getting a much larger table with a generous amount of work surface and loads of storage. Whatever table you choose, be sure to measure your space before you order to verify that it will fit.
​Storage:​ If storing your sewing tools, patterns, notions and fabric is important to you, you'll need to think about how much storage is included with your sewing table. Some tables feature drawers and cabinets, baskets and trays, thread and ribbon storage as well as cutting mat storage. Decide whether you are fine with your sewing items being visible in baskets and on shelves, or if you'd rather have them stored away out of sight in cupboards and drawers.
​Features:​ Many of the smaller, more inexpensive tables are basically just a table to put your sewing machine on and sew. This is fine if you prefer to sew once in a while. But if sewing is a hobby that you enjoy doing quite often or if you sew to make some extra money, then you'll want to look at tables that have better features. Some tables have built-in gridded work surfaces, some have a sewing machine airlift to eliminate heavy lifting, some have an edge ruler, and some even have an ironing cover to give you a pressing area.
​Budget:​ You can spend anywhere from $80 to $1,800 when buying a sewing table so it's best to assess your sewing needs before you begin to shop. The less costly, more standard, tables will include a flat surface, perhaps a drop-down leaf and most likely a basket for storage. The more expensive tables will include loads of storage cabinets and compartments, plenty of work surfaces, options for different types of sewing machines, adjustable heights and durable construction.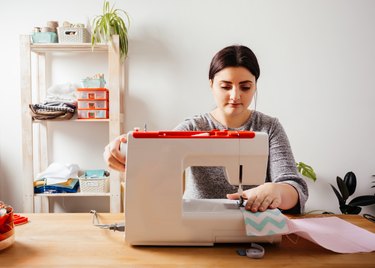 The Best Overall Sewing Table
Sauder Storage Sewing and Craft Cart
This is definitely one of the most stylish sewing tables on the market. Since it has lockable caster feet it will roll to wherever you'd like to work and folds up to create a stylish side table that will fit in most spaces. It's solid and weighs 78.9 pounds, which makes it a stable and sturdy work area. The five different finishes to choose from: Cinnamon Cherry, Mystic Oak, Soft White, Soft White/Oak Top, and Vintage Oak. The Sauder Sewing and Craft table is a comfortable 28.5 inches high and the spacious top surface measures 39.3 inches long and 19.5 inches wide. The doors roll open to reveal two storage bins for storing scissors, thread, pins, needles and other notions. There are two adjustable shelves for patterns and fabric, plus a hidden shelf for sewing machine storage. It comes with step-by-step assembly instructions, complete with pictures, and the only tool you'll need to put this table together is a Phillips screwdriver.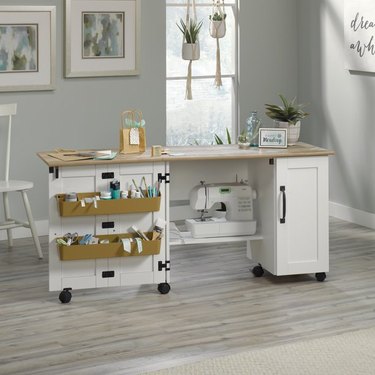 The Best Budget Sewing Table
If you want to keep your spending at a minimum, the Homfa Sewing Table is a good option for you. This versatile and multifunctional table could be used as a sewing table, computer desk, or even a bedside table. The rotating wheels make it effortless to move and two of the wheels lock in place to create a stable work surface. It has four open side shelves for displaying supplies and a bottom shelf for sewing machine storage. The top folds down to fit into small spaces and opens up when you need to work with large fabric pieces. When it's open, it measures 51.2 inches long and 18.9 inches wide. When the top is folded down, it measures 31.5 inches long and 18.9 inches wide. The height of this table is 29.5 inches. It's made from easy-to-clean, scratch-resistant hardwood and engineered wood. All tools and hardware are included with detailed assembly instructions as well as a 12-month after-sales service.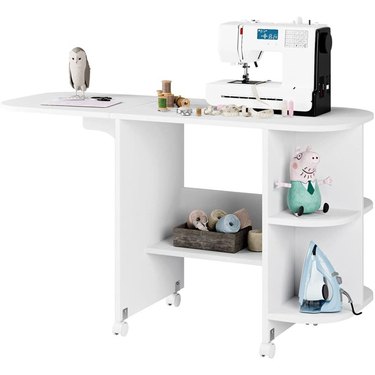 The Best Compact Sewing Table
Best Choice Products Folding Sewing Table
If your space is limited but you still want to have a sewing and craft area, The Best Choice Products Sewing Table could be the right fit for you. When it's closed, you can roll it out of the way to become a stylish side table. When the sewing bug strikes, simply roll it out, open it up, and all your supplies and materials are at your fingertips. When open, the 46-inch-long by 16-inch-wide worktop gives you plenty of space to work and set up your sewing machine. When you're finished sewing, just close it up, roll it out of the way, and it becomes a stylish 23-inch-by-16-inch side table. This table comes in three finishes—White, Gay and Espresso—that will go with most home decor color schemes. The five lockable caster wheels make it easy to move wherever you'd like. When the table is open, place your thread on the 20 wooden pegs available for convenient storage. There are two bins provided to keep your scissors, pins, material and other supplies organized. Your sewing machine can be tucked away on the bottom shelf when your table is closed and not in use.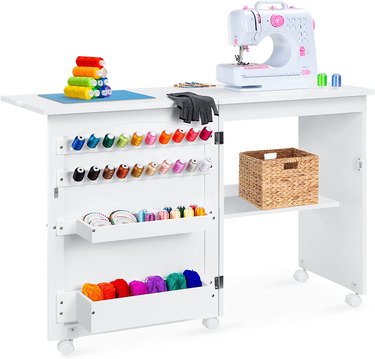 The Best Portable Sewing Table
SewStation 101 Portable Sewing Table
Many quilters and sewists travel to seminars, classes and retreats. If you like participating in group sewing, you might need to have a portable sewing table that folds flat. The SewStation 101 by The SewingRite Store folds up for handy transport. It only weighs 27.9 pounds, so carrying it from your car to the house is quite manageable. It's made of sturdy metal and comes in black or white finishes. The table surface is 40 inches long and 19.75 inches wide, which makes it large enough to be useful at most quilting and sewing events. It also includes a drop shelf for your sewing machine to allow you to sew on a flat surface. Even if you're not planning on traveling, it would be nice to have an extra sewing table available just in case you invite friends over for a sewing experience in your home.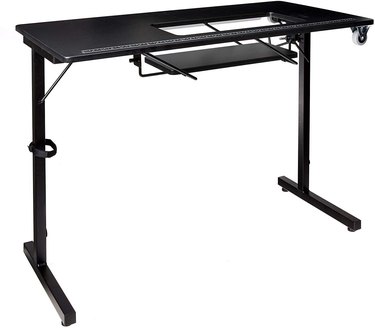 The Best Splurge-Worthy Sewing Table
Arrow K8411 Wallaby II Kangaroo Sewing Table
For those of you who love to sew and spend loads of time with your machine or generate income from your sewing talents, you'll want to be as comfortable and organized as possible to get the most out of your time. The Arrow Wallaby II Kangaroo Sewing Table is designed with sewing comfort and stamina in mind. It includes a three-position airlift to eliminate heavy lifting. You can effortlessly move the sewing machine up and down to create a flat sewing surface. Then when you're finished creating for the day, lower the airlift all the way down to store your machine. The space to the left of the cabinet allows you to have a second machine such as a serger or a felting machine within reach. There is also a quilt leaf on the back which folds up or down to help keep your large projects from falling on the floor. When the table is completely opened up, the work surface measures 60 inches long and 70 inches wide. The ergonomically-friendly height of 29.5 inches helps to make long stretches of sewing comfortable. The cabinet weighs a substantial 171 pounds by itself and has locking industrial casters to provide a stable sewing space. This sturdy cabinet is designed with two drawers for scissors, pins and other small notions. It also has three door bins for even more storage. It comes in White Ash and beautiful Teak finishes. You can even purchase additional storage pieces if you'd like to coordinate the other furniture in your sewing room.