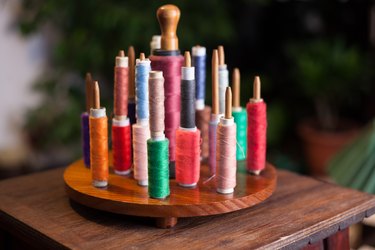 Spools of thread, bobbins and skeins of embroidery floss have a reputation for unspooling, rolling around and getting into a tangled mess if not stored properly. Your time is valuable and nobody wants to use up all of their creative energy unraveling miles and miles of thread before sewing or quilting. Fortunately, for very little investment in time and money, you can get your thread under control and organized. There are many thread storage and organization products to help you streamline your sewing hobby. Here, we'll help you in your quest to tame tangled thread with these six organization products.
What to Consider When Purchasing a Thread Organizer
​System:​ There are many different kinds of sewing threads so determining the attributes of the thread is instrumental in coming up with a thread organization system. Then, choosing an organizer will be a snap.
Color is one way to organize thread. Color would be a convenient way to organize if you like to have your brightly colored spools of thread on display as part of your sewing room decor and if easy access is important to you.
Each spool of thread is also made of different fibers: cotton, polyester, silk, metallic, embroidery and blends. If you work with many different types of fabric, it would be helpful to organize your thread by type so you won't accidentally reach for the wrong type of thread when switching projects.
You will also need to consider how your thread is wound before determining what type of thread organizer to buy. Some thread comes on spools, both large and small, some thread is wound onto bobbins or cones, and some come wrapped in skeins.
​Type:​ Once you've evaluated your thread storage needs, the next step is to figure out how you'd like to physically store your thread.
Thread storage cabinets are shallow cabinets meant to house large numbers of spools. Typically made of wood, they open to reveal thread inside the cabinet and on the door. This type of storage helps thread last longer and stay clean. When closed up in a dark cabinet, the sunlight won't deteriorate the thread and it will stay dust-free.
Clear drawers can visibly house spools, cones, bobbins and skeins. This type of organizer will also keep your thread clean.
Clear plastic cases with handles for easy transport work exceptionally well for those sewers who travel to classes, events and seminars. The thread is easily seen and retrieved in a clear plastic case as well as protected from dust and dirt.
Organizing thread in a fabric satchel with a zipper will also work well for sewers who are on the move. This type of thread organizer usually has a handle and comes in many fun colors and patterns.
Thread racks are available in metal or wood and can be freestanding on a table or mounted on a wall. This type of thread organizer can become part of your sewing room decor since the spools are visible.
Rotating thread storage racks are meant to be placed on a sewing table or in a cabinet. They are usually made from wood and have pegs on all sides.
Bobbin threads can be stored and organized in boxes, tucked into zippered cases, piled on towers, stacked on top of matching spools of thread using bobbin toppers or golf tees, or inserted into toe-separators.
You can also get creative and organize your threads in unusual glass jars with lids or on pegboards.
​Budget:​ Whether you wish to spend a couple of dollars or hundreds of dollars on thread organizers, there is a solution to suit your sewing room needs. Before you invest in a new way to organize and store your thread, we'd like to help you narrow down some of the choices.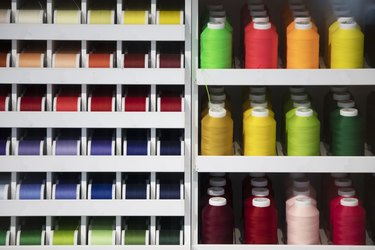 The Best Clear Drawer Thread Organizer
ArtBin Drawer Storage Cabinet
Wow, would you look at all those drawers! The ArtBin thread organizer has 30 drawers that each measure 1 1/2 inches tall by 2 1/4 inches wide by 5 1/2 inches deep. You could technically store up to 120 regular spools of thread in this organizer. The drawers will hold bobbins, large and small spools of cotton thread, and skeins of embroidery floss. If you have room left over after organizing all of your thread, you can even store other sewing notions and tools such as buttons, pins, needles, markers, seam rippers, small scissors, measuring tapes, thimbles, snaps and sewing machine feet. The ArtBin thread organizer is designed to be placed on a solid surface or hung on a wall. It comes in three sizes: 9 drawers, 30 drawers, and 39 drawers. Each cabinet can be stacked on top of the other in your cabinet, craft room or on your sewing table.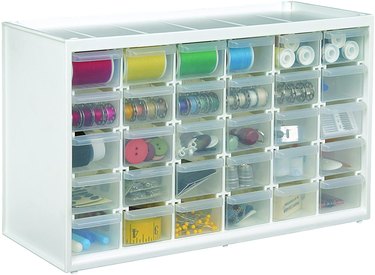 The Best Clear Plastic Case Thread Organizer
ArtBin Satchel Thread Box
The ArtBin Satchel Thread Box is designed for those who travel to sewing classes, seminars, and trainings. You can easily carry all of your favorite threads from place to place with the sturdy plastic handle. It has two snap-tight closures to keep your thread safe and sound inside the box. You can house a variety of thread types since it includes 108 pegs to store up to 224 20-millimeter spools, 108 32-millimeter spools, and 30 45-millimeter spools of thread. It measures 15.25 inches long by 14 inches wide by 3.5 inches tall and comes with two removable plastic trays.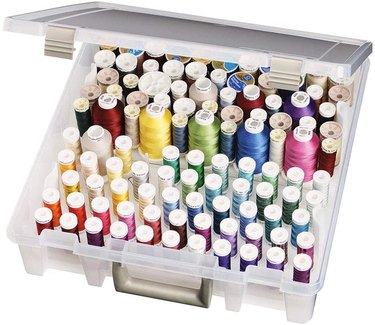 The Best Wooden Thread Organizer
Place the HERECO thread rack directly on your sewing table next to your machine and balance it with the two folded legs that pivot out from the back. Or, for an added decorative bonus, hang it on your wall with the hooks on the back of the rack for easy access to all of your threads. There are sixty 1.4-inch wooden spindles that will hold most sewing threads, including embroidery and quilting. You could even stack several similar bobbins onto each spindle for additional storage.
The Best Metal Thread Organizer
HAITARL Metal Thread Organizer
If you have a variety of thread sizes to organize, the HAITARL black metal thread organizer has 2.4-inch tall metal spindles that will work for small, medium and large spools of thread. Its 32 spindles have 2-inch spaces between them, so even serger cones of thread will fit on this rack. For less than $20, it's inexpensive enough to buy several racks if you have more than 32 spools of thread. It's easily mounted to the wall and comes with all the supplies you need to install: 2 plastic anchors, 2 screws, 3 stickers and even a screwdriver. And to top it all off, the manufacturer offers a 30-day return and 100% money-back guarantee if there is any problem with the rack.
The Best Rotating Thread Organizer
New Brothread Rotating Thread Rack
For a clean and organized sewing room, organize your thread on the New Brothread Rotating Thread Rack. This natural beechwood rack has 21 wooden spindles on each side for a total of 84 spindles. Each spindle is 6 millimeters in diameter, which will fit most regular spools of thread. It measures 16.69 inches tall and 9.96 inches wide, so you could place it on your sewing table for easy access or in your sewing cabinet if you'd like to keep it out of the way. You easily can move it in and out of your storage area since it only weighs 5.26 pounds. If you'll be using this thread organizer as part of your sewing room decor, it can be painted any color to match your space.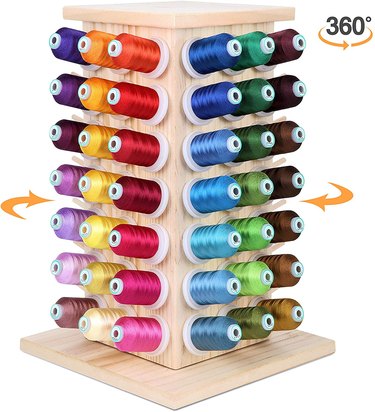 The Best Bobbin Thread Organizer
ALKOO Bobbin Case Organizer
Sewing bobbins are notorious for getting into a tangled mess. Keep your bobbins organized, tidy and handy in the ALKOO zippered bobbin case. There are 63 slots to keep bobbins safe and snug so they don't accidentally unwind. It closes with a zipper so you don't have to worry about your bobbins falling out. The 6.6-inch wide, 1.6-inch tall and 8.3-inch long case will easily fit into your sewing basket or into your luggage if you are traveling on a sewing adventure.