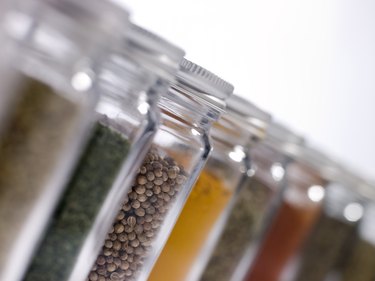 There are many types of spice racks on the market; racks that hold six to 12 spices, racks made of wood or stainless steel. However, it's easy to make your own spice rack at home using materials from your local home repair store. Make a homemade spice rack that holds as many spices as you like, in any color, that can be mounted anywhere in your kitchen and doesn't take up counter space.
Supplies
The main supply you need to make your own spice rack is vinyl molding. Though you can use wood or even glass to make this project, vinyl is easy to work with, cut, and it is also inexpensive. At your local home improvement retailer, buy square pieces of vinyl molding, which are white plastic and look almost like styrofoam. You will make each shelf out of longer pieces of molding, with shorter pieces running vertically to connect each shelf. The measurements can vary based on the size of spice rack that you want to use, but you can use two 12-inch pieces for each horizontal shelf as a guide. Make sure the molding you purchase is wide enough for the jars you are using, as well. You will also need white brads or nails to attach the molding to the wall. Purchase bottles for the spices from a home goods store or even a dollar store.
Process
To make your homemade spice rack, simply nail each end and the middle of the molding into the wall. Measure the shelves to make sure there is enough space in between each shelf for the bottles to stand upright. A variation of this method is to make the shelves deeper and position them closer together so that you can lay the bottles on their sides. Label the bottles by writing the names of each spice on a small round sticker on the lid. For a neater look, print labels on a computer. Organize the spices alphabetically so you can find them easily, or organize them by how often you use them; for instance, placing the spices you use most in alphabetical order on the top shelf.
Embellishments
To add a little color to your spice rack, paint the vinyl molding with acrylic paint in a color that matches your kitchen. Use silver paint if you have a lot of stainless steel in your kitchen, or use a color that matches the walls. Instead of paint, cover the spice rack in wallpaper or craft paper to add color or make it look more decorative.