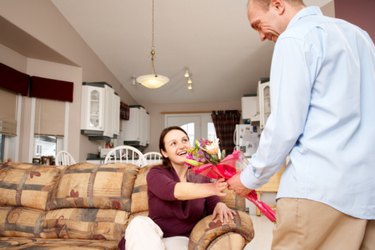 Anniversaries are exclusively for couples to focus on each other only, and celebrate their love for one another. Celebrating a monthly anniversary is an interesting way of keeping a relationship fresh and alive. Every month symbolizes something special for a couple that has to be complimented by a perfect gift. A perfect gift is the one that makes your partner smile every time he sees it until the next anniversary. All you need is some creative and innovative ideas to give your partner that perfect gift.
First Month Anniversary Gifts
The first month is always the special one that needs to be celebrated in a traditional way, particularly for women, who really look forward to seeing how it goes. A successful first month indicates that the couple can move ahead with their relationship. It can be celebrated by going out on a romantic dinner or musical night and then taking a walk on the beach or somewhere peaceful. Flowers and chocolates can be gifted as they symbolize sweetness and care. Stuffed toys and greeting cards also make nice, thoughtful presents. According to a popular proverb, "the way to a man's heart is through his stomach," which is why you could perhaps consider presenting him a home-baked food item, such as chocolate chip cookies, a heart-shaped cake or his favorite brownies.
Third Month Anniversary Gifts
Three months mark the relationship's status as approaching the "serious" mode. However, keep in mind that your partner may get a little overwhelmed if you make a big gesture by presenting something big or unusual. Whatever gift you choose, it should reflect that you are comfortable with how things are going and you are happy. To celebrate the marking of three months together, consider taking him to a concert or an amusement park, which will certainly lighten up the evening. You may also want to consider getting him a CD of a favorite music album, a DVD of a favorite movie or a customized T-shirt.
Sixth Month Anniversary Gifts
Naturally, as you proceed through the months, the relationship gets more serious. However, a six-month anniversary indicates that you two have successfully survived half a year together. The gift you choose must reflect your true feelings, and at the same time, should be exciting for your partner. Some ideas could be cologne; a piece of jewelry, like a bracelet or necklace; a wristwatch; a message in a bottle; a personalized poetry souvenir; customized photo frames; an engraved wallet or a personalized message delivered with red roses.
Twelfth Month Anniversary Gifts
The twelfth month anniversary marks the end of a year with your partner and it is the most-awaited month. Both married and unmarried couples celebrate this anniversary with excitement and love. The expectations are higher and the couple wants to make it a memorable celebration. Ideas can include engraved ring bands or pendants, accessories, love charms or gemstones. Men can gift diamonds to women, as they are considered a woman's best friend. If you find it appropriate, you may want to pick the ultimate diamond too, since one-year together is significant enough to be celebrated with an engagement ring.