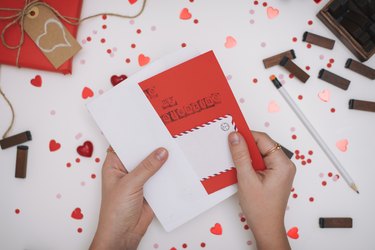 Without a card, you run the risk of your Valentine's Day gift being a little less meaningful. Sure, flowers, chocolates and other thoughtful gifts are always lovely (check out our list of handmade Valentine's Day gifts that you can buy on Etsy), but the sentiment behind the gift may be lost without a card. Even if you don't plan on giving an actual gift to your loved one on Valentine's Day, you can say a lot with a simple greeting card. A card allows you to express your affection for someone—whether it's in your own words, someone else's or both.
Etsy has a large collection of Valentine's Day cards—almost ‌too‌ large, which is why we're helping out by narrowing them down for you. Since the greeting cards on Etsy are made by small business owners, you can be sure that the cards are unique, special and way different than what you'd find in any Valentine's Day card aisle at your local store.
Just like with all greeting cards, there are lots of different designs and messages to choose from. Etsy offers several custom cards that allow you to add a photo or have one digitally designed, as well as regular ol' greeting cards. Whether you want to give a cute card to your child, a romantic one to your significant other, a funny one to your best friend, or a sentimental card to all of the above, we found some excellent options on Etsy and added them to our list, which you can find below. One or two of them are borderline NSFW, but it's Valentine's Day, so that's to be expected, right?
The Best Valentine's Day Cards for Significant Others
This card is fully customizable and looks like something you'd buy at the store. Add your own picture for the front of the card and include a message to be printed inside the card or handwrite your own after the card arrives. Your image can be printed in black and white or color, and you can choose from a long list of envelope colors. The card size is 4.25 inches by 5.5 inches and it's made from 100-point textured cardstock that's 30% post-consumer waste paper.
Customizable cards are extra sweet because they are clear proof that you went above and beyond in the thoughtfulness department. This one lets you upload a photo that will then be turned into a digitized print. There can be one to five people or pets in the photo. You can also select the font and background you like most. Customize the card even further with your own message on the front. The card is 4.5 inches by 6.25 inches and comes with a white envelope.
Here's an adorable Valentine's Day card to show your significant other how much you love them and to really drive home your love of cozy socks. The design is super cute and it's printed on matte white cardstock with professional-looking ink. The card is 5 inches by 5 inches with a blank interior and it comes paired with a white envelope.
We warned you that some of these cards would be NSFW, but that only makes them more hilarious. Perfect for anyone with a "d" to give to their significant other, this card is technically only inappropriate if you get the joke. Young kids will likely not get the joke, so no worries there. The size of the card is 4.25 inches by 5.5 inches and it comes with an envelope.
This is the absolute best card for anyone who met their partner on a dating site. It reads "You are the best thing I've ever found on the internet," which is probably mostly true, minus that one pair of shoes you love. Choose from either a 4.25-by-5.5-inch card or a 5-by-7-inch card.
The Best Valentine's Day Cards for Friends
Let your best friend (with a sense of humor) know that everyone is, in fact, shit except for them. This handmade card can either come with a blank interior or you can choose to have the designer handwrite your card with the message of your choosing, which is a great option if you're sending the card directly to your friend. The card measures 5.8 by 4.1 inches and comes with a kraft brown envelope.
If you have more than one friend to buy a Valentine's Day card for, this set is a great choice. The tag on the hand-drawn mason jar reads, "I hope your day is filled with love." The set comes with eight cards and envelopes. The cards come in two size options: 3.5 by 5 inches and 4.25 by 5.5 inches.
Send your bestie some love and let them know just how important they are to you with this sweet card. It reads, "you are a rare find, dear friend" next to a giant red heart with "thank you for being you" on the back. The inside of the card is blank so you can add your own message. The card is 4.75 by 4.75 inches and comes with a white envelope.
Giving the gift of alcohol for Valentine's Day? This handmade "Because you can't drink flowers" card is the perfect addition for Galentine's Day. The card has a linen texture with a blank interior. It's 5.5 by 4 inches.
This hilarious and super adorable card is perfect for the friend who loves dachshunds, etc. You can buy a single card for $6 or a set of cards all the way up to 20 at a discount. The inside is blank unless you choose the handwritten note option and the card is 4.25 inches by 5.5 inches.
The Best Valentine's Day Cards for Kids
If your kid loves Spiderman, there's really no other card to consider other than this handmade one. Valentine's Day candy hearts float above Spiderman who is forming a heart with his hands. While you can't have the designer add a message to the inside of the card, you can request a special illustration for a little less than a dollar more. The card is 5 by 7 inches and made from thick, 100-pound cardstock.
Remind your little one just how much they are loved with this super cool and extra sweet Valentine's Day card. It's handmade using watercolors and comes with an envelope. Choose from a black or white version of the card.
Kids' Valentine's Day cards can often be a bit childish and cheesy, but this one is far from it. Designed with a pair of red heart sunglasses with the words "looking sweet, Valentine," this one is sure to win over your kiddo (if there's some candy to go along with it, that won't hurt either). The card is 4.25 by 5.5 inches and comes with a white envelope.
If you're looking for a last-minute Valentine's Day card or prefer to spend a little less, this printable card is a great option. Featuring a raccoon holding a red heart, the card is perfect for kids. After making your purchase, you'll receive two high-res PDF and JPEG files to be printed on 8.5-by-11-inch card stock.