Feeling sentimental this December? Add even more sweetness to the holiday season by crafting your own ornaments! Whether you make them by yourself or with loved ones, ornaments often become cherished keepsakes. Thanks to TikTok, we've found a few brilliant and easy ornament tutorials to inspire you, so get ready to DIY to your heart's content.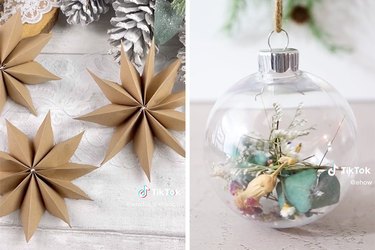 First up is the cutest drum ornament you'll ever see, courtesy of @christmasdisneycrazylady. All you need are a toilet paper or paper towel roll, a few colors of glitter foam, a hole punch, scissors and glue. We love how sparkly and festive this project is!
Our second DIY comes from @emilia_sieradzan, who demonstrates how to create paper star ornaments in a snap. Simply round up a strip of brown paper, some string, scissors and glue. We adore the classic star shape this tutorial creates—it'll never go out of style! Red and white construction paper would also work beautifully.
If you're looking for a high-end vibe but don't want to break the bank, check out our next DIY ornament from TikToker @meiralaryssa, who creates shimmery gold "marbled" bulb ornaments using white and gold paint, plain glass baubles, Mod Podge, glue, paper and gold foil. Stunning!
For a "rustic glam" twist on the DIY gold ornament aesthetic, check out these painted beauties from @kapri10 on TikTok. While there seems to be debate in the background of the video about whether the ornaments qualify as "abstract" or just plain pretty, we think they're simply gorgeous.
Finally, learn to make three other DIY ornaments from our very own @ehow TikTok video. In just a few simple steps, we walk you through how to make dried floral glass baubles, macrame tree ornaments and geometric diamond ornaments (aka himmeli diamond sculptures). These three rustic ornaments would look beautiful grouped together on a tree. They're also fantastic gift options.
Whether you choose to make one or all of these handmade ornaments, we hope you have fun decking the halls with your very own creations!