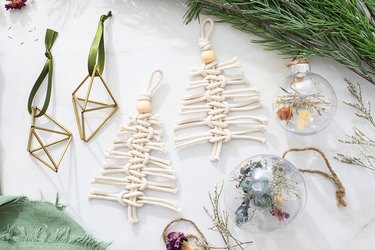 Every elementary art class graduate remembers the fun of creating handmade holiday ornaments. While these ornaments usually consisted of hastily glued-together construction paper, Popsicle sticks and far too much glitter, they brought fun and festivity to the holiday season—and there was nothing better than marching home to proudly add a new colorful creation to the tree. But who says ornament making is only for kids? You can revisit your elementary school glory days by making beautiful handmade ornaments that are just ‌slightly‌ more fine-tuned than the construction paper variety.
To help spark inspiration, we designed three Christmas tree ornament tutorials: Floral Baubles, Macrame Trees and Brass Geometric Diamonds (also known as himmeli diamond sculptures). Each craft calls for different supplies and skills, so there's something for everyone in this collection.
It's worth noting that these DIY Christmas decorations double as amazing gifts. Simply make multiple ornaments and box them up with tissue paper or tinsel. For a full gift set, pair your homemade pieces with store-bought decorations.
Of course, there's nothing wrong with keeping DIY projects for yourself—after all, you've put in the work. With these stunning ornaments, you'll be admiring a perfectly personalized tree in no time. Let's kick off the holidays with some crafty fun!
Idea 1: Floral Bauble Ornaments
Things You'll Need
Clear plastic or glass fillable ball ornaments

Dried flowers and stems

Scissors

Twine or cord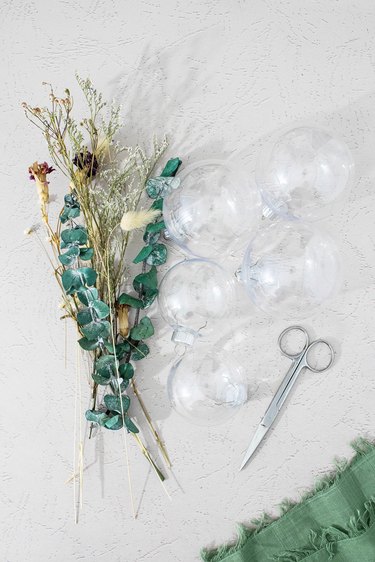 How to make Floral Bauble Ornaments:
1. Prep dried flowers and stems
Cut the dried flowers and stems into shorter pieces. They should be small enough to fit into the baubles.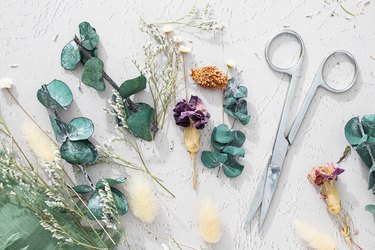 2. Fill plastic or glass ornaments
Add dried flowers and stems to each clear ornament. Try not to overthink it, as this Christmas craft is meant to have a natural and organic look!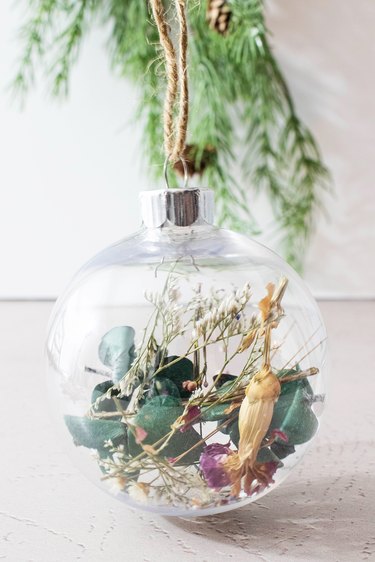 Replace the top of the bauble and add a strand of twine through the loop. Your DIY Christmas ornament is ready to display!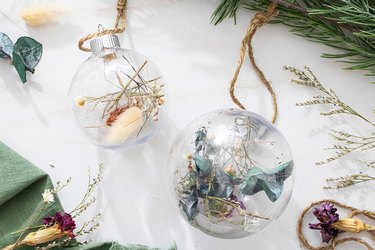 To style these floral baubles, pair them with ornaments that include natural elements. Ideas include pine cones, cinnamon sticks and wooden ornaments, such as wood slice ornaments.
Tip
For a quick and easy keepsake, print out a photo and add it to a clear glass ornament. We recommend sticking two photos together (back to back) for visibility from both sides. Voilá! Instant photo ornament gifts.
Idea 2: Macrame Tree Ornaments
Things You'll Need
Macrame cord

Wooden beads with large holes

Scissors

Masking tape (optional)

Ribbon or baker's twine (optional)

Tip
Macrame beads are best because they typically have larger holes.
How to make Macrame Tree Ornaments:
Cut a strand of macrame cord measuring about 20 inches long. Fold it in half and tie a knot near the fold so it creates a loop.
Next, string on a wooden bead and place it near the knot. If you can't fit both strands through the bead, tape the ends together first.
Cut two strands of macrame cord measuring about 8 inches each. Fold one strand in half and place it underneath the center cord, as pictured. The ends of the first strand should be on the right side.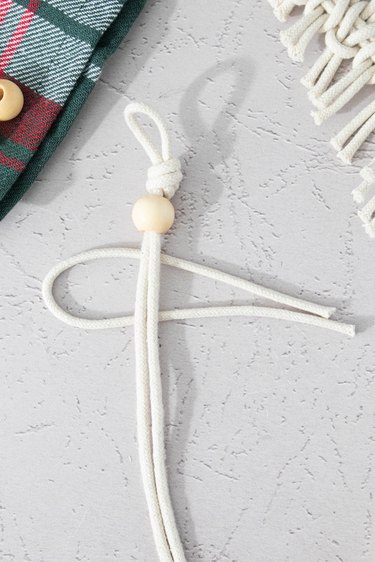 Fold the second strand in half to create a loop. Place it around the ends of the first strand and lay it on top of the center cord. The ends of the second strand should be on the left side.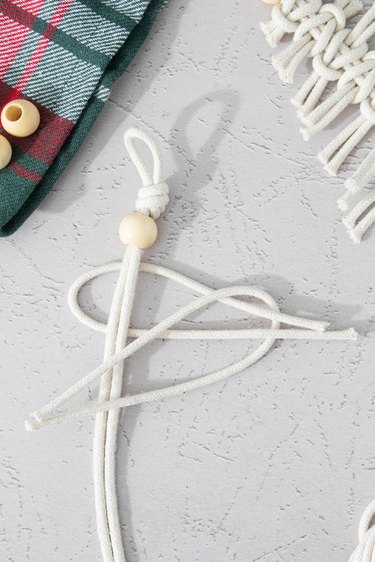 Insert the ends of the second strand through the loop of the first strand, as pictured.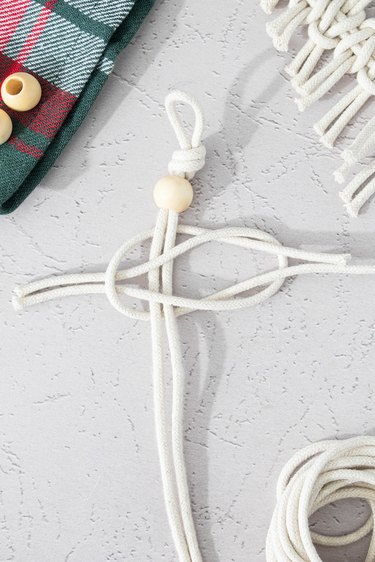 Pull the ends of both strands to tighten the knot.
3. Continue tying lark knots
Repeat with another two strands of cord but switch the direction of each one. The strand underneath should have its ends on the left side, while the strand on top should have its ends on the right side.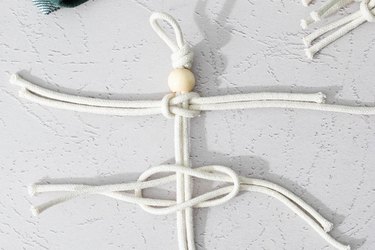 Pull the ends of both strands to tighten the knot.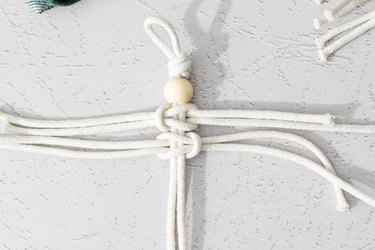 Repeat the process until you have six lark knots.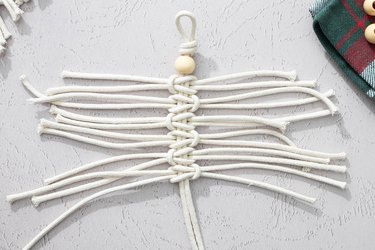 4. Finish the macrame tree decoration
Use scissors to trim the fringe on each side, cutting at an angle. Trim the bottom.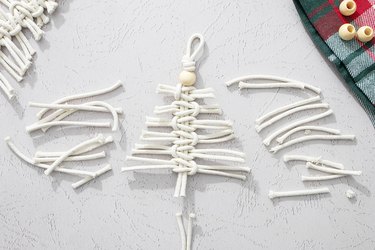 This Christmas ornament idea can be displayed as is. Alternatively, add a piece of ribbon or baker's twine to the top loop or attach it with clothespins for an extra-rustic touch.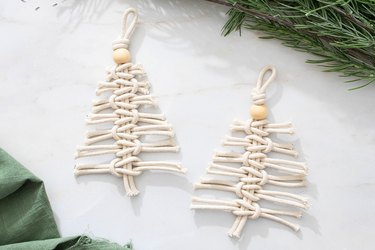 Tip
If you love the idea of macrame holiday decor, try your hand at macrame-wrapped Christmas baubles. Simply take old ball ornaments and hot glue macrame cord around each one.
Idea 3: Geometric Diamond Ornaments
Things You'll Need
Brass himmeli metal tubes

24- or 26-gauge jewelry wire

Pliers with wire cutters

Scissors

Ribbon or twine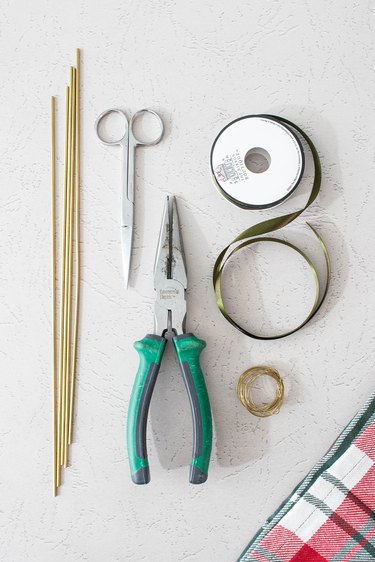 Tip
You can purchase brass himmeli tubes on Etsy. We used 2.5 millimeter tubes, but you're welcome to use slightly wider ones. Another option is to use paper or plastic straws for this DIY project. Add spray paint or acrylic paint to switch up the color scheme.
How to make Geometric Diamond Ornaments:
1. Prepare the brass tubes
Cut the tubes into pieces measuring about 2 inches each. You'll need nine pieces in total.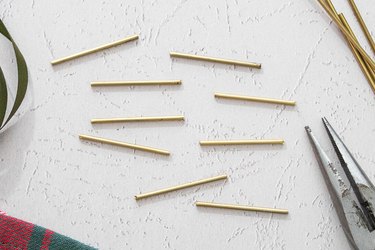 Tip
When cutting a brass tube, the hole will flatten. To open it back up, squeeze it with the flat sides of the pliers.
2. Make a geometric diamond
Cut a strand of jewelry wire measuring about 24 inches long. Add three tubes to the wire, leaving a few inches of wire at one end.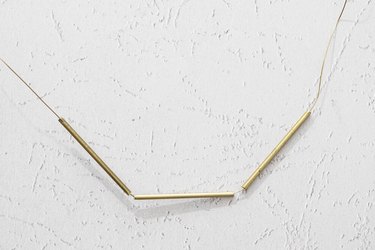 Twist the wire together so that the tubes create a triangle.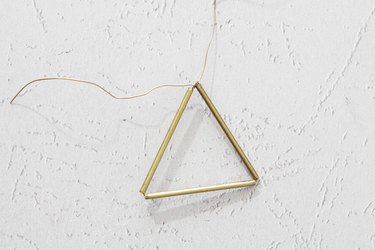 Add two tubes to the longer end of the wire.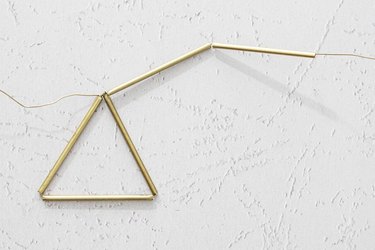 Twist the wire around the bottom corner of the first triangle. It should look like two triangles are attached together.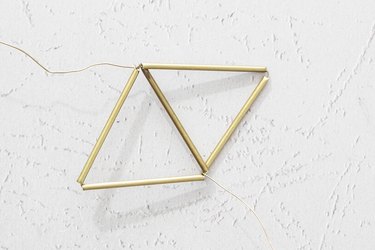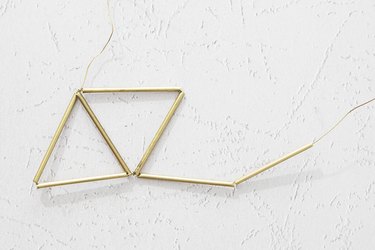 Again, twist the wire around the corner of the triangle you just created. Now it will look like there are three triangles.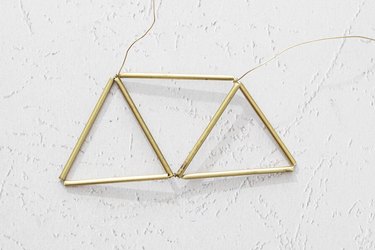 Repeat once more, adding the last two tubes and twisting the wire to the corner of the bottom triangle. Trim the excess wire.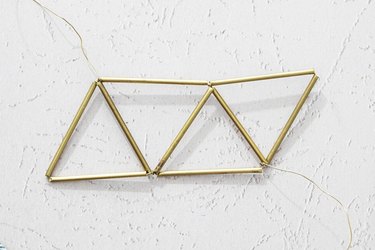 Join the two pointed ends, attaching them with a piece of wire. This will create a diamond shape.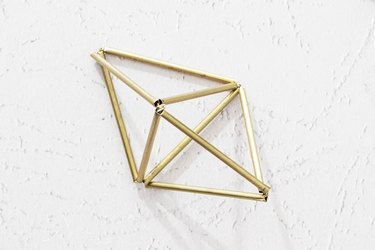 3. Add ribbon and display on your tree
To finish your handmade Christmas ornament, add a strand of ribbon to the diamond. You can also use pipe cleaners, leather cord, scrap fabric or even a strand of beads.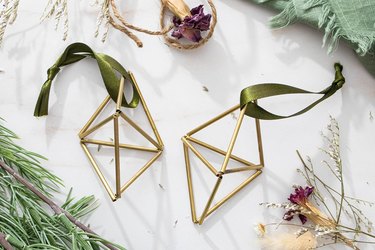 These geometric decorations work especially well with other minimalist pieces, like candy canes or salt dough ornaments. However, if you love the metal look, try pairing them with vintage metal cookie cutter ornaments. Simply attach a strand of ribbon to cookie cutters and hang them up.
Tip
If you want to elevate your geometric ornaments, consider adding embellishments. For example, you can attach charms or tassels with jump rings.