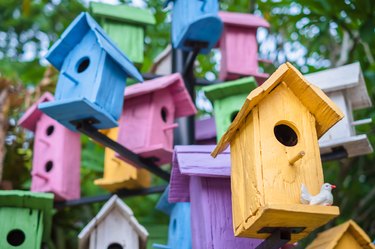 There's something decidedly wholesome about creating a DIY birdhouse, especially a rustic birdhouse made of metals, recycled woods or twigs. From a crackled-style birdhouse to a birch bark birdhouse, there's endless room to dream up the perfect rustic birdhouse for your yard or patio. What's more, a trip to your local retail or craft store is really all you need to make some of these rustic birdhouses for your winged friends.
But if you're not quite sure where to start or need a bit of help coming up with a unique birdhouse design, we've got all the inspiration you need. Here are some of our favorite rustic birdhouse ideas and tutorials from social media's most talented crafters.
Handmade Birdhouses From Etsy
Not up for DIYing your own birdhouse? Never fear—Etsy has you covered! Here are a few handmade birdhouse options that you can purchase straight from a crafter.
‌Copper Teapot Birdhouse: ‌This unique option from Etsy seller ZaerLtd is mounted on a stake so you don't need to worry about hanging it from the perfect branch.
‌Stone Birdhouse Cabin:‌ Etsy artisan Joansbirdhouses offers an adorable handmade birdhouse featuring a cabin-inspired design and a gorgeous stone design made with small rocks.
‌Birdhouse Barn:‌ Keep the farmhouse home decor trend alive with this red barn-inspired birdhouse (complete with a metal roof and sweet perch) from Etsy seller baconsquarefarm.
1. Recycled Wood Birdhouse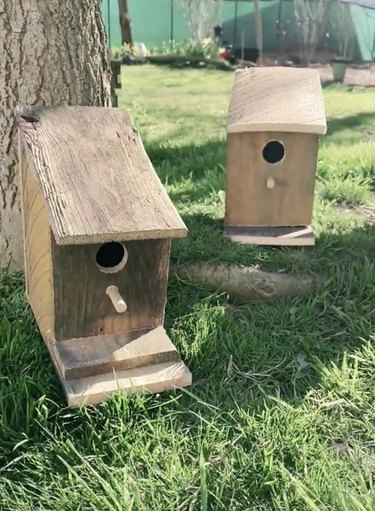 If you're making a birdhouse, you might not be sure of the best source for materials. Take a hint from @jeffmackay on TikTok, who makes a rustic wooden birdhouse using recycled wood pallets. With a saw, wood glue, a nail gun and some patience, Jeff creates his own birdhouse that's simultaneously simple and charming.
Want to make your own birdhouse but don't quite have the woodworking skills to start completely from scratch? That's OK! TikToker @therusticredfoxco demonstrates a fun DIY project that can be completed using an existing birdhouse and simple crafting supplies. You'll need adhesive and a whole lot of pennies, but this penny roof birdhouse is adorable when completed.
3. Popsicle Stick Birdhouse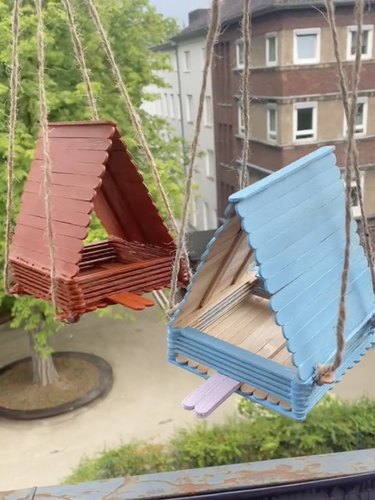 Who says rustic DIY birdhouses have to be bland? Not us! TikTok crafter @saskia_hlstnr provides step-by-step instructions for making a cute and colorful new home for feathered friends using popsicle sticks, string, glue and wood paint. The result? A duo of A-frame painted birdhouses that make an easy DIY addition to any backyard space.
4. Log Cabin Birdhouse & Bird Feeder
Next up: A bird feeder that doubles as a log cabin birdhouse, even if there's no official entrance hole. Made by TikToker @handcraftedbycolinquinn, this incredible woodworking project was made with scrap wood. While it might not qualify as a particularly beginner-friendly DIY bird feeder or birdhouse, it's a great goal to aspire to as you embark on your birdhouse-making journey.
OK, it doesn't get much cuter than this. TikTok crafter @mrccreation shows off a few tiny little birdhouses adhered to slices of wood and made with gathered materials. While they're not large enough to be used by actual birds (even really, really small birds), their mossy green roofs and general charm make them ideal decorative birdhouses.
6. License Plate Birdhouse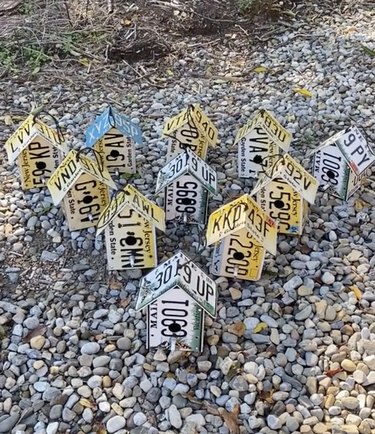 Last but certainly not least, here's a fun project for serious DIYers who would rather work with metal instead of wood. TikToker @stateplatesigns shows off impressive yet simple birdhouses made with old license plates from Maine and New Jersey. This is such a creative and eye-catching way to reuse and upcycle materials!
Now that you have plenty of DIY rustic birdhouse inspiration, it's time to get building! The birds will be flocking to your yard in no time with these cool creations.