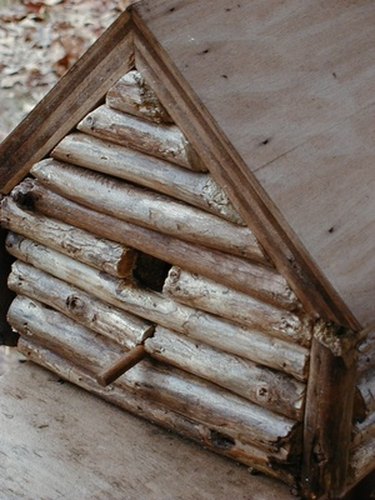 Adults and children enjoy creating birdhouses, especially rustic birdhouses made of metals, recycled woods and twigs. From a crackled style birdhouse to a birch bark birdhouse, use your imagination to create the perfect rustic birdhouse for your yard or patio. A trip to your local retail and craft store is all you need to make some of these rustic birdhouses for your winged friends.
Crackled
Make a crackled rustic birdhouse using a wooden birdhouse, hot glue gun, acrylic paint (barn red, dark brown, antique white and black), crackle medium, paintbrushes, twigs and craft wire. Paint the birdhouse completely with antique white paint and allow it to dry completely. Use the directions on the crackle medium to apply a coat over the white paint. Paint the house with the barn red paint, the roof with dark brown and the base of the birdhouse black. Let the paint dry and then hot glue several twigs all around the birdhouse to give it a natural, rustic look. For added decoration, glue a small piece of wood to the front of the birdhouse and write "Welcome Friends" on it.
Rustic Stars
Purchase a wooden birdhouse from your local craft store or a kit to make your own. Paint the birdhouse with acrylic tan paint and allow it to dry. Use dark brown paint to paint the trim around the birdhouse. Glue rustic craft stars on the front, back and sides of the birdhouse. These stars are available at most craft stores.
Twigs
Create a rustic, twig birdhouse using several twigs, a wooden birdhouse and wood glue. Cut the twigs all the same length for the roof and arrange twigs on the roof all in the same direction. Use wood glue to attach the twigs to the birdhouse. Do this for each side of the birdhouse and cover it completely in twigs. Use a wood stain on the twigs if you prefer a color besides natural. Attach craft wire to the top of the birdhouse for hanging.
Birch Bark
For a birch bark birdhouse, you will need birch bark, a coffee can, sharp scissors, rubber bands, craft wire or twine and water. Clean and dry the coffee can and put water on the birch bark. Wrap the birch bark around the coffee can and put a large rubber band around each end to keep it in place. Cut a round piece of birch bark to fit over the metal end of the can and glue into place. Allow the bark to dry overnight. Leave the lid off the coffee can for the birds to enter. You can put some artificial moss in the can to help the birds get started on a nest. Attach twine or construct wire around the can to hang on your patio or from a tree.