Everybody loves receiving a good stocking stuffer, but what if you don't have a mantel to hang stockings from? Thanks to three crafty TikTokers, we have a few solutions for you to consider. From banisters to storage units to plain old walls, these creative stocking-hanging options offer alternatives to the classic chimney or fireplace mantel.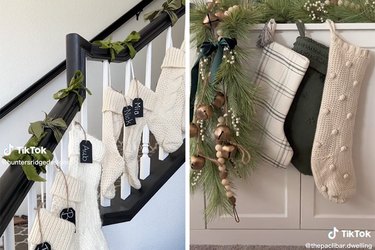 TikToker @nicholepaclibar shares her hack for hanging stockings on a media console: cord bundlers! They're easily removable and easy to disguise behind garland or other decor. You can save the hangers to reuse next year and simply purchase new adhesive strips when it comes time to hang your stockings again. If that weren't enough, hanging your stockings under the TV means you can pop on a YouTube video of crackling logs and pretend you're curling up next to a real fireplace! So cozy.
Meanwhile, @huntersridgedesigns uses trusty zip ties to attach stockings to her staircase banister. She tops it off by covering the zip ties with beautiful green ribbon pieces. While @huntersridgedesigns herself mentions that this is a fairly common practice, it's common because it works! Additionally, we love the placement of her stockings. They hang beautifully on the banister and sit in the perfect spot for excited children running down the stairs on Christmas morning.
Last but not least, @paige.cesare uses a salvaged tree branch to create a cute (and functional) space for hanging her family's stockings. If you don't have a fireplace, staircase or spot underneath your TV, this makes for a great stocking solution ‌and‌ creates a festive, decorative moment in your home! We love a multipurpose solution. Adding white paint to mimic snow is another great tip.
So, as @paige.cesare says: No mantel, no problem! Wherever you choose to display your stockings this holiday, we know they'll be hung with care.