Things You'll Need
Ladder

Light clips appropriate for the type of lights you're hanging (see package instructions to be sure)

Lights (rated for exterior use)

Tape measure

Paper and pencil

Heavy-duty construction adhesive (caulking)

Caulk gun

Stiff-bristled brush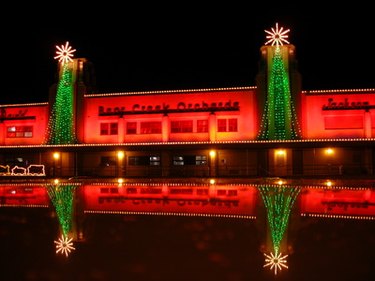 During the holiday season, Christmas lights can make a cheery addition to the exterior of your home. It can be challenging to install them, especially if you want to create clean, straight lines that illuminate and enhance different parts of your home's exterior. However, using the right materials and following a few steps will help you overcome obstacles to hanging exterior Christmas lights.
Step 1
Make sure ice and snow have been removed from areas where you will be positioning the ladder while you are making exterior measurements and installing the clips and strands of lights. This is especially important if the ladder will be positioned along a walkway or driveway. Use salt or sand to melt the ice or tamp down the snow.
Step 2
Measure the areas where you want to hang the lights, taking into account where strands will be hooked together and where they will be connected to exterior electrical outlets. Write down your measurements and use them to calculate how many strands of lights you will need.
Step 3
Gather all the strands of lights you want to use and carefully unravel them. You can do this indoors. Plug in each strand after it has been unraveled to make sure all the lights are working.
Step 4
Separate the different strands of lights into groups according to where you want to hang them. If you will be using the kind of lights that have clips that attach directly to the base of each bulb, attach those clips now.
Step 5
Plug in each strand again after you have attached the clips to make sure no bulbs have been knocked loose, which can cause the strand to short-circuit. If you are attaching clips to the wire instead of the bulbs, measure again along the window, doorway or roof line where you intend to put up the lights. These measurements will allow you to determine how many clips are needed for each strand and how far apart you will need to install the clips to space them evenly.
Step 6
Install clips and wires for strands of larger Christmas lights (C7 or C9) directly on the roofline or other area where you want to hang them. Brush away snow and debris from the surfaces where you want to install the clips. Put a quarter-sized amount of caulking on each spot where you want to place a clip and then press the clip into place. Make sure that you have spaced the clips evenly according to your measurements and installed the clips so that the bulbs will be facing in the right direction. Allow the caulking to dry on all clips before hanging the lights.
Step 7
Grab the appropriate strand of lights, wrapping it loosely around one arm, and climb up the ladder to where you want to hang it. Carry extra clips in your pocket. Keep in mind where the pronged end of the strand will need to be plugged in or connected to the next strand. You may want to have someone assist you with hanging the strands. Place each light bulb on the strand inside a clip. Hold each section of lights taut between the clip points. Even if you are using mini lights instead of C7 or C9 lights and have already installed the clips indoors, you still may need to attach additional clips when hanging lights around exterior corners.
Tip
After you have put up lights that have wire clips, you still might need adjust the clips for even spacing. If you are using C7 or C9 lights and have caulked the clips to the exterior of the building, leave the clips in place after removing the lights so that you can use them for hanging lights again next year.