You remember to take the Thanksgiving turkey out of the freezer far enough ahead of time. Yes! You lovingly prep it and carefully monitor it and take it out of the oven perfectly cooked. Yum! You announce proudly to all your famished friends and family that the turkey is done. Yay! And then, while transferring it from the roasting pan to the carving board, you drop the cumbersome bird onto the kitchen floor. Yikes!
From basters to butcher's twine to meat thermometers and more, there are plenty of accessories to facilitate the preparation of a whole turkey. Turkey lifters get overlooked sometimes, but they're another great tool for making the process a little easier. And that's especially nice when you're scrambling to prepare a large, involved holiday meal.
If you've never given much thought to these kitchen tools—which, by the way, you can use for roast chickens, hams, pork butts, briskets, barbecue and more all year long—this buying guide will help you pick out the best turkey lifter for your home.
What to Consider When Purchasing a Turkey Lifter
​Style:​ The vast majority of turkey lifters are fork-style lifters—large, three- or four-pronged forks with broad heads that stab into the sides of the meat or poultry. They're sold in pairs and also double as carving forks. Most are stainless steel, which is strong, durable and easy to clean. One downside is that you lose juices when you poke big holes into meat—especially red meats that haven't rested long enough.
Then there are lifting racks, usually made of metal (e.g., stainless steel, steel alloy, chrome-plated aluminum, etc.). These are wire racks you place under the meat or poultry before cooking. They have two large, looped wire handles, and you lift the rack after cooking with the turkey on it. These are easy to use, but the handles come out of the oven hot, and some people aren't comfortable holding a heavy turkey by two thin wire handles using oven mitts or potholders. Also, you may need to remove the turkey from the hot rack before placing it on a carving board, which adds extra work.
A third style is similar to the lifting rack, but it's more of a sling with two loop handles, made from heat-resistant silicone. This can be held much sooner after coming out of the oven, as the silicone doesn't retain heat like metal does. It's a little easier to handle the turkey in general. But keep in mind, while most turkey lifters of any style are dishwasher-safe, racks and slings take more work to get clean after meat cooks on them.
​Features and Accessories:​ There aren't many variations in turkey lifters. Check out the size of the handles on fork lifters; they should be long enough to comfortably grip with your entire hand, but not much longer, as that makes it harder to lift and carry a hefty bird or cut of meat. Some handles are ergonomically designed, and some have a plastic, silicone or rubberized handle for increased comfort (and some materials are less slippery than others). There's not much practical difference between three or four prongs, provided a three-pronged product has a wide head.
Lifting racks should have handles that collapse completely for easier storage, and some models have detachable handles. Also, some turkey lifters come in sets with other accessories, such as basters, meat shredding claws, meat thermometers and more.
Along with your budget considerations—you can spend under $10 on one of these products, or you can spend up to around $100—these factors will help you choose the best turkey lifter for your preferences.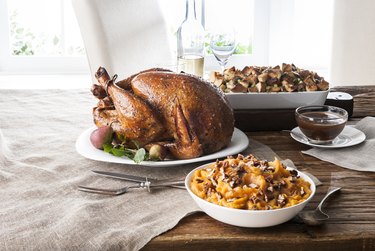 The Best Overall Turkey Lifters
RSVP International Endurance Turkey & Roast Lifters
This is a great buy if you're looking for a pair of sturdy, durable stainless steel turkey forks that handle even large birds weighing in over 20 pounds. At 11.5 inches long, they have relatively lengthy handles, making them easy to use even if you have big hands, but they're still well sized for good leverage when lifting. The four sharp prongs slide into the meat smoothly and provide a reliable grip, too. Don't worry about extra work when cleaning up after your feast, as these are dishwasher-safe. And they're sold at a good price for their quality and handsome look.
The Best Budget Turkey Lifters
TripleLife Turkey & Roast Lifters
If you want a turkey fork at the low end of the price range that you can rely on to securely lift a heavy load and that'll last, this is a smart purchase. The forks are made of stainless steel, and the four sturdy, slightly curved prongs won't bend or break under the weight. Prong tips are sharp and maintain their point well over time, and the prongs are thin, so you won't put large holes in the meat. Conveniently, there are hanging hooks at the end of the handles, and the pieces are dishwasher-safe.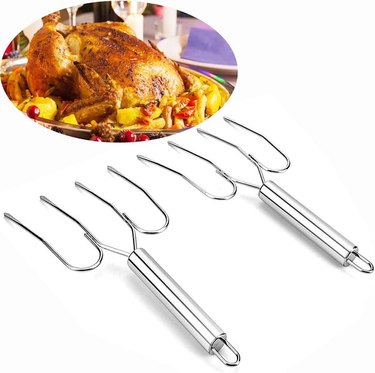 The Best High-End Turkey Lifters
All-Clad is a trusted name in high-quality cookware, and this accessory is an example of why. This four-pronged stainless steel turkey fork has a sleek, elegant look and bright shine to match the strong, durable construction and precise design. The tips of the prongs are quite sharp, retaining their sharpness well with repeated use, and the prongs themselves are thin but unyielding. With finger grips and an ergonomic handle, the product is comfortable and secure. Overall, it's worth spending a little extra if you want a high-end look and a piece that should last a lifetime with proper care.
The Most Ergonomic Turkey Lifters
OXO Good Grips Turkey & Roast Lifters
When a comfortable, secure grip is your priority, this budget-friendly turkey fork from a brand known for its handles is a good buy. It's a sturdy, well-built three-pronged model with stainless steel tines and a soft, contoured nonslip handle that absorbs pressure while lifting a load. This is a user-friendly option, plus it comes with a protective cap for the prong tips that help keep them sharp and prevent you from getting poked when you reach in the drawer.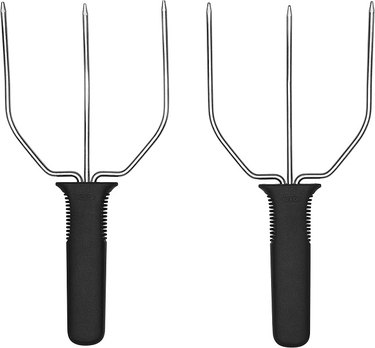 The Best Turkey Lifters and Baster Set
MeiAoJia Turkey Baster and Poultry Lifter Forks
Just realized you need turkey lifters and also don't have a baster? Get them both at a great price with this set. The stainless steel four-pronged turkey forks are sturdy and comfortable to use, and they have convenient hanging hooks at the ends of the handles. Then, there's a baster with a large-capacity stainless steel tube and tight-fitting silicone bulb. But wait, there's more! This set also has a cleaning brush designed for use in the baster tube, as well as a stainless steel marinade injection needle that securely attaches to the baster.
The Best Turkey Lifters and Meat Claws Set
MTNZXZ Turkey Lifting Forks and Meat Claws
If you like making pulled pork, pulled poultry or other shredded meat preparations, meat claws are a helpful tool for your kitchen. You get a pair of tough, BPA-free, heat-resistant plastic meat shredders along with the two stainless steel four-pronged turkey forks in this set. The poultry lifters are strong, featuring lengthy, ergonomic, comfortable, heat-resistant, nonslip phenolic resin handles with hanging holes. Both the turkey lifters and the meat claws are dishwasher-safe for easy cleanup, too.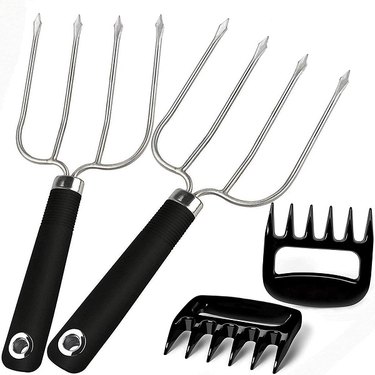 The Best Turkey Lifting Rack
Nifty Solutions Gourmet Turkey Lifter
For those who prefer a lifting rack to forks, this turkey lifter is an excellent product offered at an excellent price. Made from strong alloy steel, it's rated for use up to 30 pounds—more than enough for any whole roast turkey or other cut of meat; it's adequately sized, too, at 14.5 by 10.5 inches. The detachable handles fold flat for compact storage and come right off so they're out of the way when you're carving, slicing, plating or serving. A nonstick coating prevents tough-to-clean residue, plus the rack is dishwasher-safe.
The Best Silicone Turkey Lifter
TOPINCN Turkey & Meat Lifter
When you decide to buy a silicone lifting sling, here's a recommended option. This heat-resistant product can accommodate even the heaviest whole birds and roasts. The soft handles make for a comfortable alternative to wire rack handles. It's a nonstick material that's also dishwasher-safe, so it's not difficult to clean, though you may have to pay a little extra attention to the holes in the mat sometimes. The handles fold down for compact storage, plus there's a tab for securing them so they don't flop back open.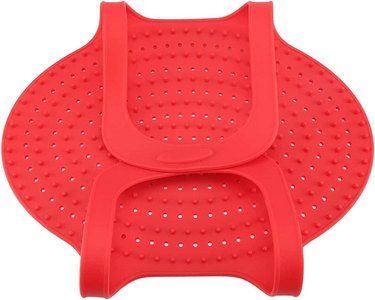 The Most Giftable Turkey Lifters
TOR Kitchenware Turkey Lifter Forks
If you're looking for a gift to impress your host this Thanksgiving, these elegant turkey forks should be to your liking. Or, treat yourself to a set and you'll be proud to show them off at holiday gatherings and other special occasions. These exceptionally strong, sharp, three-pronged stainless steel forks are designed in Germany and tout a patented design. Riveted, full-tang construction provides extra strength and the gorgeous rosewood handles match the included storage box.