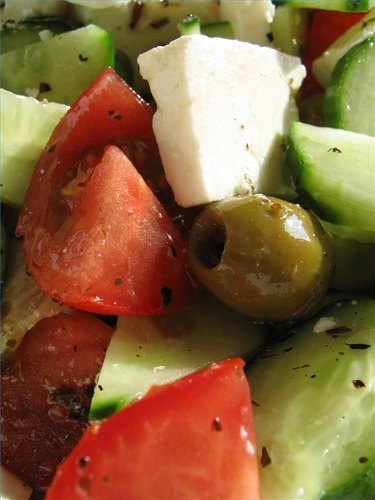 Greek cuisine features fresh vegetables and a variety of meats, including lamb, chicken, pork, fish and beef, with influences from Italy and other nearby countries. A blend of tangy seasonings gives Greek dishes their distinct flavor. Olives, lemons, garlic and a wide variety of herbs are the main seasonings in family and time-tested recipes. Greek celebrations, festivals and religious observations are the center of the Greek life, bringing families and friends together to savor the richness of the food.
Religious Holiday Food
In the Greek culture, Easter begins with the first day of Lent, when people get ready for the resurrection of Christ by cleansing their bodies. Food eaten during this time has the word "nistisima" after it, indicating that it doesn't contain any of the restricted foods. The traditional Easter bread, Tsoureki, has a slightly sweet flavor. Greeks also make Greek Easter cookies to share with friends and visitors. Easter Sunday in the culture is a time of celebration. The favorite Easter soup is mayeritsa, which is made with lamb organs and seasonings.
During the Christmas holidays, the Greek custom includes melomakarona (cookies topped with honey and walnuts) and kourabiethes (almond sugar cookies). Greeks also enjoy a variety of cakes and other desserts.
Filo Dishes
Filo dough, an ultra-thin, flaky pastry, is the foundation of many favorite Greek recipes. It is used in spanakopita (spinach pie) and baklava (sweet pastry with nuts). Other favorite Greek recipes with filo include seafood appetizers, "nest" side dishes, appetizers and desserts and tarts.
Meats
The favorite meat served in Greek homes and restaurants is lamb, which is generally spit-roasted. Lamb is used for main dishes and in casseroles with vegetables. Other meats enjoyed in the Greek culture are chicken, pork, beef and fish. Any of these meats can be used in souvlaki, one of the favorite Greek, wrap-style sandwiches.
Pita Bread
Pita bread is served with most Greek meals. Dips for pita include yogurt with cumbers or olive oil with lemon and other seasonings. Pita also serves as the wrap for Greek-style sandwiches, including gyros (pronounced YEE-ros), which often include thinly sliced lamb, tomatoes, onions and yogurt dressing.
Salads
Greek salads often include olives, tomatoes and feta cheese. The dressing has an olive oil base and is mixed with vinegar and other seasonings. Nuts typically garnish Greek salads.
Vegetables
Greek cuisine is known for featuring a variety of vegetables in season. Moussaka is an eggplant-based, casserole-style dish, layered with tomatoes, peppers, onions and sometimes meat. Other favorite vegetables include all sorts of greens, cabbage, carrots, tomatoes, peppers, onions and anything else in season.
Olives and Lemons
Many Greek foods, including main dishes and salads, call for olives, olive oil, and lemons. Olive oil is one of the most common ingredients in Greek cuisine. It is used in salads, main dishes and as dipping sauce. Lemons provide the zesty flavor Greek dishes are known for.