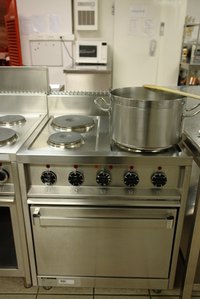 The Big Easy Oil-less Turkey Fryer by Char-Broil uses infrared radiation to cook the turkey. By using infrared radiation, the fryer eliminates the use of oil but the turkey still tastes like it was deep fried. You can inject the same marinades that you always use with the oil method or use seasoning rubs on the outside. You also can cook roasts, whole chickens or ducks in The Big Easy. You may use the fryer more often because you will not need three gallons of oil every time you cook with it.
Things You'll Need
The Big Easy Oil-less Turkey Fryer
Turkey, thawed and prepared for cooking
Attach The Big Easy fryer to the propane canister. Turn the on/off switch to on. Twist the ignition switch until it clicks and ignites the propane.
Prepare the bird to taste. Place the bird, breast up, into the basket provided with The Big Easy fryer. Place the meat thermometer, that is also included, into the bird.
Place basket into The Big Easy and top with the lid. Cook until the internal temperature of the turkey is at least 165 degrees F, according to Whats Cooking America.
Remove the lid. Pull the basket out using the basket grabber provided with the unit. Pull the turkey out of the basket grabber with two forks.