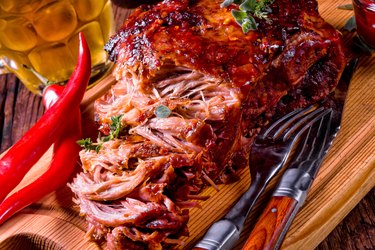 There's nothing more American than enjoying a barbecue with family and friends. And if you're preparing a smoked pork belly, whole chicken, or beef brisket, there's no better way to shred your meat than with meat shredding claws. Gone are the days of having to scratch around for the carving knife and fork. Just grab your set of shredders and get to work! But before we get lost in the world of barbecue, let's investigate what makes for the best meat shredding claws. We've laid out what factors to consider and selected the best meat shredding claws in 2022.
What to Consider When Purchasing Meat Shredding Claws
​Materials​: When it comes to materials, stainless steel is always a good bet, as they're durable and highly heat-resistant. You won't see any warping or bending, unlike with cheaper plastics. That's not to say all plastics are bad, however. Certain plastics are quite long-lasting and pretty resistant to warping, as long as you don't subject them to incredibly high heat. Reinforced materials like nylon and glass fiber can also endure high temperatures. As long as your plastic or nylon shredding claws don't make sustained, direct contact with the flaming-hot grill, they should be fine.
​Handles​: If you're planning on using these meat claws for every barbecue, you'll want to be sure you like the feel of the handles. In general, a solid, textured handle is preferable to a hollowed-out handle because the hollow handles tend to be more lightweight, which can make it difficult to judge how much force to exert when shredding. Additionally, hollow handles sometimes have grooves on the underside that can accumulate food particles and bacteria if not washed thoroughly. Longer handles can keep your hands from making accidental contact with the meat.
​Sharpness​: When it comes to tines, such as those on a pitchfork or a meat shredding claw, their sharpness and ability to be sharpened are worth considering. Plastic claws may be duller and less lethal than stainless steel or metal ones, but the downside is you can't easily sharpen them. However, if you prefer the tines not to be ultra-sharp for safety's sake, plastic or nylon are good options.
​Size​: As you can imagine, size matters with meat claws. If they're too small, you'll struggle to make any headway, but if they're too large, they may require greater strength to handle. You also need to consider whether your hands fit properly. While most meat shredding claws are designed with a sufficient gap between the handle and the tines for your fingers and knuckles, if you have very large hands, a tight fit may be uncomfortable.
​Ease of Cleaning​: Yet another factor to consider when purchasing meat claws is how easy they are to clean. Many manufacturers may claim their shredding claws are dishwasher-safe, and while this is largely true for stainless steel and other types of metal claws, it's less so for plastic models, which can get warped in the dishwasher. If you do opt for plastic, make sure it's heavy-duty and durable, and you should be okay. Otherwise, it's best to hand-wash your meat claws to ensure longevity.
With these considerations in mind, we've selected the best meat shredding claws in 2022:
1. 1Easylife Stainless Steel Meat Forks With Wooden Handle
Made from premium 18/8 stainless steel and wood, these meat shredding claws from 1Easylife have been heat-tested safely up to a whopping 1,112 degrees Fahrenheit. The thick, wooden handles have ample grip and are treated with a varnish that makes them dishwasher-safe. They're also not hollowed out, meaning there are no gaps or crevices where food particles can become stuck, so the claws are easy to clean.
The claws have been designed to leave ample room between your hands and meat to ensure you don't burn your hands while shredding. And with heat-resistant handles, there's no need for heat-proof gloves. At 11.7 ounces, these are the heaviest claws on this list, so they may require a bit more grip strength, but they're perfect for your biggest shredding jobs.
​Item Dimensions​: 4.69" x 4.21" x 0.79" (L x W x H)
​Item Weight:​ 11.7 oz
​Claws​: Six 18/8 stainless steel tines per claw
​Colors​: Natural wood finish
2. Bear Paws The Original Shredder
These are the claws that changed the meat-shredding game: Bear Paws' The Original Shredder. Made in the U.S. from BPA-free nylon, they're heat-resistant up to 475 degrees Fahrenheit—so you don't need to worry about them melting near the grill. They're also dishwasher-safe.
The Bear Paws are easy and fun to use. You can instinctively lift, shred, pull and carve meat until the barbecue master is happy with the results. These meat shredders also promise to be super sharp and tough, as they were made with one solid piece of hard-wearing nylon. Also, there are no crevices or holes for food to get stuck in. And when you're done shredding meat with them, they're also amazing for tossing a salad.
The Bear Paws come highly recommended, as well. They've been endorsed by a number of barbecue legends on their shows, including Guy Fieri's "Diners, Drive-Ins, and Dives," as well as on "America's Test Kitchen." They were also named the "Best BBQ Tool" by the National BBQ Association.
​Product Dimensions​: 12" x 6" x 1" (L x W x H)
​Item Weight​: 4.4 oz
​Claws​: Six tines per claw
​Colors​: Four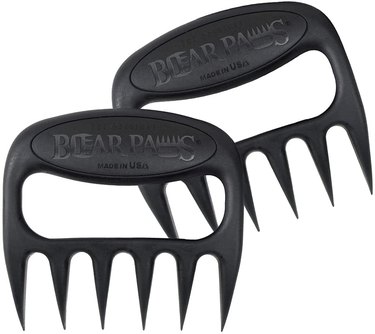 3. Charcoal Companion Slash & Serve Meat Shredder Claws
This set of meat shredding claws from Charcoal Companion is the most expensive model on our list. But for the higher price, you get a set of heavy-duty claws, made completely from stainless steel, that are designed for handling larger pieces of meat, such as full roasts, turkeys, chickens and hams.
This is the meat claw for barbecue experts. The grip is solid and stable, giving you mouthwatering shredded meat in minutes. The funky-looking blades are extremely sharp, so handle them with caution. Due to the close proximity between the blades and the handle, while they offer a superior grip, they may be a bit uncomfortable for some users. But for anyone who wants to feel like a particular Marvel Comics character (you know the one), they're both fun and effective.
When it comes to washing these weapons, the manufacturer recommends washing them by hand with mild dishwashing soap, then rinsing and drying immediately. Do not use an abrasive scrubber, as it will ruin the stainless steel finish. They are dishwasher-safe, however, if you'd prefer to skip the hand-wash.
​Item Dimensions​: 4.17" x 4.96" x 2.17" (L x W x H)
​Item Weight​: 5.4 oz
​Claws​: Three blades per claw
​Colors​: Stainless steel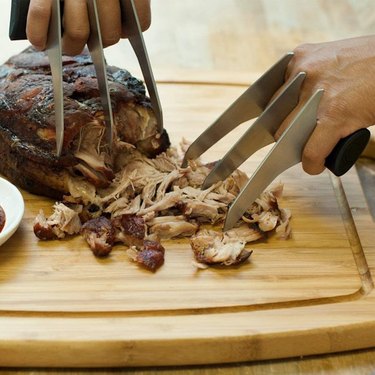 4. Cave Tools Talon-Tipped Meat Claws
Slightly more expensive than the Bear Claws, and heavier than your standard meat shredders, Cave Tools' meat claws are hardcore enough to tear apart tougher meats, like brisket. Made from dishwasher-safe nylon, these claws have seven tines, allowing for fewer shredding passes and thinner shredding.
The tips of the claws have patent-pending talon tips, which have been designed to ensure that they split the meat's muscle fibers, again making it possible to do fewer passes. This will be the quickest, easiest shredding you have ever done.
The handles on the claws have a non-slip coating, which is especially useful when shredding a juicy roast. Another factor to consider is that the handles have been designed for large hands and knuckles. Cave Tools Meat Claws are dishwasher-safe and carry a lifetime warranty, so if you're ever unhappy with your set, send them back for replacement.
​Packaging Dimensions​: 5.71" x 4.72" x 1.69" (L x W x H)
​Item Weight​: 9.9 oz
​Claws​: Seven talons per claw
​Colors​: Two
5. OXO Good Grips Meat Shredding Claws
Featuring an atypical design with an elongated handle, these meat shredding claws from OXO are more akin to a gardening hand rake. However, the extra-long handle can be a good thing, as it keeps your hands farther away from the meat you're shredding. Made with heavy-duty plastic, these claws are heat-resistant up to 450 degrees Fahrenheit.
Each claw features seven tines that have been shaped and angled to make it easy to lift, turn and transfer meat, while the handle has been contoured for a comfortable grip. There are no holes or crevices where food particles may become stuck, so it's pretty easy to keep them clean with a quick hand-wash and rinse. They're also dishwasher-safe. While the different design from the standard meat shredding claw model may take some getting used to, the extra length makes these claws more versatile, as you can also use them to plate food and toss salads.
​Product Dimensions​: 4" x 2" x 9" (L x W x H)
​Item Weight​: 9.6 oz
​Claws​: Seven talons per claw
​Colors​: Black