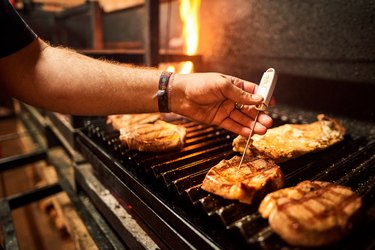 It's always an interesting exercise to ask the pros what they consider to be essential kitchen equipment. For bakers, a kitchen scale is essential: Weighing ingredients is more accurate than measuring them in cups and yields more predictable results. For cooks, you can say the same thing about a high-quality meat thermometer. Meats (and other foods) cook unpredictably, and judging them by time or by finger-poke will give wildly inconsistent results.
The best meat thermometers smooth out those uncertainties. They'll give you a highly accurate temperature reading in any cooking situation, whether it be a long cook at low temperature (traditional barbecue) or hot, fast grilling (your backyard steaks). There's a thermometer for every task—here are a handful of the very best.
What to Consider When Purchasing a Meat Thermometer
To clarify, we're going to keep calling these "meat thermometers" to differentiate them from high-temperature candy/deep-fry thermometers, even though they can be used for other foods. There are two broad categories of meat thermometers. The first is instant-read thermometers, which are intended to give you a quick way to check the temperature of your meat as it cooks; you insert and remove these rather than leaving them in.
The second is leave-in thermometers. Traditional analog leave-in meat thermometers and the plastic pop-up kind aren't especially accurate, and won't figure in this comparison. Their modern replacements are probe thermometers, which show the temperature on a separate display (wired and/or wireless). With that in mind, here's what to consider as you choose a thermometer.
​Usage:​ For all-purpose use, nothing beats a good instant-read thermometer. It'll tell you the doneness of a steak, or the temperature of a custard, and let you know whether that turkey really is done in the thickest part of the breast. On the other hand, a probe thermometer is great for monitoring that Sunday roast or keeping track of a pork butt in your smoker as it slowly becomes tender and delicious. Spoiler: You can (and very well might) decide you need both.
​Accuracy:​ In some situations, you might be OK with a hit-or-miss approach to temperature, but if you're militant about your steaks (the window for a perfect medium-rare is pretty narrow) or working with an advanced recipe, accuracy can mean the difference between success or failure. It also has a bearing on food safety, which relies on tracking the time your food spends at a given temperature. The more sophisticated your cooking, the more important this becomes.
​Speed:​ Getting an accurate reading is important, but getting it quickly enough to be meaningful is also a priority. The best instant-read thermometers very nearly live up to their name, while others may take several seconds to plod their way ("...125...130....135...") to a final temperature. That can be maddening if you need to stop cooking at a specific temperature. Speed is less crucial with probe thermometers, which stay in continuously, so it's not usually specified.
​Extra Features:​ This is more variable because manufacturers try to differentiate their products from everyone else's. More to the point, one buyer's "killer feature" may be irrelevant to the next person. Some examples might include the capacity to use more than one probe, or a wireless receiver (or even a mobile app) that lets you spend time with friends and family rather than being chained to the side of the 'cue.
With that in mind, here are the thermometers we consider best in their respective categories (and why).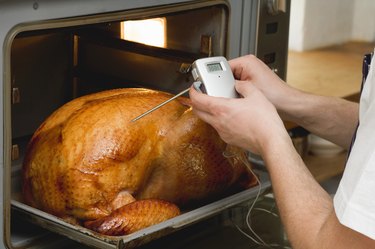 The Best Instant-Read Thermometer
ThermoWorks Thermapen One
With all due respect to other manufacturers, there's not really any competition for this spot. The question isn't ​whether​ it'll be a Thermapen, the question is "Which is the newest Thermapen?" Right now, that's the Thermapen One. It's got everything a serious cook could want: It's accurate to half a degree Fahrenheit, thoughtfully designed, and it gives your readings in one second flat (hence the name). It automatically sleeps and wakes to preserve battery life, the display autorotates (like your phone) depending on how you hold it, the display is backlit and responsive to ambient lighting levels, and the case is fully waterproof. What's not to like?
​Temperature Range:​ -58° F to 572° F

​Response Time:​ 1 second

​Accuracy:​ To within 0.5° F

​Waterproof/Water-Resistant:​ Waterproof, IP 67 spec (can be submerged)

​Special Features:​ Hand washable, calibration is certified and verifiable for each individual unit

​Warranty:​ 5 years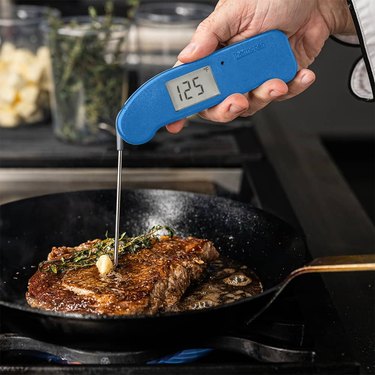 The Best Value Instant-Read Thermometer
If you aren't looking for a serious tool like the Thermapen, but still want an instant-read with above-average accuracy and build quality, ThermoWorks' ThermoPop may hit that "sweet spot" for you. It's accurate to within 2 degrees Fahrenheit and typically gives readings in 3 to 4 seconds (still pretty fast) and its simple design makes it easy to use and easy to see. Like its higher-end sibling—but unlike other pocket instant-reads—the backlit display autorotates, so it can be viewed from any angle and used just as easily by left-handed folks. It's a really compelling product at this price point.
​Temperature Range:​ -58° F to 572° F
​Response Time:​ 3 to 4 seconds
​Accuracy:​ To within 2° F

​Waterproof/Water-Resistant:​ Water-resistant, IP66 spec (splash and drip-proof)

​Special Features:​ Backlit autorotating display, available in 9 colors

​Warranty:​ 2 years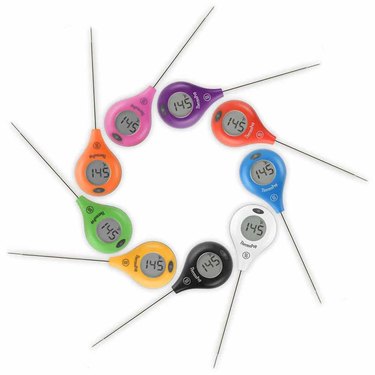 The Best Budget Instant-Read Thermometer
ThermoPro TP15 Waterproof Instant-Read Thermometer
ThermoPro may not enjoy quite the same high-end cachet as ThermoWorks, but their reputation for quality products is still well-deserved. This instant-read is a fine example, offering excellent performance and thoughtful features at a surprisingly modest price. At 3 to 4 seconds for a reading, it's comparable in speed with the ThermoPop, and its accuracy is actually better. A very handy feature is the hold button, which lets you reach into the oven or smoker, get a temperature, and then pull the thermometer back out so you can read it without sticking your face into the heat. The probe is extra-long at 5.36 inches, which is great for big pieces of meat (but a bit of a pain for storage).
​Temperature Range:​ -58° F to 572° F

​Response Time:​ 3 to 4 seconds

​Accuracy:​ To within 0.9° F

​Waterproof/Water-Resistant:​ Waterproof, IP X6 spec (wash under running water)

​Special Features:​ Hold button, backlit display, hook and magnet for hanging/storage

​Warranty:​ 3 years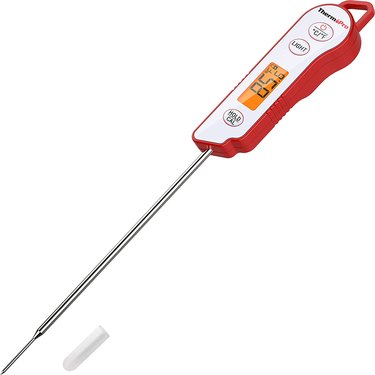 The Best Value Leave-In Thermometer
Instant-read thermometers are great for checking things in (literally) a hot second while you cook, but they're not great for long-cooking scenarios like oven-roasting or traditional barbecue. For that, you want a leave-in thermometer.
Low-end models can only display the temperature on their base unit (the part connected to the probe), but better-quality devices like this ThermoPro will transmit your temperature, plus high- and low-temperature alerts, to a wireless receiver that goes where you go. The TP28 has two probes, so you can track two pieces of meat at the same time, or—a real pitmaster's flex—the ambient temperature inside your smoker, as well as the temperature of the meat. It also uses regular radio-frequency transmission technology, rather than Bluetooth (like most competitors), for a superlative 500-foot range from the base.
​Temperature Range:​ 14° F to 572° F

​Response Time:​ Not specified

​Accuracy:​ To within 1.8° F

​Waterproof/Water-Resistant:​ Water-resistant, IP X4 spec (stands up to splashes or a bit of rain)

​Special Features:​ Dual probes, outstanding wireless range, preset with USDA-recommended doneness temperatures

​Warranty:​ 1 year
Tip
The metal probe of a leave-in thermometer can conduct heat into the meat, creating an artificially high reading in its immediate area. It's a good idea to reposition the probe as you near the end of your cooking time to ensure better accuracy. Alternatively, double-check your temperature reading with an instant-read thermometer.
The Best Value Leave-In Thermometer
If your needs are modest, it's easy to be intimidated by something as complex as the TP28 with all its bells and whistles. If that's your situation, the TP16 might be a better choice. This is as simple as it gets: There's one probe, no wireless functions, no bells and whistles. Instead, it does one thing—give you the temperature of a piece of meat—and it does that remarkably well. Despite the low price, it's accurate to 1.8 degrees Fahrenheit, comparable to many higher-end leave-in models. There's a magnet on the back so you can leave it on the oven door, and there's also a mounting hole so you can clip it to a hook or a lanyard.
​Temperature Range:​ 32° F to 572° F

​Response Time:​ Not specified

​Accuracy:​ To within 1.8° F

​Waterproof/Water-Resistant:​ No
​Special Features:​ Preset with USDA-recommended doneness temperatures

​Warranty:​ 90 days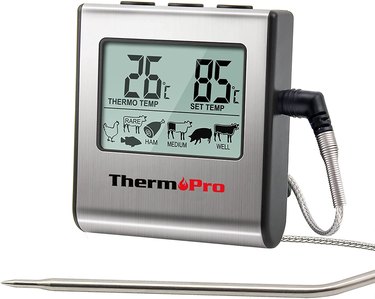 The Best Splurge-Worthy Thermometer
ThermoWorks Signals BBQ Alarm Thermometer
If you're a serious competition pitmaster—or just want to feel like one—ThermoWorks' Signals device is the ultimate barbecue thermometer on the market. It comes out of the box with a base unit and four probes, one for the ambient temperature in your smoker and three more for meat (as well as colored silicone rings, so you can color-code your probes to identify them at a glance).
The base unit displays all four temperatures simultaneously, complete with user-settable names ("ribs," "butt #1") and it can also push them to the company's mobile app via Bluetooth, or anywhere in the world using your home's Wi-Fi. If that's not enough, you can accessorize to the max: There are no fewer than six different types of probes to choose from, and you can connect the unit to ThermoWorks' smart BBQ fan to actively control the ambient temperature, rather than simply monitoring it.
​Temperature Range:​ -58° F to 572° F
​Response Time:​ Not specified

​Accuracy:​ To within 1.8° F

​Waterproof/Water-Resistant:​ Water-resistant, IP 66 spec (splash-proof)

​Special Features:​ Bluetooth and Wi-Fi transmission, mobile app, lots of accessories

​Warranty:​ 2 years