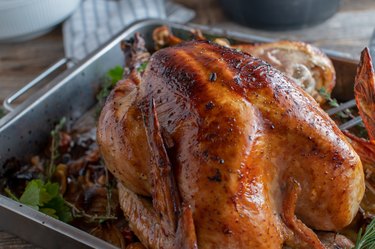 Whether you're reading this during the holiday season or not, a turkey baster can be used 365 days a year. After all, few people would turn down an offer of roasted turkey, pork, beef, chicken or duck any time of the year—especially if you're going to properly baste while it's in the oven. Just imagine that big bird, sitting in that roasting pan, absorbing all those amazing, flavorful juices! For anyone unfamiliar with basting, we've explained what it is and how it works, laid out what to consider when purchasing a baster, and compiled a list of the best turkey basters in 2022.
Why You Should Baste Your Roasts
Basting is a culinary technique by which you continuously moisten the surface of your roasting meat or vegetables in the oven pan. By extracting some of the liquid in the roasting pan and applying it to the surface of the meat over and over again, you will ensure that the food remains lovely and juicy.
While you can try using a spoon to baste the food, it's better and easier to use a proper baster. It's also safer than using a spoon, as putting your hand close to boiling liquids, surrounded by super hot metal, is not something many people want to risk. Instead, we recommend getting yourself a baster. But what should you look for when selecting your baster? We've got you covered.
What to Consider When Purchasing a Turkey Baster
​Size/Capacity:​ Since basting requires you to get close to the hot turkey, a longer baster may be ideal to keep you at a comfortable distance. However, a baster that's too long may be awkward to use. You want a Goldilocks fit—just right. If you tend to cook larger turkeys (20 pounds or more), having a baster with a higher liquid capacity may come in handy as it will allow you to baste more quickly.
​Materials:​ There are a number of common materials used to make basters. The bulb at the top will mostly be rubber, but the rest of the baster could be made from plastic, metal, glass or nylon. Each of these materials has its benefits. Metal is tough and unlikely to break, but you can't see inside of it. Plastic basters will be lighter and easier to use in the oven. However, glass, plastics, and nylon can be more susceptible to excessive heat. Glass basters are also the most fragile and the least likely to be dishwasher-friendly, and even if the manufacturer says they are, it may be safer to wash them by hand.
​Measurement Marks:​ Having accurate and easy-to-read measurement marks is a must when it comes to clear tube basters. And although most basting recipes include timings rather than measurements, it's always helpful to know exactly how much juice you have left in the chamber.
​Accessories:​ Some basters will offer multiple nozzles for certain roasting jobs. For example, some basters will come with a silicone brush for coating your roast. Others may include a shower head-type nozzle for quick and easy basting, or a heavy stream attachment for spraying a thick layer of juice over your food. We've selected a baster on our list that comes with all three.
​Price:​ As you might expect, you can get basters for prices that range from low to high, and find models that range from basic to premium. It's probably a good idea to set yourself a budget and stick to it. However, we don't think it's necessary to spend more than $25 on even a very high-quality baster.
Now that we've covered what to consider when purchasing a baster, let's take a look at your top choices: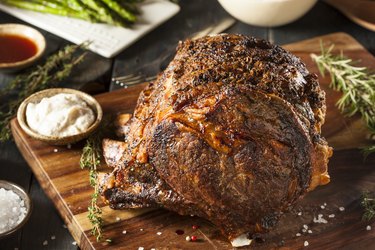 OXO Good Grips Angled Turkey Baster With Cleaning Brush
Designed with safety and usability in mind, the OXO Good Grips Angled Turkey Baster is exactly what you need if you struggle to get to those hard-to-reach places. With its angled design, it makes basting easier and more ergonomic for your wrist.
It has a very useful integrated stand, which prevents the baster from rolling off the kitchen table, as well as helping to minimize drips. The baster boasts a lovely silicone bulb that is comfortable to hold. Plus, it features easy-to-read measurements along the body.
The baster bulb and body are made of high heat-safe materials that won't warp or crack. It disassembles in a matter of seconds, with the bulb and angled nozzle removable for easy washing, and comes with a handy wire brush so you can clean out the tight spaces.
​Dimensions​: 12" x 3" x 2" (L x W x H)
​Weight​: 2.4 oz.
​Dishwasher-Safe​: Yes
​Liquid Capacity​: 1.25 fl. oz.
​Materials​: Plastic, nylon
Norpro Plastic Nylon Baster
At this price point, the Norpro Plastic Nylon Baster offers everything you could need and promises to help you cook better scallops, pork chops, chicken, pot roasts, fish and more. Made from plastic and nylon, it's surprisingly heat-resistant—up to 450 degrees Fahrenheit. Along the side of the baster are clearly marked measurements, ensuring that you can deliver the exact amount of liquid onto your roast as your recipe may specify.
The charm of this baster is that it's basic, yet does its job well. However, it might not stand the test of time due to the materials it's made from. But if that day comes, it will be cheap enough to replace.
​Dimensions​: 10.5" x 2" x 2" (L x W x H)
​Weight​: 0.635 oz.
​Dishwasher-Safe​: Yes
​Liquid Capacity​: 1.5 oz.
​Materials​: Plastic, nylon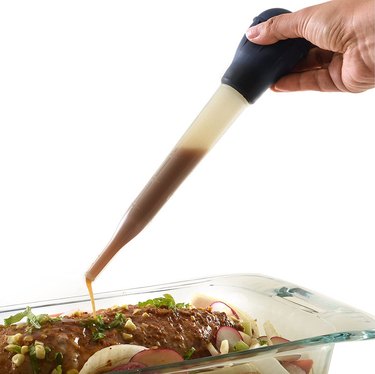 Norpro Deluxe Stainless Steel Baster With Injector and Cleaning Brush
Sleek and tough, the Norpro Deluxe Stainless Steel Baster offers powerful suction, as well as some nice extras. Its stainless body allows you to poke around the oven at any temperature, and even its silicone bulb is able to withstand temperatures up to 450 degrees Fahrenheit.
This baster also comes with a handy cleaning brush—but its major selling point is the injector for getting juices right into the center of the meat. Just make sure to attach the injector before you start to baste, or you could make a little mess.
​Dimensions​: 11" x 2" x 2" (L x W x H)
​Weight​: 1.59 oz.
​Dishwasher-Safe​: Yes
​Liquid Capacity​: 1.5 fl. oz.
​Materials​: Stainless steel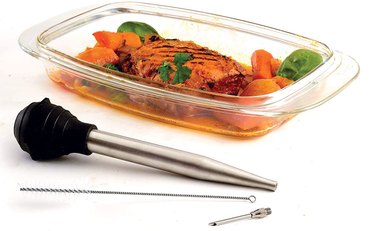 The Best Multi-Purpose Baster
Made from a see-through, durable and heat-resistant Tritan material (which is lighter than glass and also shatter-proof), you can also rest easy knowing this baster is BPA-free. What separates this baster from the rest of the pack is its interchangeable attachments. The first is a silicone brush that ensures you cover your roast evenly. The next attachment is a shower head-style nozzle, which is the fastest way to baste your roast. The final attachment is the heavy stream head, which sprays a thick layer of juice over your roast.
As for how the baster feels in your hands, the silicone bulb is comfortable to use and easy to squeeze. The suction is guaranteed to be strong every time, which can reduce the amount of time it takes to baste, as you can siphon up every last delicious drop of liquid.
​Dimensions​: 14.5" x 3" x 2" (L x W x H)
​Weight​: 6.3 oz.
​Dishwasher-Safe​: Yes
​Materials​: Plastic
Fox Run Heat-Resistant Glass Baster
Simple and elegant, the Fox Run Glass Baster is truly a timeless kitchen utensil. Cleverly made, the bulb is ridged to ensure that the baster doesn't roll off the kitchen counter. And because it's made of glass, you can see exactly how much juice you've suctioned up. It's also rated to handle high oven temperatures.
Plus, out of all the basters on our list, its measurements are probably the easiest to read, thanks to how spread out they are and how thick the clear tube is. While you can technically stick it in the dishwasher and it will probably come out okay, Fox Run does recommend washing it by hand.
​Dimensions​: 12" x 2" x 2" (L x W x H)
​Weight:​ 3.2 oz.
​Dishwasher-Safe​: Yes; hand-wash recommended
​Liquid capacity​: 2 fl. oz.
​Materials​: Glass