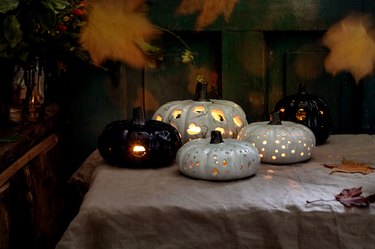 Go ahead, burn that pumpkin spice-scented candle and cozy up under a throw blanket. Start plotting your most creative Halloween costume yet and stock up on bags, and then more bags, of candy. Practice frightening your kids by shouting "boo!" and indulge in a daily PSL. It's one of the most wonderful times of year—spooky season!
To get into the spirit, you'll also want to spend a few dollars on Halloween home decor to brighten both your living room and your mood. From wreaths to tea towels to LED string lights, there are plenty of indoor decorations on the market that'll instantly Halloween-ify your home this fall. To save you time from endlessly scrolling, we shopped the best of the best Halloween decoration ideas for you, finding fun and festive holiday decorations you'll want to add to your cart immediately.
What To Consider When Purchasing Indoor Halloween Decor
​​​​Price:​​​​ If we could freeze time, we'd cozy up in boots and sweaters in front of a bonfire far longer than the season allows. October flies by though, so take that into consideration when you're debating how much money is appropriate to spend on Halloween decor. Most likely, your Halloween decorations will only be on display for a few weeks. That said, if you spend a few extra dollars on quality materials and designs you truly love, you'll be able to reuse the decor year after year. Just be sure to pack it away safely until next October.
​​Ship Date:​​ Before buying season-specific items online, keep a close eye on when your purchase is expected to arrive. (This especially applies for made-to-order pieces from artisan marketplace sites like Etsy.) September quickly turns to October, and before you know it Halloween will be here, so you want ample time to enjoy your decor purchases before trick or treat time rolls around. If something you have your heart set on won't ship until mid-October, you may want to keep shopping for decor that'll arrive on your doorstep sooner. That way you can enjoy the festive fall vibes all season long.
​Style:​ Gauge your tolerance level for spooky decorations, as well as the tolerance level of your family members. If you have little kids at home, don't risk giving them nightmares just for the sake of decor. Halloween decor can be downright creepy, from skeleton hands to realistic-looking spider decals. Scared just thinking about it? Opt for cute Halloween decor instead. There are plenty of elegant decorations that still celebrate the season (like wreaths and Halloween lights) that won't spook anyone, whether trick-or-treaters or yourself. We included options for all spookiness tolerance levels below.
Ready to deck the halls with Halloween decorations? Read on for 10 of our favorite indoor Halloween decor finds.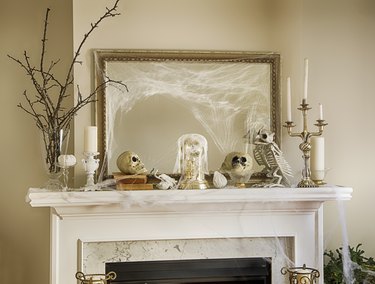 1. Nautilus Puzzles Mini Wooden Jigsaw Puzzle
Nothing brings family and friends together quite like a puzzle. This one, with a charming witch-focused image, is ideal to pull out each Halloween. Since it's just 50 pieces, you can complete it in a short session, with a few mugs of hot apple cider and "Hocus Pocus" playing (for the 100th time) in the background. Or, you could leave it out for the whole family, even little ones, to contribute to every time they walk by. Once every last piece is put together, it reveals a vibrant photo of a witch on her broomstick, with a black cat, haunted house and several ghosts flying around. You can leave it completed on your coffee table until October 31st, permanently glue it together or rip it apart and start over—your choice.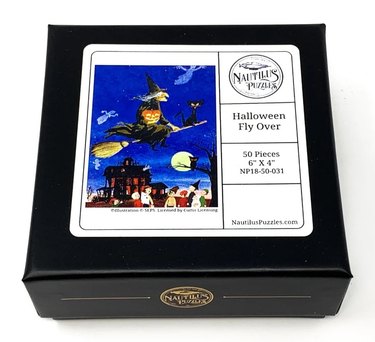 2. Black Bat Light-Up Halloween Wreath
Wreaths aren't just for exteriors, and they aren't just for doors either. This glitzy one would bring a serious jolt of Halloween style to anywhere inside your home. A fireplace mantle is a natural place to hang it, or you could temporarily swap out your mainstay pieces of art for this wreath. The texture from the twisting twigs and bats would be a welcome addition to your Halloween decor. It measures 26 inches in diameter and requires 3 AA batteries, which are not included.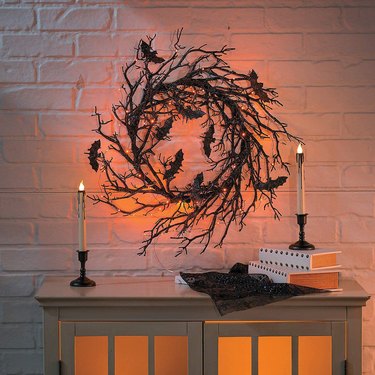 3. There's A Ghost in the Portrait Gallery Art Print
It's easy to leave your favorite pieces of wall art hung up for, well, forever. Don't! Freshen things up occasionally by rotating pieces of your wall decor for seasonal finds, like this sweet ghost-themed print. It is distinctly October-esque, but doesn't scream "Halloween," so it's bound to fit right into your gallery wall. You could opt for a simple frame for this one, but we'd recommend scouring a vintage shop for an ornate one that resembles those in the print.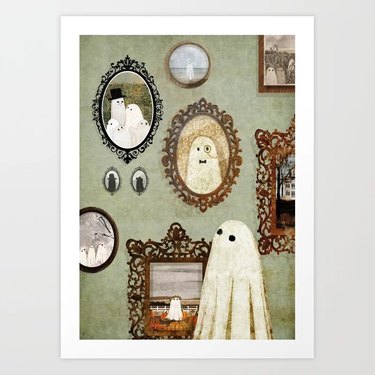 4. Tricks and Treats Dish Towel
Chances are your living room, entryway and front porch are getting spoiled with the majority of the Halloween decorations, but don't forget about your kitchen. An easy way to add Halloween decor to your kitchen is with cute-as-can-be dish towels. They're fun ​and​ functional. Our favorite is this illustrated one from Anthropologie, featuring adorable critters of all kinds dressed in their costumes.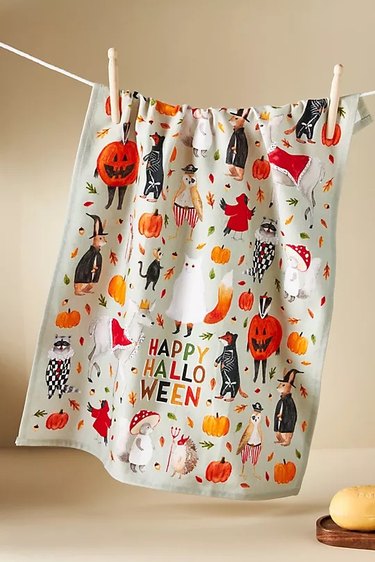 5. Black And White Stripe Spiderweb Ceramic Treat Bowl
You have to put your stash of Snickers and Sweetarts somewhere. It may as well be a holiday-appropriate candy bowl, like this ceramic spider web one from Cost Plus World Market. Once you reach the bottom of the candy stash, there's a spider web at the bottom of the bowl (yes, with a spider). The exterior of the bowl features bold, black and white stripes. It'd come in handy as you're handing out candy to kiddos on Halloween night, and would also make for a great centerpiece on a tabletop at a Halloween party.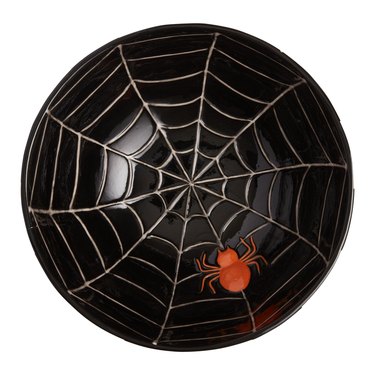 Not all witches are scary. Take this charming plush doll, for instance. You could gift this to a Halloween-loving little one in your life, who would likely carry her around nonstop now until November 1st. Or, you can keep this wicked witch all for yourself. (No judgment here!) How cute would she look propped up on your mantle or sitting sweetly on your couch?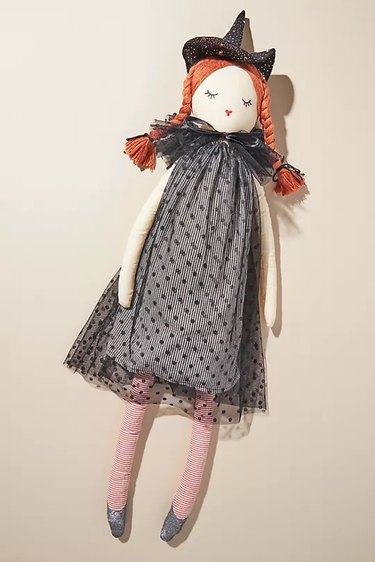 7. Musical Pumpkin LED String Lights
If you don't mind hearing the song "Monster Mash" over and over (and over again), this set of eight jack-o'-lanterns would make for an adorable addition to your Halloween decor. Strung with 24 warm white LED lights, each Halloween pumpkin syncs to "Monster Mash" to perform a delightful light show. Say it with us: Aww! You don't have to rummage through your junk drawer looking for batteries either; this set includes the three AA batteries needed. Note that these are meant for indoor use only, so add them to a doorway or mantle, not a front porch. If "Ghostbusters" is more your jam, you can score Musical Ghost LED String Lights instead.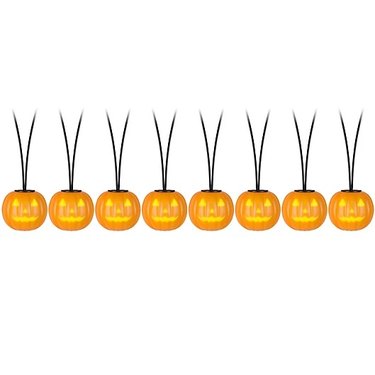 Afraid of spiders? Keep scrolling. These spider decals are for spider-friendly pranksters only. Each set of removable stickers comes with 40 spiders ranging in size from an inch-and-a-half to four inches. Go wild sticking them anywhere and everywhere, whether in your entryway, on your door, on your kitchen floor or crawling up a wall. Chances are any guests who come over will scream thinking you have a terrible spider infestation.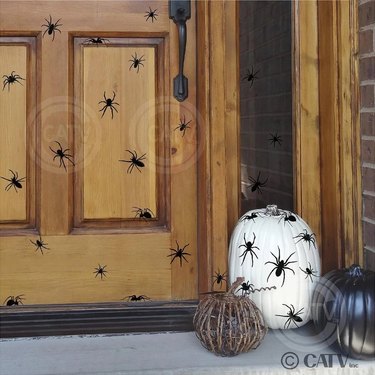 9. Halloween Haunted House Ceiling Hanging Set
If you're shopping for Halloween party decorations, add these to your Amazon cart immediately. This affordable set of swirl hanging cutouts will bring your decor to the next level of fun from the ceiling down, making your house the must-visit one on the block. This set includes a glittered chandelier cutout, two bats, two pumpkins, two skulls, two spiders and two lanterns. The black ropes are included, as are double-sided stickers for easy application. Nab this set, along with a couple of the other items above and plenty of candy, then check "party supplies" off your to-do list.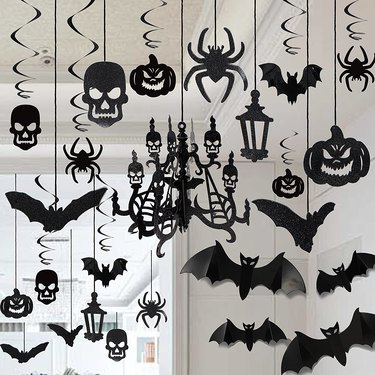 10. Boston International Halloween Taper Candle Holders
You can practically hear these skeleton hands cracking just looking at them. If you've been wondering what your mantle is missing, or what to place in the center of your Halloween party buffet, you're looking at them. These creepy skeleton hands are made out of resin and measure 3 inches wide and 8 inches tall. They're cool, creative and you're likely to be the only one on your block with a pair of them. Just note that the LED taper candles are sold separately.