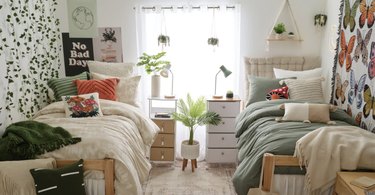 Heading off to college is exciting, nerve-wracking and also your first chance to show off your newly grown-up style in a college dorm room. A headboard is key to making your tiny space feel like home. Bedroom furniture, like a headboard, defines your space, provides a comfortable spot to lean back, and injects your personality and style into an oftentimes bland space.
You can't just choose any headboard for your dorm room though, since you often can't mount them to the wall or the bed frame. Instead, we've compiled this buyer's guide of the best headboards that can attach to a wall with adhesive strips or can be wedged between the bed and wall. Whether your room decor veers classic and neutral or wild and colorful, we've found stylish, affordable dorm-friendly headboard options for you.
What To Consider When Purchasing a Dorm Room Headboard
​Size:​ Most dorm-issued beds are twin XL. They are five inches longer than a standard twin bed, but the same width: 80 inches. Likely, you'll want a headboard that fits a twin-size bed, but if you have wall space to spare you might consider upgrading to a wider headboard that can move with you to bigger apartments and bigger beds. (Larger headboards also create a grand feeling and a spot to accommodate side tables during dorm life.) If it's lightweight and easy to move, all the better.
​Installation:​ Keep college dorm headboard installation minimal, if not non-existent. While some small holes in your dorm room walls may be okay—you have to hang pics of your BFFs somewhere—many have cinder block walls that make mounting a headboard to a wall impossible. Drilling a headboard to a dorm room bed frame is a no-go too. Dorm room headboards that can be tucked between the bed frame and wall are ideal, and so are lightweight ones that can be hung with adhesive strips.
​Price:​ Mostly likely, you won't be sleeping in a dorm bed longer than nine months, so there's no need to invest serious money in a headboard. However, if you choose a headboard that can move with you to future apartments and grow with you as your bed size and style do, then spending more money may be worth it. We selected a variety of dorm room headboards, no matter your budget, including several options that cost less than $150.
​Style:​ As the largest piece of furniture in your room, your dorm bed—and especially the headboard!—will set the tone for your room decor. Whether you want a tufted style, a bold color scheme, a plush texture or a relaxing neutral (to help you stay zen during finals week), there are plenty of options. If you're sharing a dorm with a roommate, consider giving them a heads up as to which headboard you're considering, since it'll be such a standout piece of your dorm decor.
Read on for the best dorm room headboards that are cozy and cool. Here's betting all your new friends will gravitate towards your room.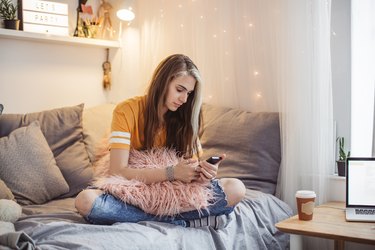 The Best Overall Dorm Headboard
West Elm Kids Cane Headboard
This twin headboard is the perfect pick for a college student's first grown-up bedroom, since it marries young and fun with boho and sophisticated. The handwoven rattan brings texture to your space, and its neutral color is easy to pair with any duvet—from simple white to bright colors and patterns. Weighing just over 11 pounds, this dorm room headboard can easily be adhered to your wall with adhesive strips—many of them hold up to 30 pounds—so you can move it from apartment to apartment.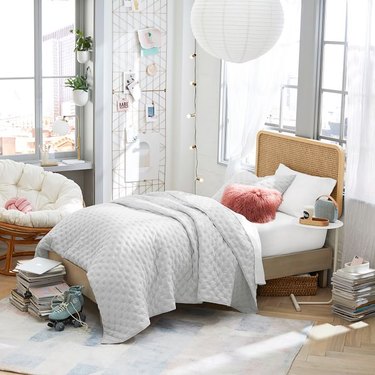 The Best Budget Dorm Headboard
Art3d Peel and Stick Headboard, 6 Panels
In terms of headboard installation, it doesn't get much easier than peel-and-stick, like this DIY headboard from Amazon. It's guaranteed to stick to all surfaces, even cinder block. If you're concerned the adhesive will damage your dorm room's walls—you don't want to be charged at the end of your freshman year—apply painter's tape to your wall first, and then adhere the panels to that. Not only will this headboard provide a soft spot to lean against, but the panels will help sound-proof your dorm room, so you're less likely to be kept awake by your neighbor's all-night dance party.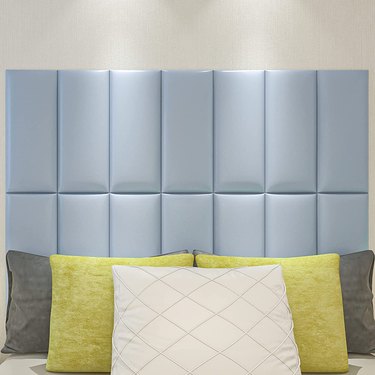 The Best Charging Dorm Headboard
Pottery Barn Teen Tech Smart Avalon Faux Headboard
There are three things we're sure of. One: college freshman or not, your phone is likely attached to your hand at all times. Two: chances are that your mom will want to get a hold of you at all hours during your first semester away, and you better not send her straight to voicemail with a dead phone. And finally, three: dorm rooms don't always have the most convenient wall plugs. Charge in style with this smart headboard instead, which features two three-prong outlets and two USB ports. No more crawling under the bed searching for a wall plug. It's beautiful to boot, with super soft velvet channels in either blush, gray or ivory. As for installation, either use the included mounting hardware or stick it to the wall with velcro adhesive strips.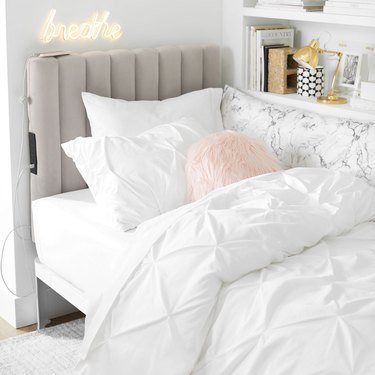 The Best Dorm Headboard Pillow
Novashion Triangular Wedge Pillow
You'll want something plush to rest against as you're pulling an all-nighter studying for a chemistry exam. That's where this tufted headboard cushion comes in handy, as it adds definition to your bed (just like a headboard does) while also acting as a comfy spot to rest. We also love the side pocket too; that way you'll always know where your phone is, so you'll never be caught ransacking your dorm room for it while running late to class. Perhaps best of all, it's easy to wash—a must for college students. The wedge pillow measures 70 inches long and is currently available in dark gray (pictured here) or light coffee.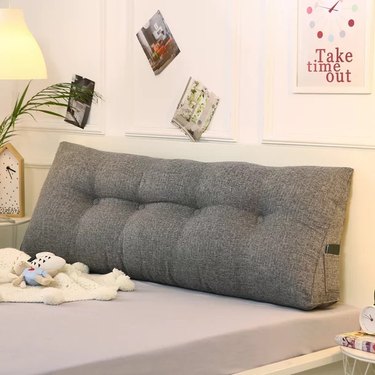 The Best Patterned Dorm Headboard
Dormify Roller Rabbit Amanda Charging Rounded Headboard
This dorm headboard is a splurge, but if you're looking to make a serious statement, this is the one for you. The colorful print—available in either hot pink or blue—adds instant style and energy to any dorm room. Bonus: this headboard, which features a regal rounded shape, includes charging outlets, so you'll always wake up to a fully charged phone. No installation is needed either, as it simply tucks between the bed and wall.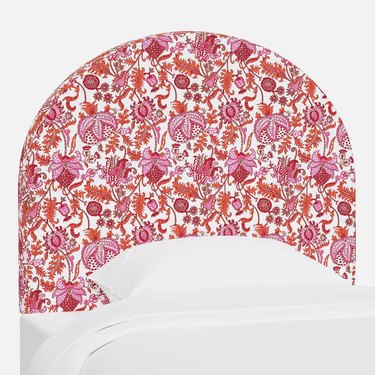 The Best Dorm Headboard Decal
LocusPrintDecor Arch Headboard Wall Decal
To keep your costs and commitment-level low, opt for a removable decal instead of the real deal. This faux-headboard alternative will give the impression of a defined space and will likely trick new friends into thinking it's a cool textured headboard. (At least, until they get a little closer.) These decals from Etsy come in every size possible, with twin size ones costing $115, as well as 16 colors, from mustard to olive to navy blue. Plus, if you're moving far from home, this will take up nearly no space in your packed car. That way you don't have to ship it directly to your dorm, and will have your parents' extra sets of eyes and hands to help you apply it to your wall wrinkle-free.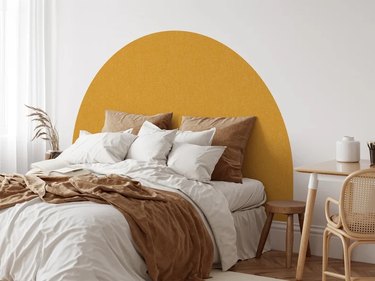 The Best Over-The-Bed Storage Shelf
The Novogratz Beverly Over-The-Bed Shelf Tower
Storage is key—and often lacking—in a dorm room. While this over-the-bed storage shelf won't give you a plush place to rest your head, it will solve your problem of where to put your framed photos, a plant or two, and the headphones you're always misplacing. It's available in six color combos, and includes an anti-tip kit to secure it to the wall. Stock up on a few extra pillows, then rest easy knowing you're making the most of your small space with this storage shelf.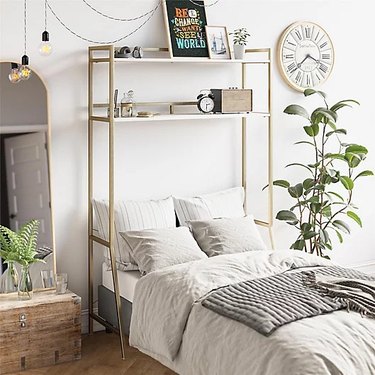 The Best Dorm Headboard That Attaches To The Bed Frame
Padro Extra Long Twin Upholstered Panel Headboard
Easy installation is a must for dorm headboards, and this velvet headboard from Wayfair—with a thick foam fill and soft velvet upholstery—couldn't be easier. Two sets of straps secure the upholstered headboard to your bed frame, or use the four fabric loops in the back to hang the headboard using hooks. Voilà! You'll be resting in style in no time. Don't forget to take advantage of the small pockets on either side too; use those to keep your phone, glasses or TV remote within reach.