A reusable wall calendar is something you'll be looking at all year long, so it's important to find one that you actually enjoy seeing hanging on your wall. A wall calendar isn't exactly the most stylish addition to a room, but it's better than forgetting to pick up your kid after soccer practice. Again.
Wall calendars come in different formats, including minimalist calendars that simply display the days and maybe the months, as well as larger calendars that provide white squares for every day of the month so you can write in your schedule or notes. If you decide to go with a wall calendar that provides visible reminders for you and your family each day, you'll want to make sure that it includes enough room for you to write the information that's pertinent to your life, like your family's schedule, birthdays or holidays.
We rounded up our top picks for the best reusable wall calendars, which have a few perks compared to single-use paper wall calendars. Perhaps most importantly, they create less waste. They also give you the freedom to make mistakes and change things around as needed. Plus, you can add your personal style to the calendar—maybe even something different every month!
What to Consider When Purchasing a Wall Calendar
​Material:​ There are several options for wall calendar materials, and the type you buy will depend on what you plan to do with it and the aesthetic you're going for (if that matters to you). The most popular reusable wall calendars are made of acrylic, dry-erase board, silicone or chalkboard.
​Size:​ Wall calendars come in a wide range of sizes from calendars as big as an entire wall all the way down to travel size. The most popular size is around 8.5 inches by 11 inches—large enough to write schedules in the daily boxes, but not too big where it takes up all of your wall space. Anything smaller might be hard to write within the dates, but it's doable if you have a steady hand and not a lot going on.
​Graphics:​ A wall calendar won't be very helpful if you struggle to see or read the graphics. If you have a hard time reading small print or certain fonts, make sure to buy a wall calendar that includes words and numbers that are easy for you to read and won't have you squinting just to see today's date.
​Where You'll Hang It:​ Deciding where you will hang your wall calendar will help determine the size you should get. If it's a calendar the whole family needs to see, hanging it in a common area like the kitchen, mudroom or living room makes sense.
Take a look at the best wall calendars of 2022 below.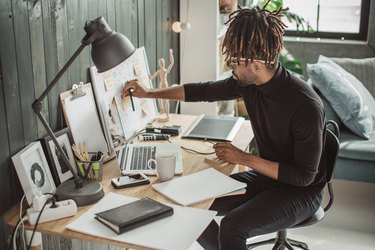 1. West Elm Girl Friday Acrylic Calendar
If you're looking for a chic, modern wall calendar that will last forever, this one from West Elm is the perfect option. Its transparent floating design makes it less of an eyesore and more of a stylish addition to your home decor—whether it's your home office or kitchen. To erase, use a damp cloth or paper towel and wipe clean with a dry towel. The wall calendar comes in two sizes with either black text to hang on a light wall or white text to hang on a dark wall.
​Dimensions:​ 23" x 18.5" (small), 31" x 23" (large)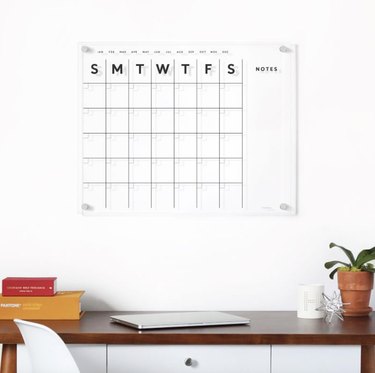 2. Mag-Fancy Dry Erase Calendar Kit
This dry erase calendar kit has two holes at the top for hanging it on a wall, but the most convenient spot to hang it is on a refrigerator. The back of the calendar consists of an extra-strong magnet to ensure it stays put on your fridge. Write in the month and add your own notes to each color-coded day of the month if you choose. The kit comes with a pack of multicolored dry erase markers.
​Dimensions:​ 13.2" x 16.9"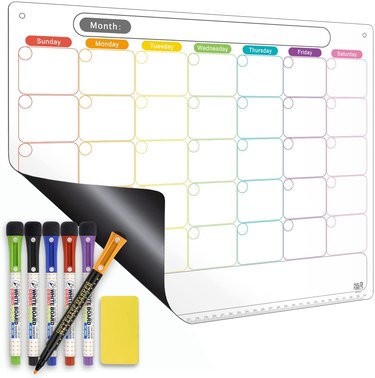 3. ThreeByThree Stick-It Monthly Planner
Perfect for high school or college students to hang on their bedroom walls, ThreeByThree's Stick-It Monthly Planner is removable, reusable and won't scratch any surface. Made of silicone material, the planner is very durable and can adhere to any nonporous surface including glass, refrigerators, plus smooth doors and walls. You can write on it with dry erase markers or chalk.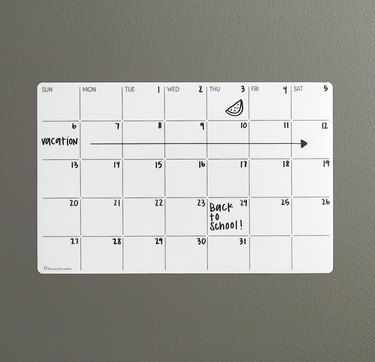 4. Urban Outfitters Spectrum Wall Calendar
If you want a minimalist look at what day it is without all the extras a typical wall calendar includes, check out this cute and colorful calendar. Made of acrylic and vinyl, the wall calendar has a clipboard backing and colorful pages and numbers.
​Dimensions:​ 8.4" x 0.75" x 9.7"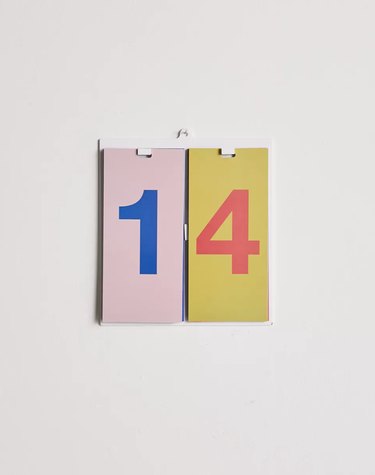 5. WallPops Self-adhesive Black Abstract Wall Decal
We love the look of this sleek black calendar with white writing. It works best on a light-colored wall, unless, of course, you're looking to have it really blend in. This peel and stick calendar can be repositioned and easily removed, and it's safe for painted walls. The calendar works with dry erase markers with plenty of space to fill in the blank squares.
​Dimensions:​ 17.5" x 24" x 0.125"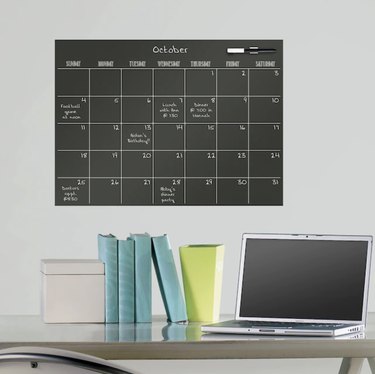 6. MemoCustomAcrylics Family Planner
This acrylic wall calendar isn't just a calendar, it's a full-blown family planner. You can fully customize the planner to display your family's name, a word or a phrase at the top. You can also choose the hardware color, text color, the day of the week to start with, and the side headers you prefer (like Notes, To-Do or Menu). There are five sizes to choose from and there's an option to add an additional dry erase marker set.
​Dimensions:​ 18" x 24", 24" x 18", 28" x 20", 36" x 24", 40" x 28"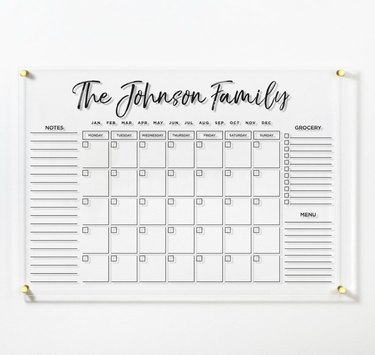 7. AcrylicSignArt Acrylic Weekly Calendar
The design of this wall calendar is super convenient for a family with two kids or partners who need to keep track of each other's schedules. It can be personalized with two names for two different weekly schedules. Customize the calendar even more with the side headers of your choosing (like Notes, Recipe, List, etc.), the start day (Sunday or Monday), font, text color and hardware color. Once you place your order, the seller will send you a preview of the design before it's made so you can make adjustments if need be.
​Dimensions:​ 18" x 24", 24" x 18", 28" x 20", 36" x 24", 40" x 28"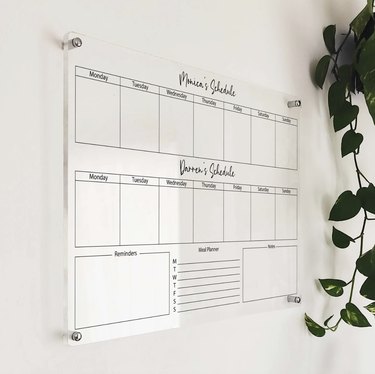 8. Loddie Doddie Rustic Framed Chalkboard Calendar
A chalkboard wall calendar has an old-school vibe that just feels right. This wood-framed calendar has a rustic feel and gives you room to write the month and the date, as well as a grocery list or other notes. The notes section is magnetic, which makes it easier to add a list that's already written or even photos. There's a small corkboard on the bottom of the calendar for more notes or photos, and it comes with pushpins. The calendar is sold in two sizes and two finishes (rustic wood or white) and it can be hung with the included hardware.
​Dimensions:​ 18" x 24", 24" x 36"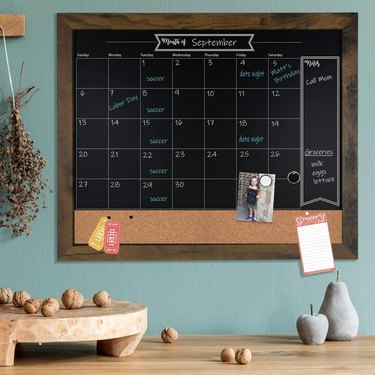 9. LushLeaf Designs Large Dry Erase Wall Calendar
This jumbo yearly wall calendar is ideal for an office where several people need to see a visual of the calendar every day—or for your private office if you prefer to see your entire year's schedule laid out in front of you. The calendar has an extra layer of laminate to help it last even longer. The dry erase markers can be easily erased without scrubbing, and the writing won't leave any stains.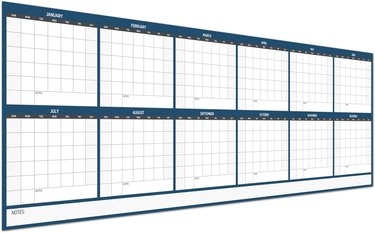 10. SimpleShapes Chalkboard Wall Decal Calendar
This wall decal calendar (which should really be called a decalendar, right?) will take up an entire wall, so you really need to be dedicated to the design element for it to work. The vinyl decals adhere to the wall and can be removed at any time. You can choose the color of the lettering decals, but the chalkboard grid only comes in black. There's also the option to add a chalk pen to your order if you don't already have one.
​Dimensions:​ 85.5" x 74"