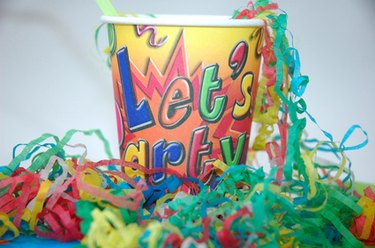 Invitations serve to let your guests know everything important about the birthday party you're planning. Filling out the birthday invitations isn't difficult once you have all of the party details worked out. It is important to completely fill out each invitation, neatly, to ensure your guests will know who's birthday they're being invited to celebrate, when and where to show up and any special instructions you may have for them.
Step 1
Write who and what the birthday party is for. Excite your guests by informing them that it's Sarah's fifth birthday party or Ginger's 21st birthday party. Knowing who the party is for, and what she is celebrating is imperative information that guests need to know.
Step 2
Include the full date and time for the party. The date should include the day of the week, month, date and year. Write in the time the party is scheduled to begin and end. That will help parents plan out when to pick up their children for a child's birthday party.
Step 3
Put the full address and name of the party location. If it's your home, write "Sean's house" or something similar, with the full address in case some of his friends don't know where you live. Consider including a map to make it easier for guests to find.
Step 4
Give guests your contact information so they can verify if they'll attend or not, and in case they need to contact you for any reason. Include your phone number and email address, if possible.
Step 5
Include any special instructions. This might include asking guests to bring old clothes for dirty or wet games, sleeping bags for sleepovers or costumes for a dress up party. If it's a surprise party, the invitation should make that clear. If siblings or parents aren't invited to attend, write "you're one of Brynn's eight chosen friends" or something similar. If the guests' families are invited, let them know.
Tip
Write neatly. If guests can't read the information, they won't know when to show up or why they should attend.