There are endless ways to celebrate the countdown to Christmas, from baking cookies to wrapping gifts to cozying up to another viewing of ‌Elf‌. During each of those activities, as well as during your precious downtime in the month of December—"what downtime?" you're asking—you can also celebrate your sense of smell with a holiday-scented candle.
Whether you opt for a candle with notes of pine, gingerbread or cardamom, each and any of the following, our favorite holiday-scented candles, are sure to instantly put you in a bright, cheery mood.
What to Consider When Purchasing Holiday-Scented Candles
‌Burn Time:‌ We've all watched in horror as a candle disappeared before our eyes, the wax melting away far too fast. To ensure you're buying a candle that will last you all season long, keep an eye on the estimated burn time. (Most retailers will call out a number or outline a range.) The bigger the candle doesn't always mean the longer the burn time either. That said, if the burn time is exceptionally long, do you really want to have to store a holiday candle between seasons? Or would you rather choose a candle that you can burn through in a month, so come December 26th you can upcycle the vessel?
‌Types of Scents:‌ Holiday-themed candles can range from forest-like to cookie-sweet, with all kinds of spicy, saccharine and woodsy scents in between. Scents are incredibly personal—what one person can't get enough of could be objectionable to another—so go with your gut as to what you think you (and your family) will enjoy the most. If you're not sure, opt for a set of smaller candles so you can experiment with various scents without committing to an oversized candle that will take you years to burn through.
The countdown to Christmas is nearly here, so scroll on for the best holiday-scented candles. With a single light of a match, each and every one of the following candles—our favorites!—would bring a cozy feel and inspiring scent to your home all season long.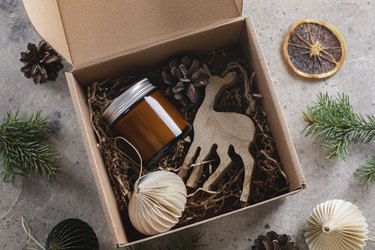 1. Homesick The Nutcracker Candle
If going to see ‌The Nutcracker‌ is one of your holiday traditions, add burning this candle with the same name to your annual must-do list too. Notes of clove and cinnamon pair with sweet vanilla and pecan for a nutty, spicy scent that will waft throughout your home for up to 80 hours—a long burn time for such a slim candle. Turn on some Tchaikovsky and all of your senses will be inspired this holiday season.
‌​Burn Time:​‌ 60-80 hours
​‌Size:​‌ 13.75 oz.
‌​Number of Wicks​:‌ 1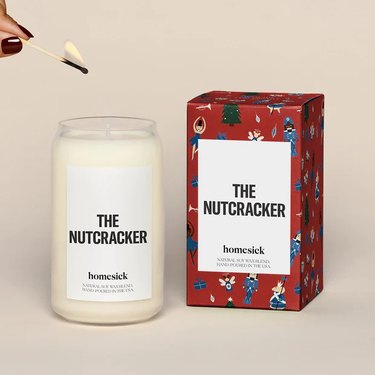 2. Linnea's Lights Winter Candle
This winter-themed natural soy candle is as invigorating as a fresh coating of snow. With top notes of spruce and mint and hints of cranberries and cinnamon, you'll feel good about burning this candle all day and night come the holiday season, not only because it smells heavenly but because it's made thoughtfully too. Woman-owned Linnea's Lights hand-pours their candles, which are created with ethically sourced materials in the U.S. The company partners with both local and global causes to make the world a better place. If you don't burn through it by the time Santa visits, there's no need to store it away until next year. This scent is all-winter-long-friendly.
‌​Burn Time:​‌ 60-70 hours
‌​Size:​‌ 11 oz.
‌​Number of Wicks​:‌ 2
3. D.S. & Durga Portable Fireplace Candle
The name Portable Fireplace doesn't lie. This cult-favorite candle from D.S. & Durga would fool anyone into thinking there's a crackling fireplace burning in the next room. Give it one sniff and you'll be transfixed with its rich scent that's thanks to its notes of smoke, cedar and dwarf pine wood. There's no denying that D.S. & Durga candles are not cheap, but once you know that they're hand-poured in the Brooklyn studio of a husband-and-wife duo using premium oils and ingredients—and once your fireplace-less home is enveloped in an intoxicating smoky scent—you'll be convinced they are worth every penny.
‌​Burn Time:​‌ 60 hours
‌​Size:​‌ 7 oz.
​‌Number of Wicks​:‌ 1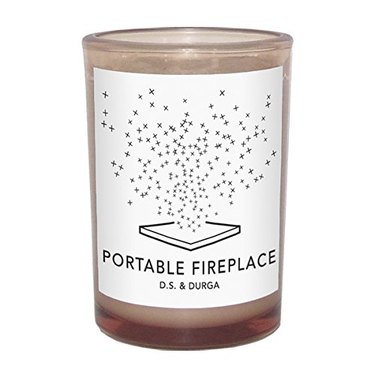 4. Holiday in the City Candle
A heavenly holiday-scented candle is great. A heavenly holiday-scented candle in a beautifully designed glass vessel, one that can double as Christmas decor, is even better. Times that by three candles? Three times the charm. The London candle evokes old-fashioned candy canes with a peppermint stick and vanilla sugar scent, while the New York City candle is scented with citrus, frosted thyme leaf and pink-peppered cedar. Finally, the Paris candle wafts blood orange and frosted herbs throughout your home. Each would be a delight to both light and look at!
‌​Burn Time:​‌ 45 hours
‌​Size:​‌ 10 oz.
‌​Number of Wicks​:‌ 1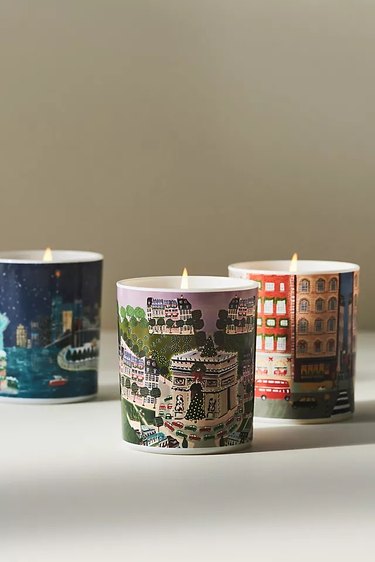 5. Smells Like Christmas Movies and Snuggles Candle
The only thing that rivals how great Christmas movies and snuggles are is a candle that evokes those same feelings. What does that cozy feeling smell like exactly? That's up to you. This Etsy seller allows you to choose from two dozen scents and six different label colors so you can personalize your holiday-themed candle to your preferences, both scent-wise and decor-wise.
‌​Burn Time:‌​ 25 hours
‌​Size:​‌ 6.8 oz.
‌Number of Wicks​:‌ 1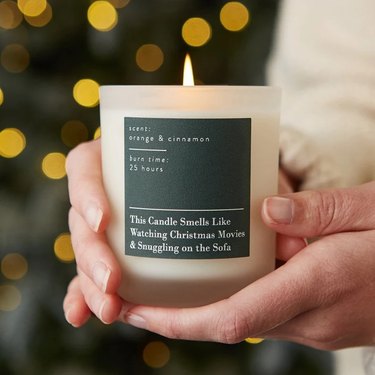 6. Thymes Pine Needle Frasier Fir Candle
Thymes's Frasier Fir candle is, dare we say, the perfect holiday-scented candle. It's not too sweet, not too spicy, not too anything. It's perfectly refreshing and natural, with the forest-inspired scent of crisp Siberian Fir needles, cedarwood and sandalwood. Light this one on the first chilly day of the season, then keep it burning long after New Year's Day.
‌​Burn Time:​‌ 45 hours
‌​Size:​‌ 6.5 oz.
‌​Number of Wicks​:‌ 1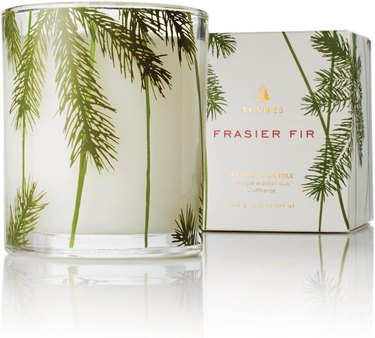 7. Illume Holiday Tin Candles
There's no need to commit to one holiday-scented candle this Christmas season. Instead, vary it up with a variety of small tin candles, like this set of three from Illume. That way you can mix it up from night to night or room to room. This set includes Winter White (evergreen, frosted cypress and cardamom), Woodfire (cedarwood, smoke and vanilla), and Balsam + Cedar (oak moss, cinnamon and eucalyptus)—good luck choosing which one to burn on any given day! Hint, hint: This set also makes for a great gift for anyone on your Christmas list.
‌​Burn Time:​‌ Up to 17 hours each
‌​Size:​‌ 3 oz.
‌Number of Wicks​:‌ 1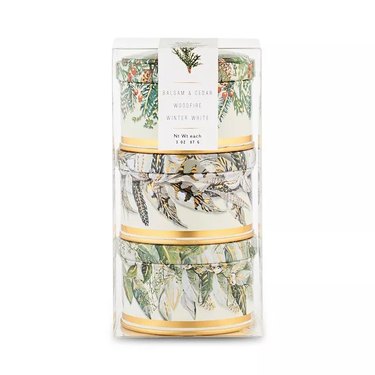 8. Winter Candle Gift Set
Take the phrase "gift set" as seriously as you'd like, turning this set of four holiday-scented candles with the add-on gift box into a top-notch gift for anyone on your list. We won't tell anyone if you decide to keep these wintry candles for yourself though. Who could blame you? With scents like Christmas Hearth (orange peel, cinnamon, ginger, cypress, clove, pine and fir), Frasier Fir (lemon peel, cypress, evergreen, cedar, fir, amber and moss), gingerbread (cinnamon, ginger, tonka bean, nutmeg, molasses, vanilla and sugar), and Sweater Season (camphor, citrus, pine, red currant, berry, pear, cherry blossom, ozone, juniper and sage), each and every one would turn your home into a winter wonderland with the single strike of a match.
‌​Burn Time‌:​ 20+ hours each
‌​Size:​‌ 4 oz.
​‌Number of Wicks​:‌ 1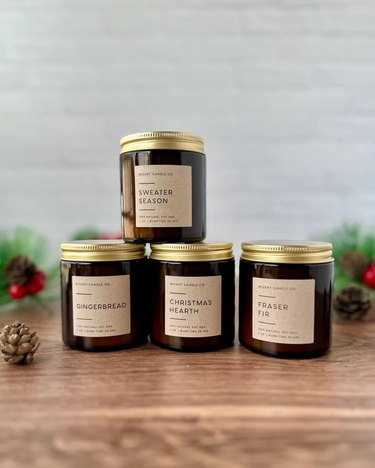 9. Yankee Candle Christmas Classics 3-Piece Mini Candle Set
A little sweet, a little spicy and a little woodsy—that's what you'll get from this mini candle set. Switch up your home's scent from the spicy Sparkling Cinnamon one day to the vanilla-scented Christmas Cookie candle the next, followed by the Balsam & Cedar scent, which, if you close your eyes, will smell like a walk in the forest. A small set like this is ideal if you can't decide on a single scent, aren't looking to spend much money or simply if you need to stock up on hostess gifts for all the upcoming holiday dinner parties on your calendar.
‌​Burn Time:​‌ 10 hours each
‌​Size:​‌ 1.3 oz.
‌​Number of Wicks​:‌ 1