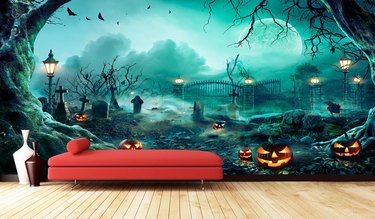 With Halloween right around the corner, it's time to start thinking about spooky (or perhaps not so spooky) decorations for your home. Whether you're a bonafide Halloween aficionado who loves to keep your home festive all season long, or want to go all-out in theming your Halloween party, temporary, removable wall murals can take your decorating to the next level.
Temporary wall murals are a great way to make indoor spaces feel larger by creating the illusion of depth—and they can even bring the outdoors in. Although they look great on their own, there's nothing stopping you from embellishing them with three-dimensional objects and other add-ons of your choosing. Best of all, they're easy to put up, safe for your walls and mess-free. Not to mention, they can make the ultimate Halloween party photo backdrop.
From dark forests to enormous castle halls to graveyards enshrouded in fog, any of the wall murals on this list could be the perfect complement to your indoor Halloween decor—or even the frightening focal point.
1. Dark Forest Removable Wall Mural by Recallart
Imagine an ominous moonlit forest right in your own living room. You can make that chilling scene a reality with this realistic and atmospheric mural from Recallart on Etsy.
While the shop also offers non-woven wallpaper and tapestries, the most cost-effective option is the self-adhesive, removable wallpaper. You simply peel it and stick it! No paste or glue is required, allowing for easy removal without damaging your wall, making it a perfect temporary backdrop for a Halloween party. Plus, it's reusable, so you can utilize it for a number of spooky or fantastical occasions.
The mural is available in multiple sizes ranging from 28 to106 inches tall and 42 to157 inches wide. Contact the seller directly for custom sizes.
All murals from this seller come delivered in several strips that slightly overlap for easy and cohesive installation. They're also eco-friendly, fire-rated and UV-resistant.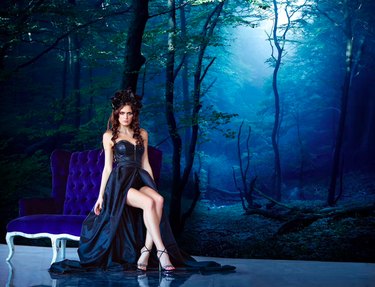 Drape a faux ivy curtain like this one on Etsy on either side or at the top. This will enhance the illusion of depth by adding a three-dimensional element. It's also a clever way to cover up any blank wall that remains, and a cost-effective solution when you only have the budget or space for a smaller mural.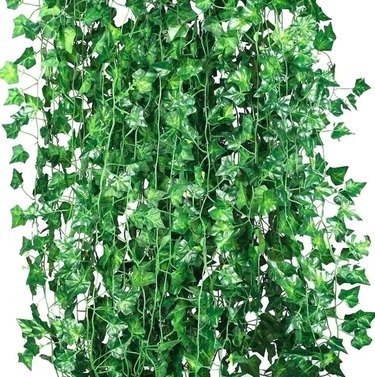 2. SKIWAMural Removable Halloween Peel and Stick Wallpaper
For a more cartoonish and eye-popping Halloween backdrop, this silhouetted, removable wall mural is ideal for kid-friendly parties that aren't too scary. The orange and black contrast makes it an effective focal point for any room. And if you're looking for that perfect party photo backdrop that just screams "Halloween," this is it.
To install the mural, simply peel and stick—again, no glue or paste required. After removal, a quick wipe with a damp cloth does the trick, leaving behind no permanent residue. The mural comes in three sizes (77 inches by 55 inches, 116 inches by 83 inches and 144 inches by 100 inches) and arrives in four pieces.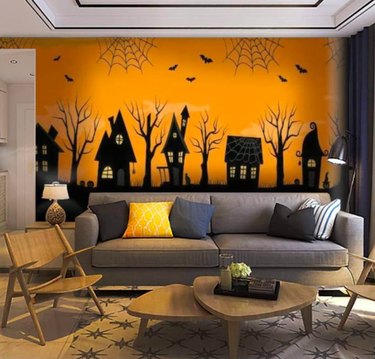 Add three-dimensional bat stickers using a DIY kit like this one on Amazon that comes with bats in multiple sizes. You can even bend the wings to different angles.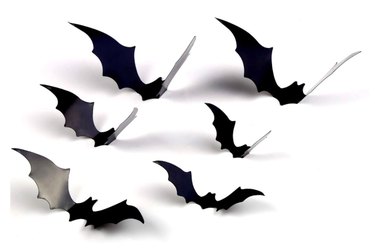 3. Great Hall Wizard's Castle Self-Adhesive Wall Mural by Recallart
This beautiful wall mural from Recallart on Etsy is a great choice if you want to throw a Harry Potter-inspired Halloween party. It comes complete with hundreds of floating candles and a cloudy, moonlit sky ceiling. While not an exact replica, this mural closely resembles Hogwarts Castle's spacious Great Hall as it appears in the Harry Potter films. Even if you're not a Harry Potter fan but are throwing a dark fantasy-themed party, Halloween or otherwise, this mural serves as a suitably magical backdrop.
This mural is available in multiple sizes up to a massive 125 inches tall and 155 inches wide (roughly 10.4 by 12.9 feet). Like the aforementioned dark forest mural, all murals from this seller come delivered in several strips that slightly overlap for easy and cohesive installation. They're also eco-friendly, fire-rated and UV-resistant.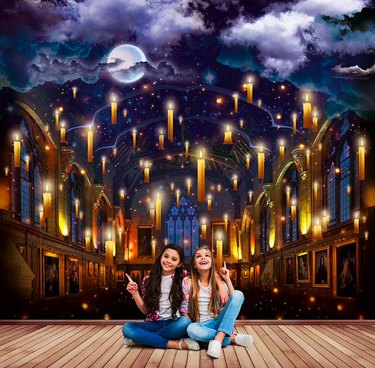 Using double-sided tape strips such as these from Amazon, add some flickering LED candles, like these best-selling ones on Amazon to the mural. For best results, position the three-dimensional candles on top of the two-dimensional candles that appear closest to the "camera." Or, simply add several candles wherever you want, creating a new three-dimensional layer of candles that will really help the mural pop, especially in a dimly-lit room.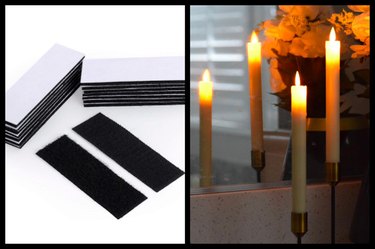 4. Halloween Pumpkin Wall Decal by FanShopStop
This Halloween wall decal is ideal for those with limited space, as it's no bigger than 40 inches tall and 70 inches wide at its largest size. However, while it's on the smaller side, it's a unique entry on this list because it offers a peek at an ominous, fog-covered outside world, rather than placing it front and center, making your home a safe space. Or is it?
Printed on premium quality vinyl using eco-friendly inks, this mural is available in five different sizes, with the smallest being 12 inches tall and 22 inches wide. However, if you want it to be noticeable from farther away, the largest size of 40 inches by 70 inches is recommended. The main option isn't suitable for textured walls, but if you do need one for textured walls, contact the seller, as they have another material available.
Add some three-dimensional fake cobwebs like these from Amazon around the edges to imitate the passage of time (and because, let's be honest, spiders build cobwebs anywhere they can!).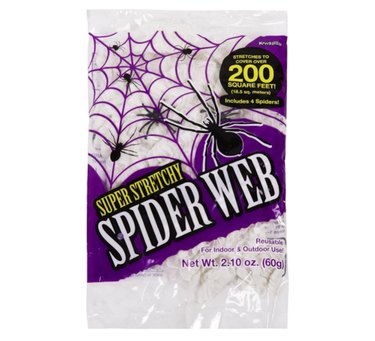 5. Scary Cemetery Halloween Backdrop by Digital3DPrinting
Probably the most bone-chilling mural on the list, this mural from Digital3DPrinting on Etsy depicts a creepy-looking, moonlit cemetery enshrouded in a low fog, complete with tilted headstones, glimpses of dead trees and sneering jack-o-lanterns. Printed in high resolution on thin vinyl, this mural works especially well as a photography backdrop, but with some temporary adhesives or pins, it can easily be attached to a wall. It can double as the perfect Halloween party photo spot and an accent wall that really makes the indoor space feel larger by bringing the outdoors in.
It comes in a variety of dimensions, up to a massive 8.83 feet tall and 20 feet wide, but don't worry, there are plenty of options if you don't have the space or don't need something so huge.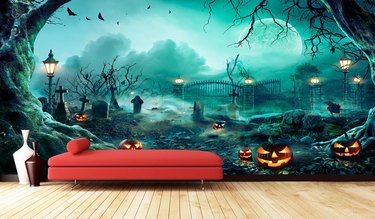 Using a couple of simple removable wall mount hooks like these ones on Amazon, string up some battery-powered LED jack-o'-lantern lights for a fun splash of color. From a distance, they'll look like they're floating spookily above the haunted cemetery.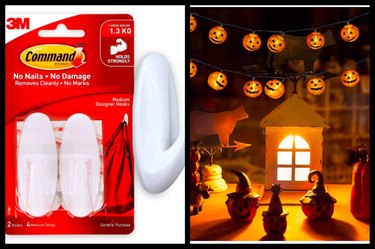 Whether you simply want an Instagram-worthy Halloween photo backdrop or you want to play with the illusion of space and depth, these temporary murals and decals are easy to install and remove, making them a hassle-free choice that won't damage your walls. If anything, they're an excellent jumping off point for your Halloween party decor scheme, and with a little embellishment, you can amplify that wow factor even more. Happy Halloween!