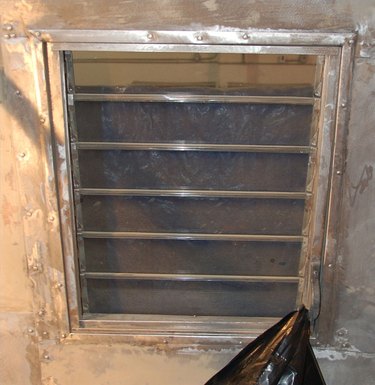 Whether large casements or multi-pained jalousies, windows that crank open offer lots of decorating options. When planning window treatments for these windows, take into account the direction the window opens and the location of the crank. Also, think about why this particular type of window was chosen and how your window treatment will work with that purpose. Jalousies, for instance, are often installed on sun porches and other areas where lots of ventilation is desired. Casement windows have clean lines that offer an unobstructed view.
Location, Location
When mounting blinds or shades on casements or jalousies, mount them on the inside of the window frame to avoid interfering with the crank. If you have a casement window that opens inward, you can either attach your window treatment well above the window, so that shades or blinds can be drawn up out of the way when the window is open, or attach the drapery treatment to the window itself, so that the treatment travels with the window as you crank it open or shut. Alternately, you can purchase a curtain rod that swivels so it can be pushed out of the way against the wall when you want to open the window.
Keep it Light
Since casements and jalousies are often installed where either an unobstructed view or lots of ventilation are desired, it's best not to block them with heavy drapes or shades. Instead, choose light-weight material to dress them, such as lace, sheer cotton or netting.
Consider a simple valance or scarf for a decorative touch that doesn't block the window. Or install of Roman or roller shade that can be raised during the day and lowered at night.
Stick it On
Instead of conventional curtains or blinds, consider covering the glass of your casement or jalousie window with a decorative decal. You can buy adhesive window treatments that mimic stained glass, lace, frosted glass or pebbled glass. These patterns can give you the privacy you desire while still letting in plenty of light. Also, they don't interfere with the operation of the window. These decals are easy to install and can be changed as often as you like for a new look.