Things You'll Need
Pop-up canopy tent

Fabric

Bricks

Wooden board

Game

Prizes

Signs

Rectangular table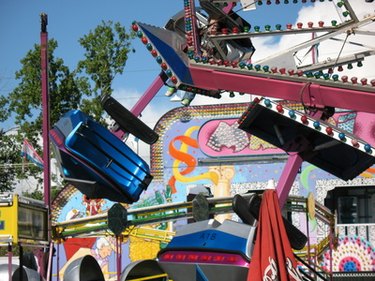 Whether you are planning to set up a carnival booth for fun activities, games or to promote a product, it's the way you construct and design your booth that sets the booth apart and attracts more crowd. Your carnival booth must be spacious enough to accommodate people for the activity or game you have planned. At the same time it should not occupy more than the space assigned. Construct an attractive and inviting carnival booth so your activity will be successful.
Step 1
Ask a person to help you set up the pop-up canopy tent on the day of the carnival. Follow the package instructions carefully. Setting them up is difficult for one person. When setting up the canopy tent ensure that it stays within the space assigned. Make sure that you secure the tent tightly to the ground according to packaging instructions. If this part is ignored the tent may destabilize, resulting in an accident.
Step 2
Purchase fabric in colors and design based on the booth's theme or the product you are promoting. Make sure you cover the back portion of the booth completely, so people don't accidentally or deliberately walk through.
Step 3
Cover the canopy tent with the chosen fabric so that the top portion is completely covered. Attach Velcro on the fabric using glue, so that the fabric does not get blown away. Consider enclosing the sides of the booth by draping fabric from the top to the ground. To hold the side fabric down, place bricks or large rocks on the inside edge of the fabric.
Step 4
Use a wooden board to make the back portion of a game themed booth. You can then easily attach your game to this board. Hang the prizes for winners of the game on the inside walls of the booth with the best prizes on top and consolation prizes below them.
Step 5
Display offers, costs and other booth information to lure in visitors. Put a banner on the top of your booth precisely mentioning what your booth is about. For instance, "Ring Toss" or "Sticky Darts" is clear as well as concise. Place sandwich boards on both sides of the booth that state what your booth is providing along with the cost.
Step 6
Use the rectangular table to keep your money box, extra products or offers and refreshments. Place this table in front of your booth and cover it with fabric similar to what you have used for the tent.
Tip
If the carnival is school related, use fabric in the school colors to give your booth the home field advantage.
Warning
Do not bring a lot of light weight prizes or sales items. These will be hard to manage in windy conditions.