Things You'll Need
Vinyl roller shade

Scissors

Pencil

Ruler

Double-sided tape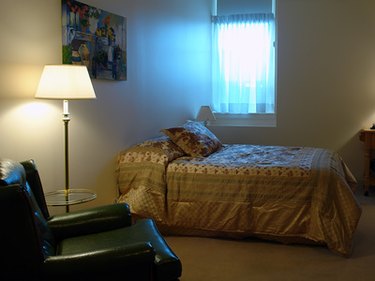 Vinyl roller shades are just one of many shade options that are available for home installation. These shades, also referred to as roller blinds, block out light in a room and have a simpler look than other types of blinds. Roller shades can be used alone or in conjunction with window treatments. Because vinyl shades are not custom-fitted, you might need to cut them prior to installation.
Step 1
Purchase a set of vinyl roller shades from a local store. Choose a color that fits the room's decor and atmosphere.
Step 2
Measure the window using a tape measure. Hold one end of the tape measure at the top of the window. Measure downward to the desired length of the shade. Add another two to three inches to the length to prevent any mistakes when cutting.
Step 3
Unroll the shade on a table or other flat surface. Remove the wooden or plastic dowel at the bottom of the shade.
Step 4
Place the tape measure in the center of the shade. Measure out the length you wish the shade to be, starting at the top and working downward. Draw a short, thin line at the bottom of the measuring tape. Measure the same way along the right and left edges of the shade. Place a ruler at the bottom of the shade and align it with the three lines already drawn. Draw one single straight line across, using a pencil.
Step 5
Measure one more time with the tape measure to ensure the proper length. Cut along the line using a pair of scissors. Cut slowly to avoid any mistakes or jagged lines.
Step 6
Turn the shade over so that it is facedown. Place a piece of double-sided tape along the edge that was just cut. Fold the fabric over, and press down firmly on the tape. Reinsert the dowel and install the blinds in the window.
Tip
Vinyl blinds can be cleaned using a dusting cloth. The blinds can also be wiped down with a damp cloth.