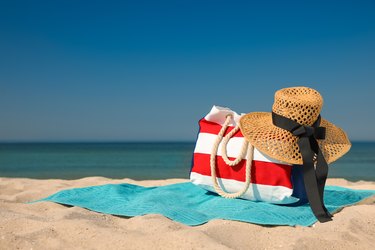 A beach bag is perhaps the most important item you need for the beach—other than snacks, of course. The right beach bag can hold your beach towels, sunscreen, sun hat, food and beverages, a good book (or a bad book, beach bags aren't selective), your valuables, beach toys, and wet bathing suits at the end of a fun day.
A beach bag keeps your life together while you're frolicking in the sand and water (or even just kicking back in a beach chair while reading your vacation book). More importantly, it gives you a hands-free way to hold all of your things in one convenient spot, so as you walk to and from the beach, you can use your hands to carry all of your other beach essentials, like beach chairs, umbrellas, boogie boards and more.
Whether you're looking for a beach tote that you'll use exclusively for beach trips, or if you plan to also use it as an everyday or weekender bag, there are some things you might want to consider before making your purchase.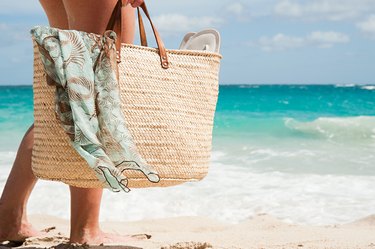 What to Consider When Purchasing a Beach Bag
‌Size:‌ For a comfortable visit to the beach, you probably want to bring the beach essentials that make your time there go smoothly. If you have kids or are packing beach things for more than one person, a large or extra-large beach bag will offer the most room for your towels, sunscreen, snacks, sand toys and more. If it's just you, a smaller, less roomy beach tote should be able to hold your things without being unnecessarily cumbersome to carry. If you aren't sure how big of a bag you need, it doesn't hurt to go a little bigger just in case.
‌Material:‌ Beach bags come in all types of materials, the most traditional being canvas, which offers durability and a classic style, as well as straw, which is as stylish as it is functional. Where there's a beach there's usually water, so buying a bag made of waterproof materials like nylon, polyester or EVA makes sense. If your bag getting wet isn't a concern, another beach-friendly option is a bag made of mesh so any sand that may have gotten inside your bag can simply fall out.
‌Design:‌ The main purpose of a beach bag is, of course, to hold all of your beach essentials (the ones that will fit, anyway—boogie boards and tents are their own beasts), but you don't have to settle on something you don't find stylish. There are lots of different aesthetics to choose from when it comes to finding the right bag, including versatile designs that are multipurpose. For example, there are plenty of beach bags that could double as an overnight bag, an oversized purse, or a farmers' market tote.
Now you're ready to dive into our top picks of the best beach bags of 2023. Check them out below.
The Best Overall Beach Bag
If you're looking for a beach bag that won't hold onto sand, has plenty of interior space, an overabundance of pockets and is lightweight, this is the one to get. This mesh beach bag with ripstop lining has space for all of your beach essentials and pockets for all of them so you don't spend your time rummaging through your bag to find sunscreen.
It has eight outside pockets and a zippered interior pocket that's waterproof. The beach tote can hold up to 160 pounds, which is probably overkill for beach towels and sunscreen, but good to know the option to carry all the heavy things is there. The bag comes in 17 color options with varying price points.
The Best Budget Beach Bag
Clocking in at only $10, this mesh beach tote is a great way to commit to going to the beach without committing to spending a lot. The open top of this mesh beach bag gives you plenty of space to pack all of your beach items without dealing with a jammed zipper (because there is no zipper). There's a front pocket and two side pockets that can hold your smaller items.
Since the entire bag is made of mesh, when you set it in the sand, sand will inevitably get inside—but it can just as easily fall out the bottom when you pick up the bag. This mesh beach tote comes in eight colors.
The Best Waterproof Beach Bag
Not only is this extra-large Bogg Bag completely waterproof and washable (you literally just need to hose it down to clean it), but it's also a super cute bag to bring to the beach or on any other outing throughout your day. It even can function as a weekender bag—albeit one that doesn't have a zip-top.
It doesn't have pockets or any other bells and whistles, but it does have style, and sometimes that's all you need. The heavy-duty bag comes in a whopping 35 color options, so it shouldn't be hard to find one you love.
The Best Oversized Beach Bag
Made of ripstop canvas, this bag is water-resistant and durable enough to hold your beach gear. It has one inner pocket and a top zipper closure. This canvas tote bag has an extra-large capacity, which is ideal if you're packing for your whole family or plan on using it as a vacation bag. The bag comes in eight designs that exude boho/beach vibes. If you're into being matchy-matchy, the company also sells beach towels in the same prints.
The Best Insulated Beach Bag
Why schlep a bulky cooler to the beach when you could carry an insulated cooler bag that can also work as a purse, travel bag or grocery bag? With the right amount of ice, this large capacity insulated bag can keep your beverages cold for eight or more hours when zipped. You can bring food, drinks and snacks without worrying about them going bad or getting warm and gross.
The faux leather handles are comfortable to hold and can also be looped over your shoulder for hands-free carrying. The large tote has a zippered interior pocket and one on the front for keeping your keys, phone or other small objects secure. It's available in four designs.
The Most Versatile Beach Bag
This shoulder bag can take you directly from the beach out to a nice dinner (maybe with a stop by the shower first). The bag can be dressed up for a fancy event or down for the beach, grocery shopping or an overnight trip. There's raffia exterior and twill interior along with a small interior card pocket. It features an open top with a button closure design.
The Best Sandproof Beach Bag
Any beach bag with a wet compartment gets a solid A+ from us, like this adorable beach tote bag. The main compartment can fit clothes, flip flops, beach towels, water bottles, sunscreen and more, while a separate waterproof wet compartment can hold wet items like swimsuits, towels and toiletries.
The bag is water-resistant and sand proof, so as long as it's zippered shut, you won't need to deal with too much stray sand inside. Its handles are long enough to carry by hand or over your shoulder. Choose from 20 designs.
The Best Novelty Beach Bag
Make a bold statement with this straw bag. We all know what the phrase "Drop it like it's hot," which is probably most common on the dance floor, but this clever pun puts a beach-friendly twist on that club command. The roomy tote is made of paper straw, giving it the casual vibe your day at the beach deserves. The available font color is green.