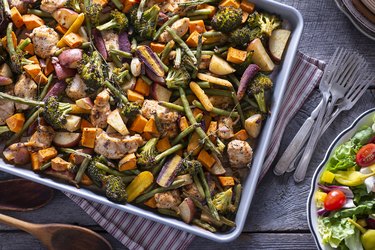 Some kitchen tools are absolutely fundamental, like your knife set and a handful of versatile pots and pans. Another indispensable workhorse in your kitchen arsenal is a good sheet pan (or ideally, a few of them) to handle everything from batches of cookies and party-sized cakes to sheet-pan meals for convenient weeknight dinners. The best sheet pans combine durability and solid construction and distribute heat well enough to bake your cookies evenly without burning. We've picked out a handful of the very best for your consideration.
What to Consider When Purchasing a Baking Sheet
​Size:​ Cookie sheets come in all different shapes and sizes, some of them standardized and others not. The ones you buy at the department store can be just about any size, while those aimed at the commercial market fall into just five sizes: full sheet, two-thirds sheet, half sheet, quarter sheet, and one-eighth sheet. A full sheet measures 18 by 26 inches, a half sheet pan is 18 by 13 inches, and so on. Any pan will hold your cookies, but there are advantages to sticking with standard sizes. Recipes are often created to fit them, for one thing, and so are a lot of accessories like cooling racks and silicone baking mats.
Tip
A full sheet is too large for most home ovens. A two-thirds sheet will fit the oven in most consumer ranges, though smaller ranges and some wall ovens might require a half sheet. Most of our recommendations will be half sheet pans because they strike a good balance between usable size and easy storage.
​Material:​ If you look into the kitchen at a commercial bakery, you'll see that the bakeware is almost invariably made of heavy-duty aluminum. It's lightweight, reasonably nonstick and conducts heat evenly. Some brands make sheet pans of aluminized steel, which consists of an aluminum coating over a steel core. It's sturdier and resists warping, but doesn't transfer heat as well. Stainless steel bakeware is less common because it transfers heat poorly. Nonstick sheet pans are made of steel or aluminum with a nonstick coating added, and their performance varies with the underlying material.
​Rim Versus No Rim:​ Rimmed baking sheets are the most common type you'll find because of their versatility. You can bake anything from cookies to a sheet cake, or whip up a full sheet pan dinner. Rimless sheets are made specifically for cookies. Often with delicate cookies (shortbreads spring to mind), it's hard to extricate undamaged cookies from the row alongside the rim. Rimless sheets fix that issue, giving you one small rim to hold while leaving the other three sides flat. Some are also insulated to limit browning for especially delicate recipes.
​Quality and Workmanship:​ You can recognize a well-made pan in seconds just by hefting it. A well-made pan will use heavy-gauge aluminum and have very little flex in it, so it's less likely to flex and warp as you bake. Commercial sheet pans have a plain and unadorned rim, but consumer-grade pans aimed at home bakers may add an extra-wide rim at the ends to make their pans stiffer and easier to grip. You may also get extra features, like stay-cool silicone grips or perhaps even a matching dome (for taking your baked goods to a potluck) or a silicone mat. Those are nonessential, but you might consider them to add value.
The Best Overall Baking Sheet
Nordic Ware Natural Aluminum Commercial Baker's Half Sheet, 2-Count
This is exactly the kind of workhorse pan you'll find in every commercial kitchen in the land. Restaurant supply stores stock commercial-grade sheet pans from a number of manufacturers, but for home bakers, Nordic Ware Naturals are your best bet. They're made in the U.S. from heavy-gauge aluminum, reinforced with a steel rim so they won't warp in high-temperature scenarios like roasting vegetables. They transfer heat beautifully and—while they're not nonstick—most foods will clean off easily, especially if you line the pan with parchment paper or a silicone mat. They're even inexpensive enough to make a "value" or "budget" recommendation unnecessary, but durable enough to carry a lifetime warranty.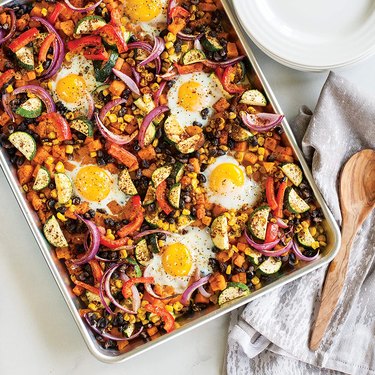 The Best Aluminized Steel Baking Sheet
Chicago Metallic Commercial II
The Nordic Ware pans' heavy-gauge aluminum is solid and durable, but aluminum is inherently a soft metal. If you appreciate the reassuring solidity of steel, this aluminized steel offering from Chicago Metallic is an excellent choice. The exterior surfaces are aluminum, but the core of the pan is made of steel for added rigidity and resistance to warping in high-temperature use. There's also a reinforcing steel wire incorporated into the rolled rim for added stiffness. It's a solid, heavy-duty pan that will last you through a lifetime of baking cookies or preparing sheet-pan dinners, and has a lifetime warranty to match. The only downsides relative to our top pick are that it's a bit heavier, doesn't heat quite as evenly, and checks in at a higher price point (though again, the two-pack is a better buy). Note that this isn't quite a half sheet pan, but instead is an oversized jelly roll pan. It's only slightly smaller, but it's something to be aware of.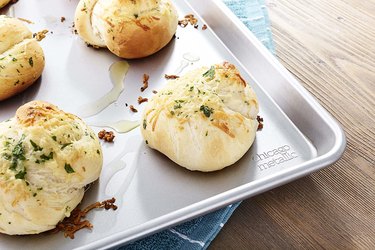 The Best Nonstick Baking Sheet
Chicago Metallic Commercial II Nonstick Baking Sheet
This is another excellent aluminized steel pan from Chicago Metallic. The main differences are that it's a legitimate half sheet pan (and therefore slightly larger) and it comes with a durable nonstick coating. The nonstick coating changes a couple of things about how you'll use the pan. Because it's darker than the natural aluminum finish, your baked goods will tend to brown faster, so you'll need to shorten your baking times in order to get the best results. It's great for sheet pan meals, though you'll need to avoid high heat and metal utensils (which can damage the finish). Finally, while the pan is technically dishwasher-safe, the manufacturer recommends hand-washing instead to protect the finish. None of these are necessarily deal-breakers, though. If you want the convenience of nonstick in a solidly well-constructed pan with a lifetime warranty, this is the one to choose.
The Best Textured Baking Sheet
OXO Good Grips Nonstick Pro Half Sheet Pan
One of the hot trends in bakeware and cookware right now is the use of ribbed or textured surfaces to improve nonstick performance. The textured surface means less of your food is physically in contact with the pan, and therefore it's less able to stick. In the case of baking pans, the ridges can also improve airflow beneath your food for better browning on roasted vegetables or other sheet pan meals. This offering from OXO combines a sturdy aluminized steel pan and a ridged nonstick surface with a durable ceramic coating. The only potential downside to this type of nonstick pan is that some types of food can be difficult to clean from the grooves, but a bit of extra effort with a nonscratch scrubber should take care of that. It's higher-priced than our pick for the best nonstick pan but definitely delivers on high-quality and long-term durability.
The Best Baking Sheet for Countertop Ovens
Nordic Ware Natural Aluminum Commercial Baker's Quarter-Sheet
Countertop ovens have come a long way. They're not your basic toaster oven anymore, with sophisticated models offering features that rival high-end ranges (steam, convection, air-frying) in a scaled-down package. They're great for compact spaces where you can't fit a full-sized oven, or for times of the year when you simply don't want to fire up the big oven. Given that our top pick overall is the Nordic Ware half sheet pan, you won't be surprised to learn that we like the Nordic Ware quarter sheet pan for these smaller appliances. It brings all the same advantages and high-quality, warp-resistant construction we like about its larger sibling, but in a smaller package. The single pan listed here comes with a domed lid for taking your goodies to a potluck, but the two-pack (no lids) is a better buy. And hey, if what you have is an old-school toaster oven, you can do a small batch of cookies in one of those with Nordic Ware's smaller one-eighth sheet pan.
Vollrath is one of the brands that makes workhorse sheet pans for commercial use, and this cookie sheet upholds the brand's reputation for solid, workmanlike construction. Cookie sheets are typically rimless on three sides, with only one to provide a grip for the baker's hand. That's important because the rolled rims of most pans provide a lot of their structure and warp resistance. Vollrath creates a cookie sheet that stays flat by using extra-heavy-gauge aluminum—10-gauge, compared to the 18-gauge used in rimmed sheet pans—and by providing two rimmed edges at the narrow ends, rather than one. The heavier aluminum gives excellent heat distribution, and that second rimmed edge is a real convenience if your oven has hot spots. Often that means turning your cookies so they'll bake evenly, and that's a lot easier with two places to grip. It can't compete with rimmed baking sheets for versatility, but if you want a separate sheet for your batches of cookies, this is the one to get.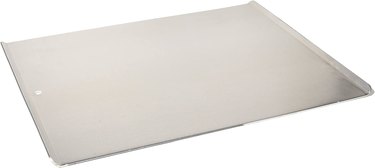 The Best Oven-to-Table Sheet Pan
By far the newest brand on our list, Great Jones was founded in 2018 and named as a tribute to Judith Jones, Julia Child's legendary editor. This half sheet pan is similar in many ways to the nonstick Chicago Metallic we picked as the best nonstick, but it brings a little extra to the party. It's still made of sturdy aluminized steel construction, but the dishwasher-safe nonstick coating comes in three vivid, high-style colors: Green ("broccoli"), blue ("blueberry") or hot pink ("raspberry"). For home cooks who have fallen in love with the convenience of the sheet-pan dinner, this means you can serve directly from the pan—even for company—without feeling the need to transfer your food to a serving platter. The price is a little higher than most of our other selections but still good for something that will serve you well for years. If you're looking for a little more value, the brand's Sheet Show bundle of one half pan and two quarter sheet pans is a good option.