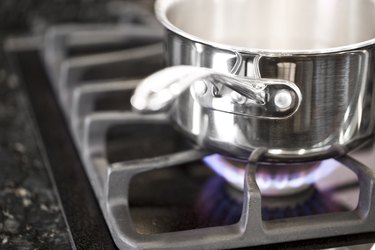 Over the centuries, humans have cooked in just about everything imaginable, beginning with animal skins, hollowed-out stones and simple clay pots. In fact, you can still find stone and clay pots in enthusiasts' glossy modern kitchens (the Korean ​dolsot​ is a stone cooker, while the Japanese ​donabe​ and North African ​tagine​ are popular clay cookers).
Overall, though, cookware has moved to more durable materials. Cast iron, aluminum, copper and enamel are all widely used, but stainless steel deservedly rules the world of mainstream cookery. It's relatively lightweight, extremely durable, won't react with acidic foods, and needs minimal upkeep to retain its looks and performance. That makes it the leading choice for most shoppers.
What to Consider When Purchasing Stainless Steel Cookware
​Heat Dispersion:​ Despite its virtues, stainless steel does one important thing poorly: conduct heat. To compensate, stainless steel cookware manufacturers sandwich one or more layers of highly-conductive metal (usually copper or aluminum) inside the steel. Some sets incorporate conductive metal only in the base of the pot, where it forms a thick pad at the bottom. Higher quality sets have an entire inner pot—consisting of the bottom and sides—clad in steel, which is referred to as "fully clad" cookware. This makes for better, more even heat conduction, but it also usually drives up the price. Some are 3-ply (two layers of steel, one of aluminum or copper), while the best sets are 5-ply (three layers of steel, two of aluminum or copper).
​Weight:​ In general, better-quality sets are thicker and heavier. This makes for improved heat retention and durability, and in fully-clad pots, it creates room for multiple layers of metal. The downside? Well, you might find heavier pots harder to manage. Also, lightweight pans respond quickly to changes in heat, so you might prefer those for some types of frying (omelet pans and crepe pans are deliberately light, for that exact reason). You may want to buy a lightweight pan or two separately, to round out your set.
​Induction Compatibility:​ Generations of cooks have favored gas ranges over electric, enjoying gas' rapid heat and fine control. Unfortunately, natural gas largely consists of methane, a potent greenhouse gas, and its future as a fuel is in doubt (NYC and other jurisdictions are banning it from new residential construction). Induction cooktops are taking their place at the high end, providing similar efficiency, high heat and quick response through electricity. As an added bonus, induction doesn't pump heat into your home while you're cooking.
​Intended Usage:​ This won't show up on a spec sheet, but it's important: Everyone's approach to cooking is different, so you'll need to think about what you ​really​ want in your cookware. This is partly about personal preference (glass lids because they're see-through, or metal because they won't break?) and partly about your cooking style. If you regularly make complex recipes and use every burner you've got, you'll need a more lavish set than someone who falls into the "just get something on the table" camp.
Ultimately it's helpful to heft a few specimens at a kitchenware shop, if you can, just to get a sense of their weight and how the handles feel in your hands (personal preference will definitely play a role). Aesthetics are important, too—you'll have this set for decades, and some are just more attractive than others. The beauty of stainless steel cookware is that there's a set for just about any budget and any cook. Here are a few of our favorites.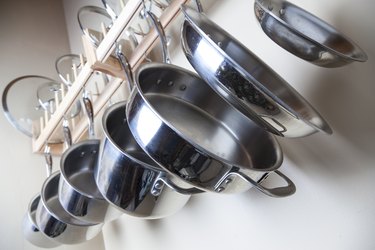 The Best Overall Stainless Steel Cookware Set
All-Clad was the brand that popularized fully-clad stainless steel cookware (hence the name) and they're still a leader in the field. The D5 series is exceptionally responsive to heat, better made than most competitive brands, and the company's experience shows in lots of thoughtful details: The handles stay cool and are easy to grasp, the lids fit snugly, the brushed-steel exteriors won't show fingerprints, and the pots' rolled edges make for drip-free pouring. Better yet, All-Clad's long history means you can be confident about warranty service, replacement pieces, and the continued availability of supplemental pots and pans when you want to expand your set.
D5 cookware carries a price tag that reflects its workmanship, but we think the 10-piece set is the value point within the line: The 5- and 7-piece sets aren't that much cheaper, while the 14-piece set commands a big premium for its four extra pieces (two stockpots and their lids). This is durable, high-performance, heirloom-quality cookware. If you have the budget for it, it's a no-brainer.
​Ply:​ 5-ply

​Induction Compatible:​ Yes

​Oven Safe:​ Up to 600° F

​Dishwasher Safe:​ Yes
​Warranty​: Limited lifetime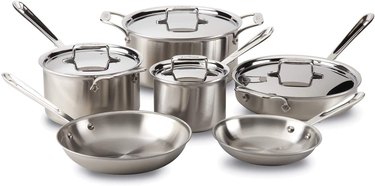 The Best Value Stainless Steel Cookware Set
If your ambitions and cooking skills demand high-end cookware, but your budget won't stretch to a high-end price point, Made In fits the bill. To be clear, this is not a budget brand (you'll find plenty of well-known names for less). What it does bring to the table—so to speak—is quality comparable to top brands like All-Clad, but at a significantly lower price. Five-ply construction? Check. Superior performance and workmanship? Check. Lifetime Warranty? Check.
The big difference between the two brands is that Made In's 7-piece set gives you everything you'll need for less than $500. As with most leading brands, Made In has lots of extra pieces you can add over time to round out your set, including non-stick pans with the same 5-ply construction (a relative rarity).
​Ply:​ 5-ply
​Induction Compatible:​ Yes
​Oven Safe:​ Up to 800° F

​Dishwasher Safe:​Yes
​Warranty:​ Limited lifetime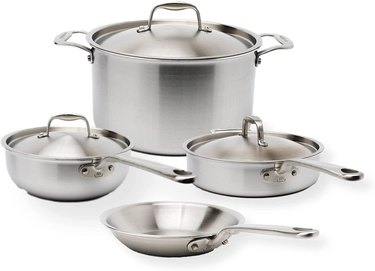 The Best Space-Saving Stainless Steel Cookware Set
Calphalon Premier Space-Saving Stainless Steel 10-piece Cookware Set
Very few of us have as much kitchen or storage space as we'd really like, so often we have to choose between having the "battery" (the chef term for your collection of cookware) we want, or the one we have space for. Lots of brands have sets that stack reasonably well, but there's a catch: They have to go together in a certain order, and you ​know​ the one you want will seldom be on the top.
Calphalon gets it—this set's relatively lavish 10 pieces give you everything most cooks need, and they can be stacked in any order. That means the pots you use most often will naturally gravitate to the top, where they'll be the first ones that come to hand.
​Ply:​ 3-ply
​Induction Compatible:​ Yes
​Oven safe:​ Up to 450° F

​Dishwasher safe:​ Yes

​Warranty:​ Limited lifetime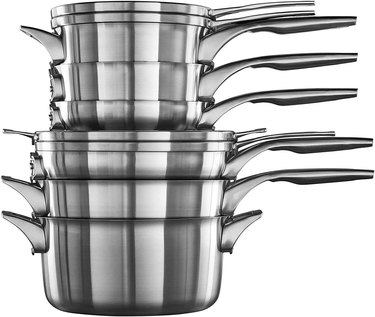 The Best Budget Stainless Steel Cookware Set
Tramontina Tri-Ply Clad 10-piece Set
If you don't have the budget for the other brands in this shortlist, but want something that will cook (and last) better than lightweight, run-of-the-mill department store cookware sets, this is a solid choice. Like All-Clad's D3 series, this is a fully-clad 3-ply set, which means it will out-perform sets that rely on a sealed base to distribute heat. Yet, it delivers this performance at a price point that's comparable to many less-functional sets, and only about half the cost of our recommended "value" set. To put it another way, it'll give you quality most cooks can appreciate, at a price that most cooks can afford.
​Ply:​ 3-ply
​Induction Compatible:​ Yes
​Oven Safe:​ Up to 500° F
​Dishwasher Safe:​ Yes

​Warranty:​ Limited lifetime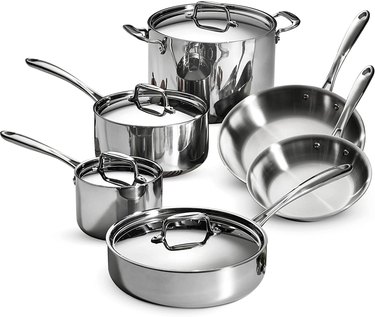 The Best High-End Stainless Steel Cookware Set
Hestan Nanobond10-Piece Titanium Ultimate Cookware Set
Stainless steel is innately durable if well-made (low-cost sets can warp or discolor, and their handles may loosen), and its understated, functional beauty fits well in almost any kitchen. But what if you're looking for the ultimate? An heirloom-quality set that provides outstanding performance and durability, along with Instagram-worthy looks to complement a designer kitchen? Hestan's got you covered.
Stainless steel contains a percentage of chromium and a second metal, usually nickel. Hestan's Nanobond uses an alloy with titanium instead of nickel, bonded to the metal in microscopic layers through a proprietary process. The end result is cookware with genuinely superior performance and durability (it's oven-safe to over 1,000 degrees Fahrenheit, so you can even throw them into your pizza oven), with a lustrous deep-gray surface fit to match the most elegant of kitchens. You'll see careful thought even in the fine details, like rivets that sit flush with the pan (rather than raised) for easy cleaning. If All-Clad is a "Cadillac" brand in the cookware world, Nanobond is a Bugatti.
​Ply:​ 5-ply
​Induction Compatible:​ Yes
​Oven Safe:​ Up to 1,050° F
​Dishwasher Safe:​ Yes
​Warranty:​ Limited lifetime
Tip
A few "pro tips" to help you get the most from your stainless steel cookware:
To minimize sticking, heat your pot or pan first, then add the oil, ​then​ add the food you're going to cook. The food will sear on contact, rather than adhering to the cooking surface.

Most stainless cookware is dishwasher safe, but frequent trips through the machine can result in discoloration (which is typically ​not​ covered under warranty). To prolong your set's good looks, wash the pieces by hand whenever possible and/or use a cleaner intended for stainless steel. Note that the Hestan Nanobond, among its other high-end attributes, is an exception to this rule and won't discolor.
Try not to heat your cookware past its rated "oven-safe" temperature to minimize the risk of it warping. Most ranges don't give you temperatures for your burners, but medium to medium-high is safe for cookware rated at 400 degrees to 500 degrees Fahrenheit, and in normal use, you aren't likely to ever go past 600 degrees Fahrenheit.
Don't run cold water into your hot pan as soon as it comes off the burner, which can lead to warping. Instead, set the pan aside on a heatproof surface (away from your elbows) to cool before washing it.