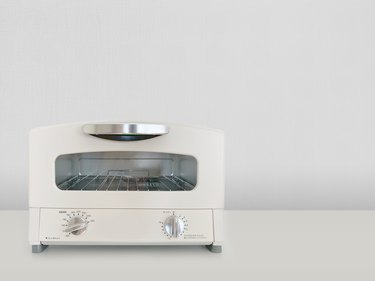 Today's best toaster ovens really earn their keep in the kitchen. They're basically mini versions of your oven, capable of so much more than toasting toast and bagels. Of course, you want one that quickly and evenly toasts. But, if you have a quality appliance, it's also a great way to bake, roast, broil and more. They do a lot for a relatively small item. The key is to find a model that handles its range of tasks equally well.
And because they're much smaller than your oven, toaster ovens don't require as much preheating time, and they cook faster. It's a more energy efficient way to prepare food. It's also nice to not run your full-size oven when it's hot out.
What to Consider When Purchasing a Toaster Oven
​Functions:​ As indicated by its name, a toaster oven does the work of two appliances: a toaster and an oven. But some available today can also air fry, slow cook, dehydrate and perform other cooking methods. You tend to pay more the more your appliance can do, though. So, find the right balance of functionality and cost.
​Capacity:​ If you only need to make two to four pieces of toast at a time, and you aren't particularly interested in roasting a chicken or even a moderately sized turkey in your toaster oven, a compact model should be fine. If you want to simultaneously make toast for the whole family, and you're interested in cooking meals in your toaster oven, opt for a larger model.
​Size:​ In addition to capacity, consider the toaster oven's total size and how much space you have available on your kitchen counter. Remember, this is an appliance that gets a permanent home on your counter. Smaller models' dimensions generally run somewhere in the neighborhood of 10 to 12 inches; larger models can get up to nearly double that.
​Controls:​ Many toaster ovens have dial controls. These are simpler than playing around with digital controls, but knobs offer less precision with cook times and temperatures. If you want greater precision—which is certainly helpful when you're cooking—look for digital controls with a user-friendly interface.
​Price:​ You can spend about $50 on a budget-friendly toaster oven, or you can spend many hundreds of dollars on a high-end model. Lower-cost options usually have fewer functions and dial controls, and it's harder to find one that toasts quickly and evenly. But you can get a quality model that works well without going to the high range of prices. Or, if it fits in your budget, you can spring for a fancy, technologically advanced model.
These basic considerations should help you significantly narrow down your choices, of which there are many when shopping for a new toaster oven. Read on for specific recommendations for different needs.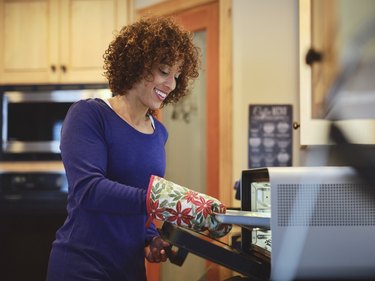 The Best Overall Toaster Oven
Breville Smart Oven Air Fryer Pro
First, just to clarify, this isn't a "smart" toaster oven in the sense of technological connectivity. But it's definitely smart for a standard toaster oven, thanks to Breville's Element IQ technology. This technology helps evenly distribute heat from the six quartz heating elements, reducing cook times and promoting even toasting and cooking. Along with the normal functions, this model air fries (with two convection speeds to choose from), proofs, bakes pizza, dehydrates and more with 13 preset cooking modes.
It's also a high-capacity toaster oven with room for up to nine pieces of toast, a 14-pound turkey or a 12-cup muffin tray. The easily removable crumb tray facilitates cleaning, and the model is attractive and sturdy. All in all, with its versatility, user-friendly interface, large capacity and upscale brushed stainless steel look, this is a great buy for home users who don't mind paying a bit more for a toaster oven.
​Manufacturer:​ Breville
​Control Type:​ Digital
​Capacity:​ 9 slices of toast
​Size:​ 21.5" X 17.5" x 12.7"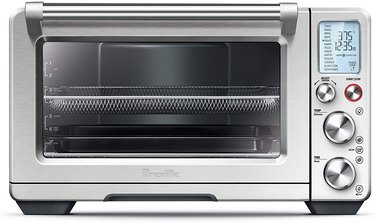 The Best Compact Toaster Oven
Panasonic FlashXpress Toaster Oven
For a compact toaster oven that saves space but doesn't skimp on capabilities or reliability, this is a great choice. It features easy-to-use digital controls with presets for various types of foods and functions (such as making toast, reheating, cooking frozen foods and more). Toasting is fast (thanks to the double infrared heating) and comes out evenly, and the other functions work well too. And this model is sold at a good price point for what you get.
This is a somewhat whimsical-looking toaster oven. One cool feature is that the rack is affixed to the door, so the rack conveniently slides out when you open the toaster oven. There's also an easily removed crumb tray. It's worth noting that the oven only heats for up to 25 minutes, so if you're baking or roasting something that takes longer, you need to restart it after this time elapses.
​Manufacturer:​ Panasonic
​Control Type:​ Digital
​Capacity:​ 4 slices of toast
​Size:​ 12" x 13" x 10.25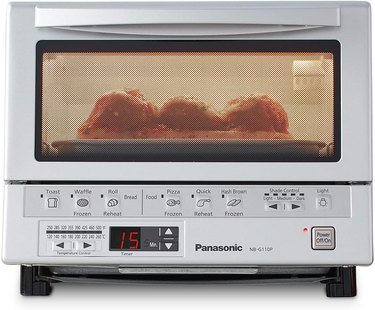 The Best Large Toaster Oven
Cuisinart Chef's Convection Toaster Oven
For those who need a larger toaster oven, the well-known Cuisinart brand delivers great value with this spacious model. Its thoughtful design maximizes interior capacity while minimizing the appliance's footprint. It will fit a 13-inch pizza—and it even comes with a pizza baking stone—or up to 9 slices of bread. Preheating, toasting and cooking are relatively quick, thanks to the five quartz heating elements.
This convection toaster oven has 15 different cooking functions, and you can even input the number of pieces of toast you're making to optimize the cook time. There's an innovative dual cook feature that lets you consecutively run two cooking functions at different temperatures. That's great for browning foods, slow cooking and other uses.
​Manufacturer:​ Cuisinart
​Control Type:​ Digital
​Capacity:​ 9 slices of toast
​Size:​ 20.87" x 16.93" x 11.42"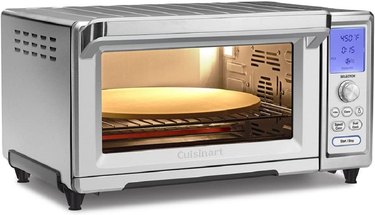 The Best Budget Toaster Oven
Hamilton Beach Countertop Toaster Oven
If you're looking to spend as little as possible on a toaster oven, but still get a dependable appliance, look no further. Hamilton Beach is well known for quality kitchen appliances at affordable prices. This model toasts quickly and more evenly than other value toaster ovens, and the baking and broiling functions are reliable as well. Note, however, that its oven runs a little on the cool side, so set the temperature about 25 degrees higher than you normally would. It's a small price to pay for the low price you pay.
The toaster oven doesn't look like a budget pick, thanks to the stylish design and stainless steel exterior. The pull-out crumb tray is a convenient feature, as is the ability to set the rack in two different positions. It's a compact model with a capacity for four pieces of bread or a 9-inch pizza, making it well suited to smaller kitchens and limited counter space.
​Manufacturer:​ Hamilton Beach
​Control Type:​ Dial
​Capacity:​ 4 slices of toast
​Size:​ 15" x 11.5" x 8.7"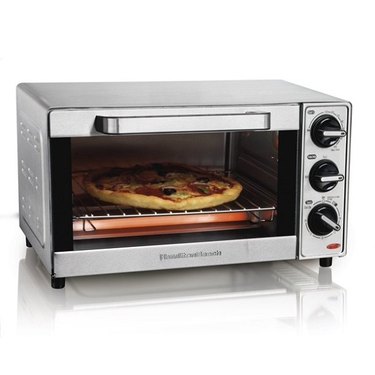 The Best High-End Toaster Oven
Take your toaster oven purchase to a whole new level—if you're willing to shell out top dollar for this appliance. This smart toaster oven can be controlled from anywhere using your phone and the June app, and it's compatible with Alexa. It has a food thermometer and a built-in HD camera that identifies food and makes recommendations for how to cook it. Simply select "Start Cooking" to accept the recommendation or input your own instructions.
The June Oven's interface is a user-friendly, highly responsive touchpad. This large model fits a small turkey or up to 12 pieces of toast. In addition to the regular oven functions, it also convection cooks, air fries, slow cooks, grills, broils, works as a pizza oven, has a warming drawer and more.
​Manufacturer:​ June
​Control Type:​ Digital touchpad; phone app
​Capacity:​ 12 slices of toast
​Size:​ 19.6" x 19" x 12.75"