Things You'll Need
White vinegar

Baking soda

Kitchen scratch pad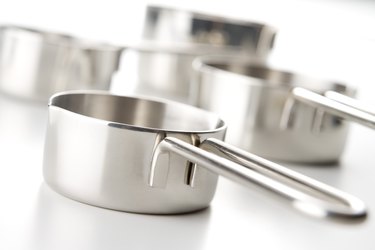 Stainless steel cookware is favored by many cooks because it is durable, attractive and resistant to corrosion. However, stainless steel is not a fail-proof nonstick surface. Burned food and liquids can create ugly stains on your pans. To remove hard burned stains from stainless steel products, you should use cleaning products and methods that are effective and yet gentle enough to prevent damaging the stainless steel surface.
Step 1
Fill the pan with enough white vinegar to cover the stained area.
Step 2
Place the pan on the stove and heat the vinegar on medium heat for five minutes.
Step 3
Wet a nonmetallic kitchen scratch pad with white vinegar and dip it in baking soda.
Step 4
Pour the vinegar out of the pan and use the scratch pad to scrub away the burnt residue.
Step 5
Rinse the pan thoroughly and dry it before storing it.