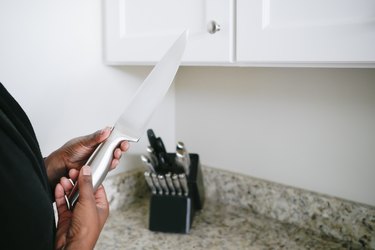 Knives are the most important tool in your kitchen, and there are a couple of ways you can go about acquiring your set. Serious Knife People usually recommend starting with the three essentials—a chef's knife, a paring knife and a serrated knife—and making each one the best you can find; then adding other knives as you need them.
That's a good approach if you're willing to invest the time and money required to make sure each of your knives is "best of breed" in its own right, but there's also a lot to be said for getting all of the knives you'll need in a single purchase. Sets tend to be cheaper than buying the individual knives separately, for one thing, and you may find it easier to switch from one knife to another when the handles have the same design. Aesthetically, it's also nice to have things that match. So what should you be looking for? Stay tuned, and we'll take you on a quick tour of the best knife sets (and why they're the best).
What to Consider When Purchasing a Knife Set
Buying a knife set is all about balancing your budget and your expectations: At almost any price range, you can expect to choose between getting ​better​ knives or ​more​ knives. Either approach is fine, it basically comes down to what you want and how you work in the kitchen. Aside from that basic constraint, there are a few other things you should take into consideration:
​Storage​: Those knives have to go somewhere, right? Some sets provide just the knives, and that's fine for anyone who already has a block, a knife drawer or a magnetic holder on the wall. Most sets include a block of some kind, and its size and style should play into your decision (Does it fit your kitchen decor? Will you have enough space for it on the counter? Does it have room for more knives in the future?).
​Number of Pieces:​ The most spartan sets might only include your three essential knives (some replace the serrated knife with a utility knife) while others provide extra knives or—frequently—a set of steak knives. Other common add-ons might include a honing steel for touching up your blades, an in-block sharpener or perhaps a set of kitchen shears. These are all useful things to have, but may or may not add value for you personally.
​Feel and Balance:​ If you're going to have a set of knives with consistent design and handles, you'll want to be sure they fit your hand and are comfortable to use. When possible, it's helpful to visit retailers (or your food-savvy friends) and go hands-on with as many types of knives as you can. If you're ordering for delivery, make sure you understand your vendor's return policy. If you're not happy with how the knives feel, return them and try something else.
​Maintenance:​ No knife will stay sharp forever, so you'll need to decide how you feel about sharpening. Knives with extra-hard steel hold an edge for longer, but take a lot more skill and effort to sharpen. Knives with softer steel dull more quickly, but it's easier to restore them to a wickedly sharp edge. You'll still need a knife sharpener, either way, the only question is how often (and for how long) you want to use it.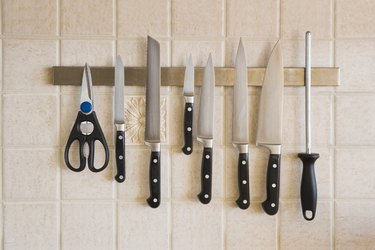 The Best Overall Knife Set
Wüsthof Classic IKON Knife Block Set, 6-Piece
If you're willing to plunk down for a set that will give you a lifetime of outstanding performance (or better yet, have someone else gift it to you), this set from iconic German manufacturer Wüsthof ticks all the right boxes. You'll get a solid selection of useful knives—chef knife, bread knife and paring knife—along with a honing steel, a pair of kitchen shears and the block itself. The block has 15 slots, so you'll have plenty of room to upgrade your knife set over the years. The blades are made of exceptionally good steel, the handles are comfortable, and they're beautifully balanced. If it fits your budget (or could), this set hits a sweet spot for the selection of knives and their overall quality.
Mercer Culinary Millennia Magnetic Knife Board Set, 5-Piece
Professional chefs all over the country started off with Mercer knives in culinary school, so it's not surprising that Mercer offers equally good value for home cooks. This set gives you four well-chosen knives—an offset bread knife for easy slicing, a chef's knife and santoku for all-round use, and a paring knife—all with good-quality blades that sharpen easily, and with beefy, textured handles that provide excellent grip even when wet. Instead of a block, these come with a freestanding knife board with a built-in magnetic bar. It means your knives are in plain sight (no more grabbing three knives from the block before finding the one you want!) and there's room for a couple more as you add to your set.
The Best Starter Knife Set
Henckels Classic Precision Starter Knife Set, 3-Piece
There are two ways you could approach the concept of a "starter set." One is to get just the basic necessities, in the best quality your budget permits. This Henckels set follows that logic, providing three good-quality knives—chef knife, serrated slicer and paring knife—at one low price. The knives are forged from quality stainless steel (in general, forged knives are better quality than stamped), and should stand up to decades of regular use. The handles are simple but comfortable and are solidly riveted to the knife. There's no block included, but you can buy one separately and your local thrift store probably has several.
The other approach to starter sets takes a "kitchen sink" approach, throwing in everything you're likely to need. If that feels more like you, this Cuisinart Classic Forged Triple Rivet set may be what you're looking for. Among the 15 pieces are a chef knife and santoku, a carving knife, utility knife, paring knives, steak knives, a steel and kitchen shears as well as the block. The knives are quite stylish, with riveted white handles, and they'll look good in almost any kitchen.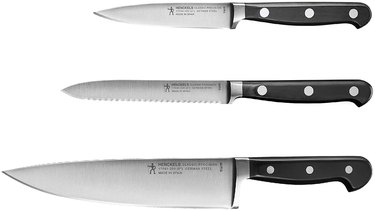 The Best Japanese Knife Set
Shun Classic Knife Block Set, 6-Piece
In a lot of ways, you could think of this set as the Japanese equivalent of our top-choice set from Wüsthof. It's missing the serrated bread knife (you can buy that separately if you want) and costs a bit less, but otherwise, they're very similar. The Shun knives have thinner, harder blades, so they're lighter in weight and will take the super-sharp edge that's typical of Japanese knives. The handles are in the Japanese D-shape rather than the contoured grip of European knives, which some cooks prefer and others don't. Visually, the knives are stunning: Their blades are hand-forged with a cladding of damasced (layered) steel, and each one is a unique piece of art. The dark-toned wooden block is compact and attractive and has slots for two extra knives.
The Best In-Drawer Knife Set
Victorinox Swiss Classic Set with In-Drawer Knife Holder, 6-Piece
A knife block can be pretty convenient if you have the space for it, but what if you don't? Some prefer to put their knives on the wall (with a magnetic holder), but keeping them in a drawer is an attractive option for anyone who prefers to keep their kitchen tidy and their tools out of sight. If that's you, this set from Victorinox—makers of the authentic Swiss Army Knife, and a respected name in cutlery—is just the thing. It gives you five knives (bread knife, chef knife, santoku, paring knife and a smaller serrated "tomato knife"), all with comfortable, textured handles, and a sleek, low-profile wooden tray to safely hold and protect them in the drawer. Victorinox knives use softer steel that sharpens easily, even if you're not the most skillful knife sharpener, and they're dishwasher-safe as well. This set isn't just space-efficient; these workman-like knives offer solid value.
The Best Splurge-Worthy Knife Set
Henckels Zwilling Pro Knife Block Set, 16-Piece
Earlier we said that at almost any price point you'd have to compromise between getting more knives or better quality knives. That problem eases if you throw more money at it, and if you're in the mood to splurge, this may well be your set. The Zwilling Pro series has been around for years and is among the top examples of European knife-making: They use Henckels' proprietary Sigmaforge manufacturing process and then a cryogenic hardening process to create durable blades that take a beautiful edge. They're not as light as Japanese-style knives, and not quite as razor-sharp, but that in turn means they're more durable in daily use.
This set gives you everything you'd ever need: A chef knife, santoku, bread knife, serrated and non-serrated utility knives, and two sizes of paring knives. You'll also get a set of six high-quality steak knives, kitchen shears, a honing steel, and a matching 16-slot knife block to hold them all (available in multiple types of wood and stains to match your kitchen). It's a combination of quality and quantity in one impressive package.