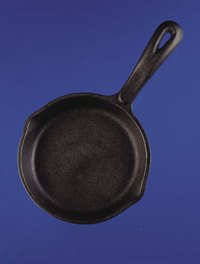 Cast iron cookware heats foods quickly and cooks evenly. The metal retains heat well and lasts for many generations if you care for it properly. When grease builds up on the cookware, it needs to be cleaned from the surface. Cast iron cookware cannot be cleaned in the same manner as other types of cookware because you can lose the seasoning, which resists rust and creates a nonstick surface. Remove the grease carefully with items in your home to protect the cast iron cookware.
Things You'll Need
Table salt
Nonabrasive sponge
Paper towels
Lint-free towel
Vegetable oil or shortening
Sprinkle table salt over the grease in the cast iron cookware.
Scrub the inside of the cookware with a nonabrasive sponge.
Wipe the salt out of the cast iron pan with paper towels.
Wash the cookware with hot water and a sponge.
Dry the cast iron skillet with a lint-free towel.
Coat the cast iron cookware with vegetable oil to prevent rust from forming.