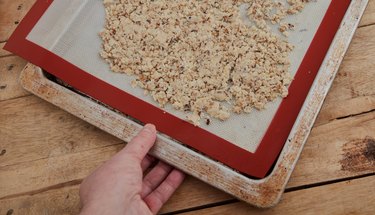 There was a time when parchment paper was something only professional cooks and bakers knew about. Silicone baking mats, like parchment, are now making the same transition from professional to home kitchens. They provide an unparalleled nonstick surface for your baked goods, they're eco-friendly, they eliminate the need for cooking sprays or greasing your pans, and they're a breeze to clean up. Stay tuned as we run down six of the best nonstick baking mats, and explain why they're the ones you need.
What to Consider When Purchasing Silicone Baking Mats
​Baking Mat Versus Pastry Mat:​ There are two basic kinds of silicone mats. The most common are baking mats, which are intended to replace parchment on your baking sheets and make cleanup easier. The other kind is typically marketed as "pastry mats," and they're used more during the preparation stage. They're meant for rolling out your doughs and pie crusts, and usually have handy markings on them to help you know when you've reached just the right size to fit your pan. Some mats are dual-purpose, coming with the markings you need for pastry work but still functioning well in the oven.
​Reinforced Versus Unreinforced:​ Silicone baking mats reinforced with fiberglass are the best for most purposes, and they're the only kind you'll find in our "best of" listings. The less durable silicone-only mats do have one notable advantage: If you're working with your grandma's cherished baking pan, or a random selection you've accumulated through the years, you can cut these lower-quality mats to fit them. Higher-end mats come in the same standard sizes as sheet pans (full sheet, half sheet and so on) and shouldn't be cut because they could shed fiberglass into your food.
​Size:​ That brings us to the important question of size. Our roundup of the best sheet pans focused primarily on the half-sheet size, which is the most versatile option for home bakers. We'll follow the same logic here, though—as with baking sheets, the same manufacturers make comparable models to match other standard pan sizes.
​Fit:​ You'll need to check the reviews to get a feel for this one. Although the mats are generally intended to fit standard-sized sheet pans, some are sized more accurately than others. A mat that's too big will curl at the edges, distorting those last couple of cookies, and one that's too small leaves unused space on your pan. Many top brands have rounded corners as well, which helps them fit better and also makes it easier for you to get a finger underneath when you want to remove the mat.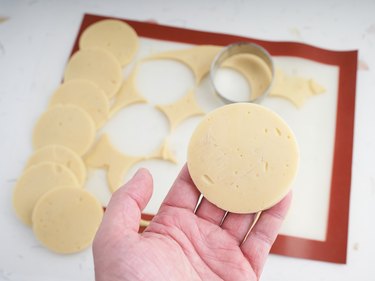 The Best Overall Silicone Baking Mat
Silpat is the OG of silicone baking mats, the original and authentic product from French manufacturer Demarle. It's the automatic choice for the vast majority of professional chefs, bakers and pastry chefs, and it's our top choice as well. Why? Because it's still the best overall product, unmatched for its combination of durability and nonstick performance. Like other top brands, it's made of food-grade silicone over a core of fiberglass mesh, and it's rated for temperatures from -40 to 480 degrees Fahrenheit. It's nominally dishwasher-safe, but it will last longer if you hand-wash it. That's not a big deal because Silpats are known for easy cleanup with just soap and water (don't obsess over a slightly "greasy" feel on your clean mats, that's the nonstick surface doing its thing). Your Silpats will discolor with time and usage but will still work fine, and they'll easily last a decade or more. Viewed from that perspective, the price premium they command is pretty reasonable.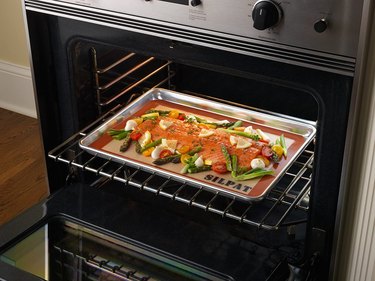 The Best Budget Silicone Baking Mat
Kitzini Professional Grade Silicone Baking Sheet, 2-Count
Every other manufacturer of baking mats is in the business of imitating the Silpat, but some do it better than others. Kitzini has earned a loyal following by creating products that approach the French-made original in quality but do so at a lower price. A Kitzini silicone baking mat is thinner and more flexible than a Silpat, at 0.75 millimeters in thickness compared to the Demarle's full 1 millimeter, but that's still twice as thick as many competing brands. They'll last through thousands of uses, and will clean up easily with a quick wipe. The big difference? This pack of two is about half the price of brand-name Silpats, despite providing comparable performance. They're also color-coded, which makes it easy for you to designate mats for specific purposes. That's important if you love sheet pan meals because silicone mats can absorb flavors and odors from foods. If you love baking and sheet pan dinners, having a separate sheet for each purpose is a pretty good idea.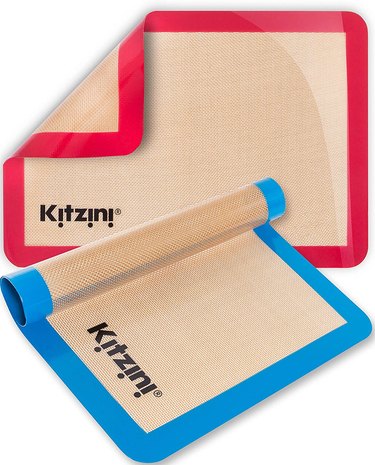 The Best Silicone Baking Mat Set
Renook Silicone Baking Mats, 5-Count
What's the only thing better than having a good silicone baking mat? How about having them for all of your bakeware, not just for your main sheet pan? This set from Renook gives you a full suite of the basics, with two half-sheet mats so you can bake large batches of cookies efficiently, as well as a quarter-sheet mat, which fits smaller pans or even toaster ovens. There are also mats for both a round 8-inch cake pan and a square 8-inch cake pan. The mats are just as thick as those from Kitzini, which means they should be more durable than most other low-cost mats despite their wallet-friendly price point. Whether you're churning out macarons or roasting veggies for an easy weeknight meal, these heat-resistant mats will do the job.
The Best Silicone Pastry Mat
OXO Good Grips Silicone Pastry Mat
Any silicone mat can be used on the countertop for prep purposes. They're great for jobs like kneading bread and rolling dough for pies or cookies, and their nonstick surface means you won't need to use as much flour (very important with delicate cookies). Some mats go a step further and include handy measurements to help you roll your doughs to the right size, and for that reason are marketed as "pastry mats" rather than "baking mats."
This one from OXO is an outstanding example of the style. For rolling pie crusts and other rounds, the handy circular guide will help you nail down sizes from 6 inches to 14 inches in diameter. The edges also provide measurements in inches and centimeters for rolling out squares and rectangles, and—for further convenience—the mat includes handy conversion and substitution charts. The mat is oven-safe and dishwasher-safe as well, though it's sized for a full sheet pan (rather than the more common half-sheet pans) and won't fit most home ovens.
The Best Dual-Purpose Silicone Baking Mat
Five Two Silicone Baking Mat
Half-sheet pans are only 13 inches wide, and the mats to fit them usually measure less than 12 inches from edge to edge (because the sides of the pans are angled, and they're narrower at the bottom than the top). That means a really good pastry mat will be too big for your half-sheets, and a pan that fits your mat won't usually fit your oven. Still, if you look, you can find a mat that will do double duty. One option is this "Five Two" silicone baking mat from Food52. It's primarily a baking mat, but it's marked in a one-inch grid for added versatility. You can use it to roll out dough at any size up to 11 inches in diameter, and the handy grid also provides a visual aid when you're trying to arrange your cookies evenly on the pan. As with any other mat, your baked goods will brown evenly and release neatly, and the Five Two baking mat is dishwasher-safe (top rack, please). Alternatively, just give it a wipe with soapy water.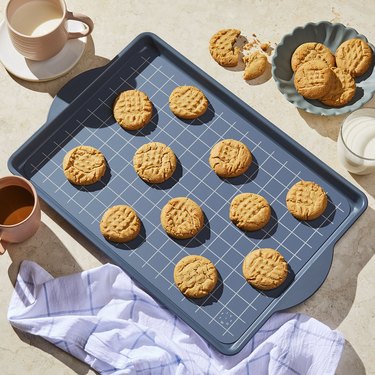 The whole idea of baking cookies on a silicone mat is controversial in the industry. Pastry chef and cookbook author Stella "BraveTart" Parks is dead against it (cookies spread more on the nonstick surface of a silicone mat), while Bon Appétit argues that many cookies will benefit from using one. In the end, some recipes will work better than others, so feel free to slap a mat on your cookie sheet and experiment.
For some recipes, you may decide to stick with parchment or even aluminum foil, but in other cases, silicone will win. For those days when you use a silicone mat, this offering from Demarle is just the thing. It's a slight variation on our top-pick Silpat, with high-quality food-grade silicone over a fiberglass mesh. The big difference is that this pan has markings to show you the perfect spacing for a dozen cookies, with a smaller circle in the center (to show the proper diameter for your uncooked dough) and a larger one outside (to show you the expected size of the finished cookie). Because you'll get the spacing right every time, and because the mat—unlike parchment paper—is nonslip, you can say goodbye to deformed cookies that run together.