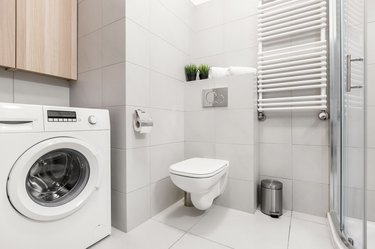 Every bathroom needs a trash can. Bathroom trash cans might be small, but they're mighty important. There's always something to throw away when you're in the bathroom—from cotton swabs to tissues to tampons to the chocolate bar wrappers you're hiding from your family. There isn't really anything exciting about trash, but if you find the right trash can, dealing with trash might feel like less of a chore. And who knows, your trash might even bring you some joy—well, the trash can itself, at least. Whether you're looking to upgrade your current bathroom trash can or you've finally taken the plunge to purchase one for the first time, there are a few things to consider.
What to Consider When Purchasing a Bathroom Trash Can
‌Type:‌ There are a few different types of trash cans, also known as garbage cans or wastebaskets. The most common trash can is one that's uncovered. You can't beat the convenience of literally throwing trash inside from anywhere in the bathroom—whether it actually goes in, well, that's neither here nor there. Another type of bathroom trash can is one with a lid, which is the one to get if you don't like looking at trash. Step-open trash cans also have lids, but instead of having to touch them, you can simply use your foot to open them.
‌Size:‌ Since bathrooms are generally pretty small, the trash can should be too. After all, trash cans shouldn't be a focal point in any room. If you want to tuck it somewhere discreet like between the vanity and the wall or next to the toilet, you might want to consider measuring the space to make sure the trash can that you're interested in purchasing will fit.
‌Material:‌ The go-to trash can material is plastic, as it's the most affordable option, the easiest to clean, and it weighs next to nothing. But full disclosure, plastic trash cans are also annoyingly easy to knock over, and picking up spilled bathroom trash isn't exactly a good time. If you want a sturdier option, one with a heavier frame like stainless steel would be your best bet. Stainless steel is more expensive, however, and unless it's smudge-proof, it will also show fingerprints. If you're looking for a more eco-friendly trash can, ones made of bamboo, wicker, rattan and straw tend to land in that department.
Check out our picks for the best bathroom trash cans below.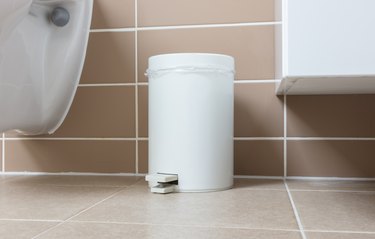 The Best Overall Bathroom Trash Can
Simplehuman is known for its excellent trash cans, including this 4.5-liter stainless steel model. A damper controls the lid so it closes slowly and softly. The trash can has a steel pedal, which is engineered to last over 150,000 steps—equal to 20 steps a day for 20 years. So, is this trash can built to last and worth the money? Our vote is yes. The trash can is available in several finishes to best fit your bathroom's aesthetics, including brushed stainless steel, white steel, polished chrome, brass and rose gold. If you want matching, taller trash cans for other rooms in your house, there are also 6-liter and 10-liter options. You can even purchase custom-fit liners that promise no leaking or ripping.
The Best Budget Bathroom Trash Can
This inexpensive trash will bring function and unassuming style to your bathroom. It holds 1.45 gallons and has two cut-out handles, which makes it easy to pick up and carry around as needed. It can easily be hand washed in your kitchen sink or hosed down outside. You can also mix and match other bathroom essentials from the same line, including a toothbrush holder, soap dish, soap dispenser, and a toilet bowl brush and holder. Other colors to choose from include black, blue and white.
The Best Uncovered Bathroom Trash Can
Can a trash can be beautiful? Between the black, copper antique, pewter and white finishes, this trash can from Monarch Abode is exceptionally attractive. It has a capacity for 2 gallons of your finest trash, all while remaining durable and rust-resistant. The bin can be gently washed using a soft, damp cloth. If you love the design, it can be paired with the company's Hand Hammered Collection, including a tissue box cover, decorative trays, decorative bowls, wall plates, and bath and kitchen hardware.
The Best Bathroom Trash Can With a Lid
This trash can is tricky. It appears to have a wood or metallic finish, but it's actually plastic, which cuts down on both the price and the weight. Either way, it's a good-looking trash can that can hold up to 2.5 gallons of trash. It has a swing lid, which is a great way to keep all your trash contained and covered so you don't have to constantly see it. Choose from two finishes: gunmetal metallic or bronze metallic.
The Best Step-Open Bathroom Trash Can
Made of brushed stainless steel, this Amazon Basics trash can is sleek and gets the job done. It's fingerprint-proof, smudge-resistant, and durable with a heavy-duty plastic interior bucked that can easily be removed when it's time to take the trash out. There's a stay-open lid mode that makes it easy to remove and replace the garbage bag. The trash can comes in four sizes: 5 liters, 12 liters, 30 liters and 50 liters, although the smallest size is suitable for most bathrooms.
The Best Compact Bathroom Trash Can
This compact plastic trash can is designed to fit in small spaces, like the space between a toilet and the wall or the vanity. There are plenty of things to throw away while you're sitting on the toilet, so this press-top trash can is really all about space-saving convenience. Its slim profile and modern look make it a unique addition to any bathroom. A durable plastic liner basket can easily be removed when it's time to take out the trash. To clean, rinse it out with mild soap and hand wash. Choose from a 4-liter, 6-liter and 8-liter capacity, as well as three colors: white, gray and green.
The Best Eco-Friendly Bathroom Trash Can
This eco-friendly trash can is made of bamboo and is a great addition to any modern bathroom. The trash can is waterproof, durable and well-constructed. If you've been wanting to limit the plastic you bring into your home, this trash can is a great option. The company lists it as a 5-gallon trash can but reviewers say it's closer to 2 gallons. There are two sizes to choose from: 10.6 inches long, 5.75 inches wide and 10 inches high or 12 inches long, 6.5 inches wide and 15.3 inches high.
The Best Touchless Bathroom Trash Can
If you want to raise your bathroom's cool factor, try this stainless steel, touchless trash can. You won't need to step on anything, push on a lid or even touch the trash can to get the plastic lid to open. Instead, a water-resistant infrared motion sensor opens the trash can when you're in front of it. But just in case someone in your family does touch it, the stainless steel base is fingerprint-resistant. To operate, it'll need two C batteries, which aren't included.