Your bathroom is probably one of the first places you visit when you wake up in the morning and one of the last things you see before you go to bed at night. Wouldn't it be nice if you actually loved walking into that space and liked the way your bathroom looks? You don't have to call in a contractor and do a big, expensive bathroom remodel in order to totally revamp your bathroom design. Even a small bathroom can become a pleasant refuge with a few simple upgrades.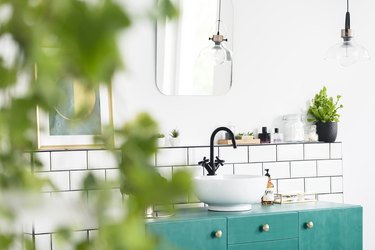 1. Upgrade Your Shower Curtain
Changing out your shower curtain is probably the single easiest way to make a big difference in the look of your bathroom. Make a small bathroom feel as spacious as possible by picking out a white or off-white shower curtain with a light pattern. You have even more choices for a larger bathroom, where bright or dark colors won't be as overwhelming. Think about coordinating with your existing towels and bathmat while you're looking for a new shower curtain, but shake things up by choosing something in a totally different color or pattern from your current curtain.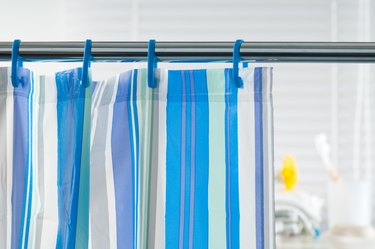 2. Swap Out Your Showerhead and Hardware
You don't need to have a ton of home improvement experience – or really any at all! – to change out the hardware in your bathroom. Replacing old cabinet door pulls is often as easy as unscrewing one knob and screwing on another, so this is one of the bathroom upgrades that even renters can make. (Just save the old hardware in case you need to put it back when you move out.) Replacing towel bars, toilet roll holders and bathroom door knobs can usually be done with just a screwdriver or other basic tools. Depending on the design of your current showerhead, swapping it out for a new one – rain showerhead, anyone? – can be a surprisingly easy project.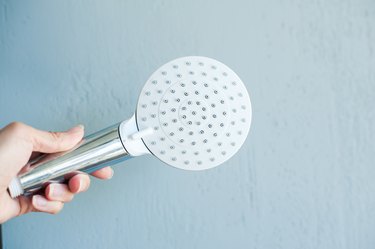 3. Paint Bathroom Cabinets
While a little more labor-intensive than changing out your shower curtain, painting bathroom cabinets has such a big impact that it's worth a few hours of work. It's easy to become blind to how scuffed and dingy your cabinets become over time. The improvement will be obvious when your cabinets have a fresh coat of paint, even if it's a similar shade to their current color. Of course, where's the fun in repainting bathroom cabinets the same color? Maybe now's the time to go for the bright blue cabinets of your dreams!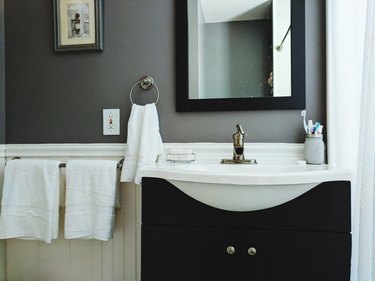 4. Replace Your Sink Faucet
You have to look at it every time you wash your hands or brush your teeth, so an ugly sink faucet can definitely become an annoyance. Get rid of old plastic knobs or a dingy brass faucet and install a sleek new stainless steel or brushed nickel faucet in its place. Replacing your own faucet is a doable DIY project for most people as long as you choose a replacement that's appropriate for your specific sink. You're going to need to know how many holes are drilled into the existing sink and how far apart they're spaced when choosing a replacement.
5. Try Peel-and-Stick Backsplash
If you've ever tried to install real tile backsplash yourself, there's a good chance you vowed to never do it again. Peel-and-stick backsplash has been a DIY home improvement game changer (no dealing with messy grout!), and it's not just for the kitchen. Use it to decorate just the backsplash above your sink or an entire wall of the bathroom. From simple white subway tile to metallic geometric shapes, this kind of temporary backsplash comes in a ton of styles and patterns.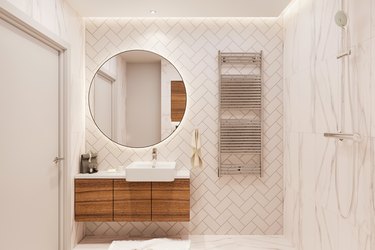 There's no such thing as a bathroom that's too small for plants. They bring color and life to the space and make your bathroom feel a little bit more like a spa. Hang plants from the ceiling or from wall hooks so they don't take up valuable space on the countertop. Not all plants belong in a humid space, obviously, so make sure you're only choosing plants that are right for a bathroom, like air plants and ferns.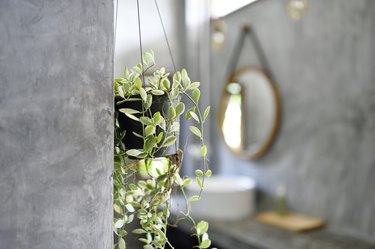 7. Frame the Bathroom Mirror
Framing a bathroom mirror makes a basic contractor-grade bathroom mirror look more complete and adds to your bathroom design. For a fairly small mirror over a narrow bathroom vanity, you may be able to find a store-bought frame large enough to fit. A bigger mirror, like one hanging over a double vanity, might require a custom build. Homeowners can create a DIY bathroom mirror frame either by nailing together a basic frame from four wood slats and hanging it around the mirror or by gluing individual slats directly to the mirror itself.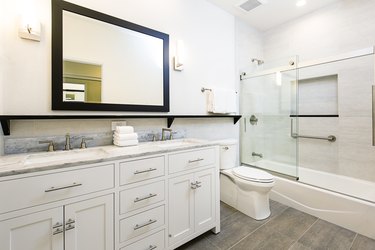 8. Add a Modern Light Fixture
Changing your light fixture can change the way light is diffused through your bathroom, giving the space a completely new look. Plus, a modern light fixture can function like a piece of art in a small bathroom. Think about upgrading both vanity sconces and overhead lights. If your bathroom needs more light sources, think about adding plug-in sconces that don't need to be hardwired into your home's electrical.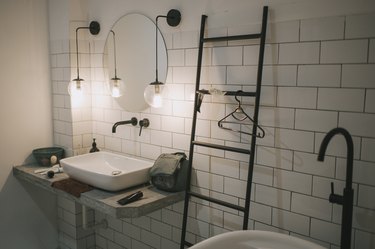 No matter how much bathroom storage you already have, you somehow always seem to need more. Use every inch of a small bathroom to its greatest potential with some simple bathroom hacks, like installing an extra shower curtain rod inside your shower for hanging storage. Mount towel racks with hooks, hang small storage baskets from the walls or even bring in a small rolling cart to hold extra towels, shower supplies or grooming tools.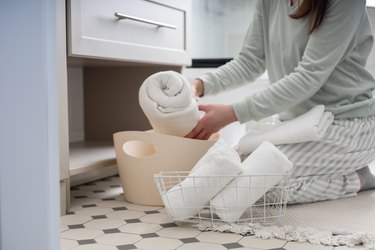 10. Transform Bathroom Walls With Paint, Wallpaper or Art
Why shouldn't you get to look at something beautiful while you're taking care of business in the bathroom? Treat your bathroom like a miniature gallery by clustering framed prints on the walls, swapping them out for new images every few months, or go all in on your bathroom renovation by repainting or hanging wallpaper. Changing the wall color, even if it's just on one accent wall, makes a huge visual impact in a bathroom. The rise of removable wallpaper makes this easier than ever, and because you're working with a small space, you can experiment with bolder patterns than you might use to wallpaper an entire bedroom.