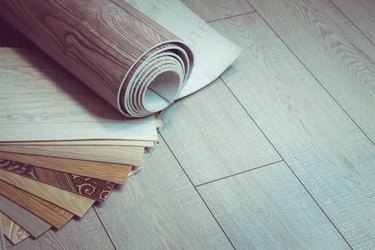 Though they may have gone out of style, linoleum floors are a thing again because they are versatile, long-lasting and have a durable finish that resists damage. The surface is smooth, comfortable and water-resistant, and this is why you see it used so often in schools, hospitals and offices. It's not expensive either; you'll pay about the same for higher-end vinyl floors. As an added bonus, linoleum is a renewable material, while vinyl is not.
How to Shine Linoleum Floors
The best way to get a shiny linoleum floor is to first give it a deep cleaning. You should sweep away any dust and debris and combine equal parts of vinegar and water into a bucket. Put a drop or two of gentle dishwashing liquid into the solution; then, you can mop the floor. Don't get the floor soaking wet; it's better to use less water and work in 4- to 6-foot sections. You can wipe it dry with clean towels and then get ready for the second part.
A linoleum floor polish is the best product to use on these surfaces because vinyl floor wax can cause unwanted buildup. To apply it, pour the polish into a clean bucket and not directly onto the floor. Use a microfiber applicator pad or a damp sponge mop to evenly apply a thin coat of polish to your linoleum floor. You should read the product label to see how long the polish needs to dry before you can walk on the floor.
Vinyl is not the same as linoleum for floors, though many people think they are. While linoleum is made from natural materials, like linseed oil, cork dust and wood flour, vinyl is a 100 percent synthetic material. Many vinyl floors are also 100 percent waterproof, making them much easier to clean and more durable. A damp mop and a little bit of vinegar and dish soap will do the job.
Vinyl floor wax products will provide shine, but the pastes in them can also cause buildup. A good alternative is to add a few drops of baby oil into the vinegar, water and dish soap cleaning solution. People often allow wax products to build up, and when the floors are dirty to begin with, that grime gets trapped beneath. If you are faced with this scenario, you'll want to buy a floor wax stripping product that is compatible with your linoleum or vinyl floor.
To make sure that your floor looks its best and lasts longer, put doormats outside your home's entrances and rugs on the inside. Never place rubber or latex-backed rugs on these floors, though, as they will stain. The rugs should be colorfast and have natural backings. If you have plants in the room, put protective pads beneath them to prevent water damage.
Also, move your plants around to other spots in your home because linoleum will yellow if it isn't exposed to enough light. To remove stains, buff them away with a nylon brush and then clean and polish the area. You can remove black scuff marks with a paste made of baking soda and water; a bit of WD-40 or baby oil can also work. Clean it up as soon as possible if any water gets on the floor. If you need to strip old or dirty wax from the floor, don't do this more than once a year.