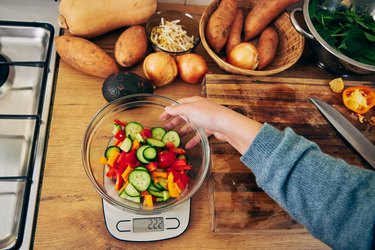 Whether you're a professional chef, an enthusiastic home cook or just starting out on your culinary journey, having a good kitchen scale can make food preparation and cooking so much easier. It's also worth mentioning that some scales don't just weigh ingredients. Depending on their design, some scales can handle a variety of other kitchen tasks—but more on that later. We've laid out important factors to consider when selecting a kitchen scale, and then compiled a list of the best kitchen scales on the market in 2022.
What to Consider When Purchasing a Kitchen Scale
‌Accuracy:‌ While properly-made scales should be accurate enough to meet most of your needs, some scales will indicate, however minuscule, the margin of error. In general, you'll want a scale that measures in 1-gram increments to get more precise readings. Make sure to read up on how accurate the scale is. If this information isn't available, but you happen to be in a store with scales on display that you can examine, you can try testing it yourself. If you've got spare change on you, you can use this as a sample. For reference, four nickels should weigh exactly 20g, according to the US Mint.
‌Type of Scale‌: The four main types of kitchen scales are digital, analog, pocket and hanging:
‌Digital‌: These days, digital scales tend to be the most popular, thanks to their easy readability. Most digital scales can weigh items from as light as 0.5 ounces up to 6 to 12 pounds. They're battery-powered and normally give readings in 0.05-ounce or 1-gram increments. They also work quickly, delivering readings in a few seconds or less. Some digital scales may feature a glass platform on which to place your ingredients, but we don't recommend these; as stylish as they may look, they can be fragile.
‌Analog‌: Analog scales may seem a bit dated in comparison, but they don't require batteries and are generally the largest type of kitchen scale, capable of weighing larger quantities of ingredients. Unless you're preparing huge amounts of food at once, however, the extra capacity and higher weight threshold probably isn't necessary.
‌Pocket:‌ Pocket scales earn their name for being compact and lightweight, making them ideal for measuring very small items, such as coffee grounds, spices and baking ingredients. If you need to measure out less than a gram of something, a pocket scale will come in handy.
‌Hanging‌: Hanging scales can be either analog or digital. They normally consist of a hook on top from which to hang from the ceiling or a beam, as well as either a lower hook or a metal weighing basket attached by chains. Hanging kitchen scales are ideal for measuring huge slabs of meat or fish, so you'll commonly see them in butcher shops. Since they're capable of weighing items up to 100 pounds, in many cases, they require some installation to keep them secure.
‌Functions‌: Most digital scales will come with taring and auto-off functions. Taring allows you to subtract the weight of the bowl or container you've placed your ingredients in and reset the scale to zero before measuring, so you can get an accurate measurement of your ingredients only. Scales with auto-off functions will automatically turn off after not being used for a certain amount of time—usually two to five minutes—to save the battery life.
‌Weight Capacity:‌ If you're a home cook, you probably won't need to weigh large amounts of ingredients. Still, a flexible weight limit can be a plus. As mentioned earlier, most digital kitchen scales can support upwards of 6 to 12 pounds. Analog kitchen scales fall within a similar ballpark, but tend to be able to support closer to 11 to 15 pounds. Pocket scales are intended for weighing smaller amounts and ingredients, so you'll typically see a weight limit of between 500 and 2,000 grams (roughly 1.1 to 4.4 pounds). Hanging scales can usually handle up to 100 or 110 pounds, but unless you're a butcher or fishmonger, you probably won't need such a high weight limit.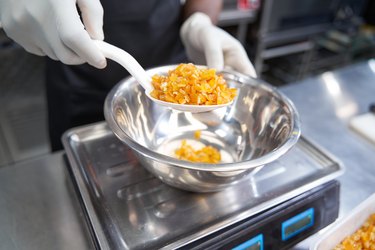 Extra Features to Consider
‌Rubber Feet‌: Most chefs will agree that they don't want their equipment to slide around the kitchen countertop and that includes scales. A kitchen scale with rubber feet will help keep it in place, no matter how slick your countertop is.
‌Removable Platforms‌: Another benefit is the option to remove the weighing platform. This allows you to clean the scale more easily.
‌AC Adapter:‌ While some scales will come with batteries included, it can be a little frustrating to try and weigh ingredients, only to find that the batteries are dead. Some scales may come with an AC adapter (aka an external power supply) to cut down on the need to charge batteries. Just plug it in and go!
‌Smart Technology‌: Some modern scales boast smart technology, giving you the option to control them from a tablet or a smartphone. Some high-tech models may even pair with food tracking apps to help you keep a precise log of your food intake. These apps can measure and track the macronutrients and micronutrients of everything you eat.
With these considerations in mind, here are the best kitchen scales in 2022: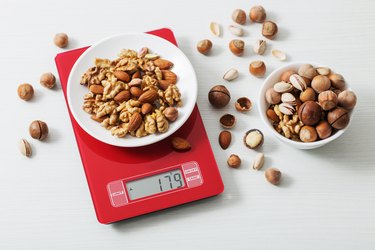 The Best Overall Kitchen Scale
Escali Primo Precision Kitchen Scale
Simple, stylish and highly accurate, the Escali Primo Precision Kitchen Scale is a favorite among chefs. Also, it's priced on the lower end, making it perfect for first-time homeowners.
Available in eight colors, it's lightweight and durable, with an optional removable stainless steel weight platform. The base of the scale is manufactured from hard-wearing plastic, so it can be bumped around by enthusiastic cooks, and its buttons are completely waterproof for those damp, flour-covered fingers. Combine all these elements and you have a scale that's easy to whip out and clean.
It also comes with a simple two-button operation that is super intuitive and easy to use, switching between imperial and metric systems in a jiffy. You won't need to consult the manual every five minutes with this machine. And with its rubber feet, automatic shutoff function after four minutes, and tare feature (clearing the weight of a container or multiple food sources), it's a really well-rounded kitchen scale.
‌Weight Capacity‌: 11 lbs.
‌Product Weight‌: 11.5 oz.
‌Increments‌: 0.05 oz., 1 g.
‌Systems‌: Metric, imperial
‌Dimensions‌: 8.5" x 6" x 1.5" (L x W x H)
‌Batteries:‌ Two AA (included)
The Most Innovative Scale
OXO Good Grips 11-Pound Stainless Steel Scale
With its solid stainless steel weight platform, pull-out display and 11-pound weight capacity, this is a really innovative scale that holds its own in the kitchen. It's priced a bit higher than most of its competitors, but for the seasoned cook, it's worth its weight in gold.
While the pull-out display might seem like a gimmick, it actually helps to prevent large containers from covering the LED screen. This makes it an excellent choice in a restaurant kitchen. The stainless steel body also looks high-end and would not feel out of place in a luxury kitchen. Also, this stainless steel finish allows for easy cleaning.
This is a scale for those looking to push it to the limit. When measuring any ingredients, you're always able to see on the display how much more weight capacity is left, which is a handy feature when measuring large quantities. There are also loads of additional features, such as the smudge and fingerprint-resistant stainless steel, taring and a removable platform for easy cleaning.
‌Weight Capacity‌: 11 lbs.
‌Product Weight‌: 1.8 lbs.
‌Increments:‌ 0.125 oz., 1 g.
‌Systems:‌ Metric, imperial
‌Dimensions‌: 9.5" x 7.13" x 1.2" (L x W x H)
‌Batteries‌: Four AAA (included)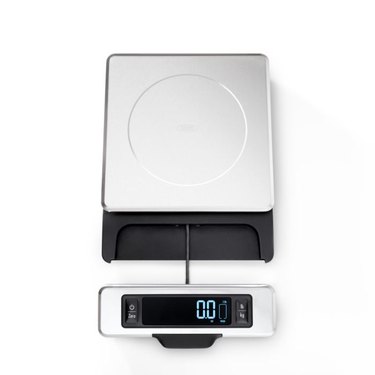 Ozeri ZK14-S Pronto Digital Multifunction Kitchen and Food Scale
Retailing under $20, this price-conscious scale offers accurate readings, elegant styling, and most importantly, it's simple to use. Your little ones would find this a very rewarding scale to use when they learn how to bake. It comes in 13 lovely colors and has a maximum weight capacity of 11.24 pounds, making it a small scale that can nevertheless handle large recipes. Measuring out the flour for 24 bread rolls will be no problem with this hardworking machine.
The scale boasts five measurement units: grams, pounds, pounds: ounces, ounces and milliliters. Another great addition is the fact that it has a tare button, which can calculate the net weight or subtract certain ingredients. Other notable features include a new, enlarged chrome weighing platform, automatic shutoff, and two large buttons that are waterproof and integrated into the unit, making it easy to wash despite the messiest handling.
‌Weight Capacity‌: 11.24 lbs.
‌Product Weight‌: 12 oz.
‌Systems:‌ Metric, imperial
‌Increments‌: 0.05 oz., 1 g.
‌Dimensions‌: 8.25" x 6" x 1.75" (L x W x H)
‌Batteries‌: Two AAA (included)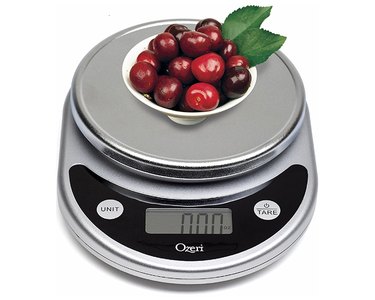 The Best Scale With a Bowl
Etekcity Food Scale with Stainless Steel Bowl
With its timeless design and sturdy stainless steel bowl, the Etekcity Food Scale is a scale that will last for ages. And at under $20, it won't break the bank.
Offering precise measurements, it has a maximum weight capacity of 11 pounds. The digital display is backlit and blue, which means easy visibility in even the dimmest kitchen lighting. And you can change units from ounces, pounds: ounces, grams and kilograms:grams, so metrically-minded bakers can easily switch when the need arises. This scale also offers an amazing function where if you get overzealous in filling the bowl, the smart scale will automatically show you at what pound/kilogram you were over the limit. So no more re-weighing your ingredients from scratch.
The Etekcity Food Scale also offers multifunctional features, including displaying the room temperature (great for pastry chefs who need to know when it's too warm to handle the dough) and a handy timer for tasks like baking. Additionally, it comes with a tare function, as well as an automatic shutoff. And with its detachable stainless steel bowl, you can mix, bake and wash produce in it, offering endless versatility.
‌Weight Capacity‌: 11 lbs.
‌Product Weight‌: 1.2 lbs.
‌Increments‌: 0.05 oz., 1 g.
‌Systems:‌ Metric, imperial
‌Dimensions‌: 7.52" x 7.52" x 3.7" (L x W x H)
‌Storage Dimensions‌: 8.3" x 8.3" x 3.7" (L x W x H)
‌Batteries‌: Two AAA (included)
‌Extras:‌ Quick start guide included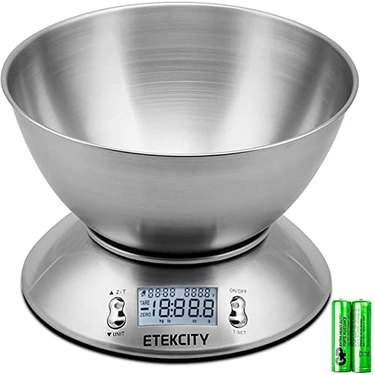 The Best Big Kitchen Scale
My Weigh Kitchen Scale KD-7000
For those looking to up their baking game, the My Weigh KD-7000 is the scale for you. The 7000 stands for the fact it can handle 7,000 grams or 15.4 pounds. That's a whole lot of cookie dough!
This scale is priced on the higher end of scales on our list, but you get real bang for your buck. The removable stainless steel faceplate cover makes this a tough scale, able to handle fast-paced treatment in the most intense kitchen settings. The faceplate is also easy to clean, and the strong, reinforced ABS plastic body makes this an extremely durable unit. You won't need to replace this scale in a hurry.
It boasts a large, backlit LCD display screen for easy reading, as well as a HOLD function, which will delay the automatic shutoff function so you don't have to worry about the scale turning off while you're attending to other kitchen tasks. The scale also includes a calibration function and weight overload protection that alerts you before you put too much weight onto it. And with a unit memory feature, you can easily recall old readings. Finally, the scale comes with an AC adaptor so you don't need to worry about running out of batteries.
‌Weight Capacity‌: 15.4 lbs.
‌Product Weight‌: 3.1 lbs.
‌Increments‌: 0.05 oz., 1 g.
‌Systems:‌ Metric, imperial
‌Dimensions‌: 6.89" x 6.89" x 5.51" (L x W x H)
‌Batteries‌: Three AA (included)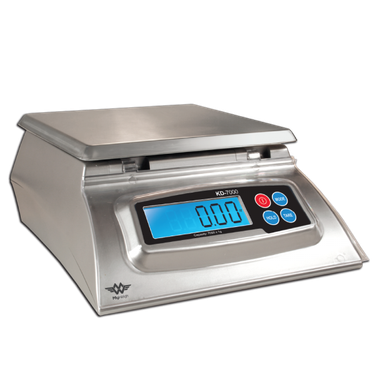 The Best Analog Kitchen Scale
Escali Retro Classic Mechanical Dial Stainless Steel Scale
If you like the classic look of an analog kitchen scale, this retro-style analog kitchen scale from Escali both looks great and is easy to use. Made from shiny stainless steel, it features a large, easy-to-read dial that displays weight in both the metric and imperial systems of measurement. It has a maximum weight limit of 11 pounds.
The scale's stainless steel bowl is removable for easy cleaning, while the dial cover is shatter-proof and includes a stainless steel ring. The scale also boasts a tare feature to reset the scale to zero so you can get accurate weight measurements of your ingredients only. Naturally, no batteries are required. Overall, using this scale is a great way to maintain a semblance of old-fashioned, traditional cooking while benefitting from modern standards.
‌Weight Capacity‌: 11 lbs.
‌Product Weight‌: 3.3 lbs.
‌Increments‌: 1 oz., 20 g.
‌Systems:‌ Metric, imperial
‌Dimensions‌: 10" x 8" x 8.5" (L x W x H)
‌Bowl Dimensions‌: 8" x 8" x 1.75" (L x W x H)
‌Batteries‌: No batteries required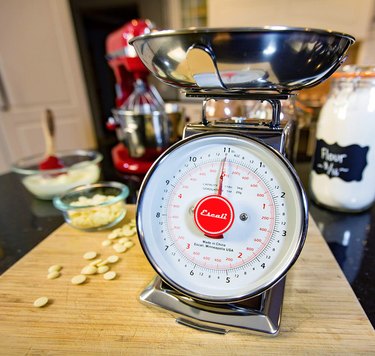 The Best Pocket Kitchen Scale
Smart Weigh Digital Pro Pocket Scale
For weighing delicate items like coffee grounds, spices and even jewelry, it doesn't get much better than the Smart Weigh Digital Pro Pocket Scale. Measuring a compact 5 inches long, 4 inches wide and just 3/5 inches high, it offers a weight limit of 500 grams or approximately 1.1 pounds. It records measurements in tiny, precise increments of 0.01 grams or 0.001 ounces. Its available units of measurement run the gamut to include grams, ounces, carats, troy ounces, pennyweights and grains.
The scale includes a tare function, a hold function to keep your last weight reading for as long as you need, and a counting function to help you keep track of how many tiny items, such as pills, you've placed onto the weighing platform. While you may want to get a larger kitchen scale to measure more traditional ingredients, for coffee aficionados and home cooks who frequently measure out spices, this pocket scale is a great complement.
‌Weight Capacity‌: 500 g., 1.1 lbs.
‌Product Weight‌: 0.5 lbs.
‌Increments‌: 0.01 g., 0.001 oz.
‌Systems:‌ Metric, imperial
‌Dimensions‌: 5" x 4" x 0.6" (L x W x H)
‌Batteries‌: Two AAA (included)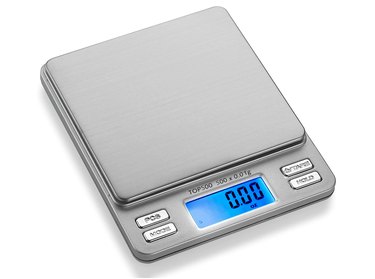 The Best Hanging Kitchen Scale
South Bend Digital Hanging Fish Scale With Backlit LCD Display
Unlike the vast majority of kitchen scales, which can typically support up to 11 or 12 pounds, this hanging scale can support up to 110 pounds, making it especially well-suited to butchers, fishmongers, or any cook who frequently handles large slabs of meat or fish.
The small, lightweight digital scale features a retractable handle on top for hanging purposes, as well as a foldable hook attached to the bottom from which to hang items for weighing. Though it doesn't come with a weighing basket, you could certainly hang one on the hook. The scale boasts a backlit LCD screen for easy reading and includes multiple unit options, as well as a tare function. It also offers an ambient temperature reading in both Fahrenheit and Celsius, plus a handy, retractable tape measure that extends to over 39 inches.
‌Weight Capacity‌: 110 lbs., 50 kg.
‌Product Weight‌: 0.44 lbs.
‌Increments‌: N/A
‌Systems:‌ Metric, imperial
‌Dimensions‌: 5.8" x 3.5" x 1.4" (L x W x H)
‌Batteries‌: Two AAA (included)