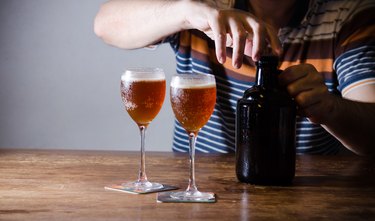 For beer lovers, draft beer is a special thing. Fresh beer, right from the tap, has a brightness of flavor that bottled and canned beer (while fine in their own right) can seldom match. If you want to enjoy that fresh flavor at home, the only way to do it is by taking your beer home from the brewery in a growler. Glass growlers are the traditional way to do that, but they're little more than the beer equivalent of a shopping bag. The best beer growlers bring a lot more to the table, from durability to vacuum insulation and even carbonation. We've picked out six of the very best growlers, and explain what makes them exceptional.
What to Consider When Purchasing a Beer Growler
Let's get this out of the way from the start: We're not going to pick a winner from traditional glass growlers. They have their points—glass is innately BPA-free, and it won't transfer rogue flavors to your beer—but they're heavy, they shatter when dropped and they won't keep beer cold. If you just need a jug to haul beer from the brewery to your fridge, then an amber glass growler is all you need. Pick one based on price, and you're good to go.
Serious beer drinkers will want something a little more sophisticated, something that keeps drinks cold, won't break when it's dropped, and maybe helps keep the carbonation in your favorite IPA after you've emptied the growler part way. If that's you, here are a few questions to consider:
‌Your Beer Consumption:‌ Or to put this another way, how long do you need to keep your beer fresh? If you plan on drinking your beer within a day or so, you don't need any special features (plain old glass growlers will do fine). If a standard 64-ounce growler is more than you care to drink in that timeframe, you can either scale back to a smaller 32-ounce growler or opt for a pressurized growler that can help keep your beer carbonated and in top condition for weeks or even months.
‌Portability:‌ Will your beer be making a one-way trip from the brewery to your fridge? Will you be taking it with you to the beach or even the hiking trail? If having beer on the go is important to you, you'll want to opt for an insulated growler—typically a double-wall design, with a stainless steel interior—which can keep your beer cold and quaffable for 24 to 48 hours (depending on the design). Most models include some form of convenient handle or clip for easy transportation, easy pour spouts, and durable, scuff-proof exteriors that will hold up to knocks, drops and other forms of abuse.
‌Carbonation or No Carbonation?:‌ The most sophisticated growlers act as miniature kegs, keeping your beer pressurized and carbonated through the use of CO2 cartridges and offering (usually) a dispenser tap so you can draw your own pints with ease. These are great for home brewers, or for trips to "destination" breweries outside of your own home area. If you want the luxury of keeping multiple top brews available at all times, these are the way to go.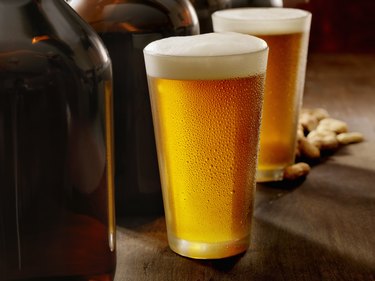 The Best Overall Beer Growler
If you're only ever going to buy one beer growler, this is the one. There are others that will keep your beer colder for longer—GrowlerWerks claims up to 9 hours for this model—but this pressurized growler will maintain your beer's carbonation and freshness for weeks. Its double wall stainless steel design (BPA-free, like all stainless steel) is durable, its carry handle is comfortable and the powder coated exterior is available in three colors so you can keep track of multiple beers if that's your goal.
Carbonation comes courtesy of the standard 8-gram, food grade CO2 chargers you can find in most department and grocery stores (or online, if you live somewhere they're not readily available). You can also choose between carbonation settings, allowing for more or less fizz depending on the style of beer it contains. Finally, the three-position tap is designed for mobile use with a "lock" position to prevent accidental wastage. It's a superbly engineered piece of equipment, which is why it's so well-loved by craft brewers and craft beer enthusiasts.
The Best Beer Growler for Active Use
If you're looking for go-anywhere durability, it's hard to beat this growler from the longtime thermos-bottle experts at Stanley. While it doesn't carbonate your beer like the uKeg, it's a solid choice for keeping beer fresh for days and cold for a solid 24 hours. It will stand up to anything you can throw at it while you're out of the house, because it's built like...well, a Stanley. The company has decades worth of testimonials from users about the abuse their Stanley products have survived, and this growler will be no exception.
The leak-proof lid is held on (clamped down!) with a wire bail at each side, so you can forget about dribbles and your CO2 won't escape either. The big handle makes it easy to carry, grip and pour from, even with gloves on, though it doesn't have the easy-pour spout you'll find on some competitive models. It's even dishwasher-safe, which makes for easy cleanup after you return from your adventures.
This offering from Coleman is a strong contender in the "active use" category as well, as you'd expect from a brand that lives and breathes camping. While it's not quite as bulletproof as the Stanley it's still a double-walled stainless steel growler, and more than durable enough to stand up to long-term use. The big thing about the Coleman is that its vacuum insulation seems to be better-designed that most competitors at this or any price, and it will keep beer cold for up to 76 hours at a time (or hot coffee hot for up to 41 hours, if that's your thing).
While it's not nearly as large and glove-friendly as the Stanley's, the loop handle is still big enough for easy carrying and pouring. Even smarter: The tether holding the cap to the handle is flexible enough not to crack and break. A minor drawback is that the Coleman isn't dishwasher safe, so you'll need to clean it the old-fashioned way with a bottle brush and soapy water. All things considered, it represents great value despite these few minor quibbles.
The Best Small Beer Growler
There are times when the standard half-gallon beer growler is just a bit more than even the biggest draft beer enthusiast wants to consume at a sitting. For those occasions, this scaled-back offering from DrinkTanks is just about right. It checks in at half the capacity of a standard growler (32 ounces rather than 64), which means you're less likely to have some of your beer go flat and stale before you've finished it.
The overall quality of the DrinkTanks growler is very high, from its double-wall construction to the use of "passivated" stainless steel for the liner (aka, it won't give your beer a metallic taste). The cork-lined cap is held on securely with a dual-bail system similar to the one on the Stanley, and it even comes with an insulated tumbler for drinking your beer. It'll work with any other carbonated cold beverage as well, from sodas to cider to kombucha. It will keep your beverages cold for up to 45 hours (which is pretty impressive) or hot for over 24 hours. Overall, it's a really strong choice.
The Best Large Capacity Growler
So what if your problem isn't having too much beer, but not having enough? For those moments when you need enough beer to share happily with friends (or just to cover an entire long weekend), Buzio has you covered. This massive, insulated stainless steel take-along holds a full gallon of beer or other beverages, and it even comes complete with a pair of stainless steel cups for the actual drinking part.
You'll also get a convenient carrying case with shoulder strap, in case you don't want to lug this behemoth by its carry handle all day. It's not just an oversized jug, either: It's insulated well enough to keep beer cold for up to 48 hours, or hot beverages hot for half of that time. Buzio actually makes three different oversized growlers—there's an 84-ounce model and a massive 192 ounce (1.5 gallon) model as well—but this one's the value point.
The Best Mini Keg Beer Growler
If you're a serious beer enthusiast, this is your growler. It's a flagship among carbonating growlers, with a full-bore carbonation system including a regulator to adjust the pressure from zero to 15 PSI. You'll be able to monitor the pressure as you go by keeping an eye on the pressure gauge near the bottom of the flask. The pressure gauge is built into the sight glass, which tells you at a glance how much beer is left in your growler and also shows off the color of your brew.
The dispenser tap means you don't need to remove the cap to pour, which in turn preserves your beer's carbonation and freshness. Your beer will stay fresh for weeks in this growler, which makes it ideal for home brewers to showcase their wares. The uKeg is available in three finishes, stainless steel, black and sleek-looking copper. There's also a supersized version holding a full gallon, perfect for the biggest beer lovers on your gift-buying list.