Yarn is truly one of the most all-purpose crafting supplies available. It's colorful, affordable and easy for all ages to work with. From simple wall hangings to complex embroidery, you can experiment with a wide range of yarn-based crafts. An added bonus? Unlike projects that use paint and glitter, working with yarn generally means that cleanup is easy.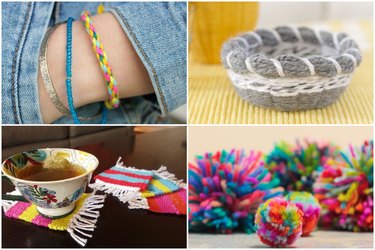 1. DIY Cardboard Loom Bracelet
Prepare to dazzle all the kids in your life with your stealth friendship-bracelet-making skills. With this simple method for making friendship bracelets, a circle of cardboard becomes a DIY loom. You'll never find an easier way to make bracelets that look so complex. Plus, this weaving technique is soothing to practice.
2. DIY Cardboard Basket Weaving
Looking at one of these stylish little yarn baskets, you'd never know how easy it was to make. The base is made of simple card stock, and weaving the yarn around the base is something even a crafting novice can handle. You don't need any special supplies other than a hole punch and clothespins.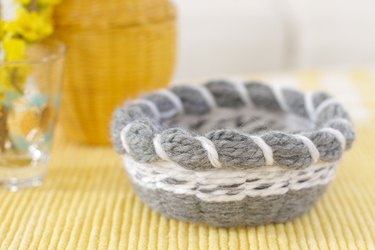 You could drop $30 on a four-pack of coasters... or you could customize your own at home, using little more than yarn. This DIY yarn coaster tutorial uses a piece of cardboard as a simple loom. It's easy enough for even young kids to attempt without much help.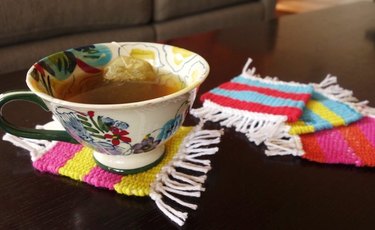 4. DIY Simple Weaving Loom
Weaving your own designs is a great way to express your creativity and make decorative homemade gifts. But have you seen the cost of a basic loom? Forget that. Take up this hobby on the cheap by making your own simple loom using the frame from a stretched canvas.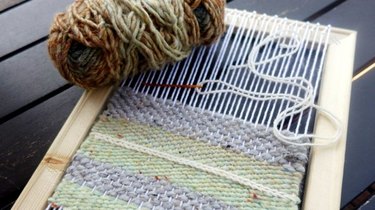 5. Budget-Friendly Yarn Wall Hangings
Decorative yarn wall hangings are one of those items that you'll see selling for $50 in expensive home goods stores. Keep your cash and make your own customized art with this tutorial for DIY yarn wall hangings. If you're looking to make a big visual impact with minimal effort, this is the project for you.
6. Handmade Yarn Shag Rugs
Even a crafter with some skill may not realize that making a rug is within their reach. In fact, making a handmade yarn shag rug is easier than you might imagine. This project is time consuming, but becomes very simple once you get the hang of the technique. Have fun creating your own shapes and patterns.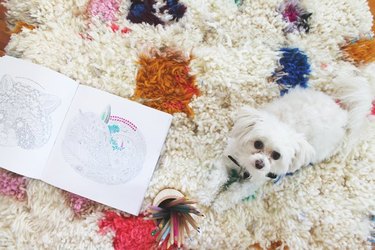 A festive pom pom wreath is always in season. Use white and silver in winter, shades of green in the spring and oranges and browns to make a new wreath for autumn. Once you get the hang of this DIY pom pom wreath technique, you won't mind making multiples.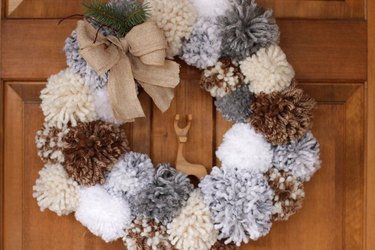 Looking for a back-to-basics craft project? It's practically impossible to screw up these simple yarn pom poms. Try making a big batch in all different sizes and colors. Use them to make pom pom garlands or attach them to wrapped gifts as decoration.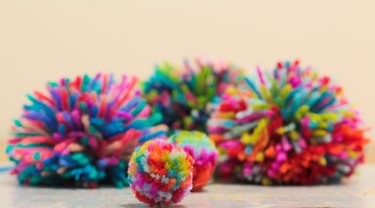 A homemade card is made with love. A simple folded sheet of construction paper doesn't say "special," though. Add a little something extra by using yarn to sew a heart shape into the front of the card. This yarn heart card project takes just minutes, but the special cards you create will be treasured by their recipients.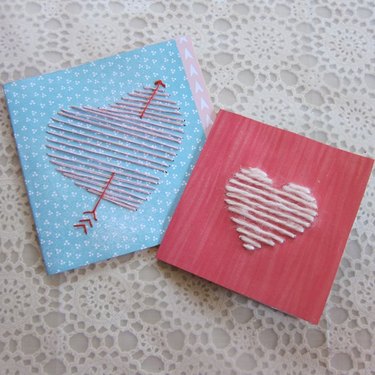 When you were growing up, embroidery may have seemed like a grandmotherly activity. That's no longer the case; with the rise of home crafting, embroidery is an enviable skill. If you prefer to work with yarn over thread, learn how to do yarn embroidery with this guide. It takes some work to perfect your technique, but it's worth the effort to impress everyone with your artistic talent.