If you love comfort food, you're about to meet your new favorite recipe. These mini shepherd's pies are filling, delicious, and hearty! They're also made with buttery pie crust dough, which gives them a "pot pie" spin that can't be beat. Think of it like a cross between your two favorite pies. Plus, thanks to the size of these little pies, they're perfect for feeding a hungry crowd.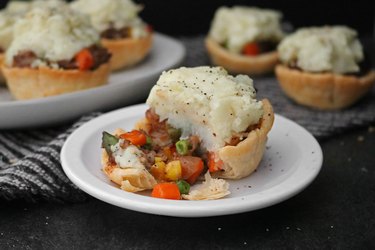 Mashed Potato Topping
Things You'll Need
2 medium russet potatoes

2 tablespoons butter

2 to 3 tablespoons milk

1 teaspoon salt

Dash of ground black pepper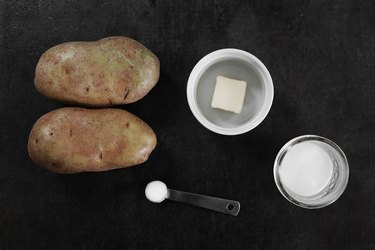 Step 1
Peel and cube the potatoes.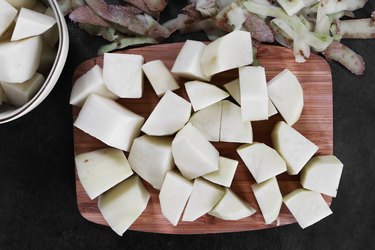 Step 2
Over medium-high heat, bring a large pot of water to a boil. Add the potatoes and cook for 20 minutes, or until the potatoes are soft. You should be able to easily pierce them with a fork.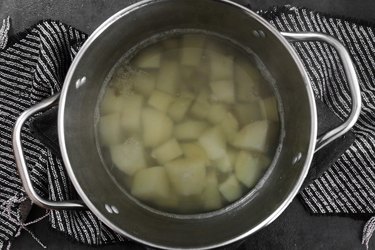 Step 3
Drain the potatoes and place them in a large bowl. With a large fork or potato masher, mash the potatoes. Add the milk, butter, salt, and black pepper. Mix well.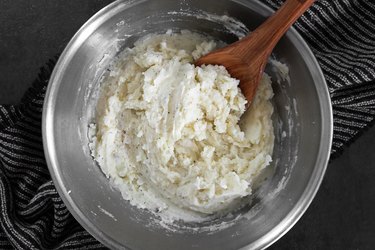 Tip
You can adjust the milk and butter according to your preferences. The more milk you add, the creamier the mashed potatoes will be.
Crust and Shepherd's Pie Filling
Things You'll Need
2 pre-made pie crusts

1 pound lean ground beef

1 small onion, chopped

1 tablespoon olive oil

1 cup beef broth

1 cup frozen mixed vegetables

2 tablespoons all-purpose flour

2 tablespoons ketchup

2 tablespoons Worcestershire sauce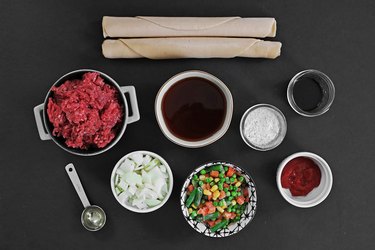 Step 1
Pre-heat the oven to 400° Fahrenheit.
In a pan over medium heat, cook the onions in olive oil. Sauté for 5 minutes or until slightly brown and fragrant.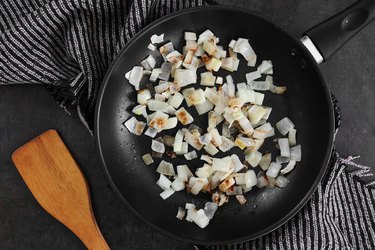 Step 2
Add the ground beef. Cook for 5 to 7 minutes, or until most of the beef has browned. Make sure to break apart the beef with a spatula.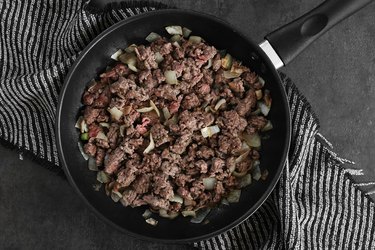 Step 3
Add the flour, beef broth, salt, and pepper. Mix well and simmer until the mixture thickens, about 10 minutes.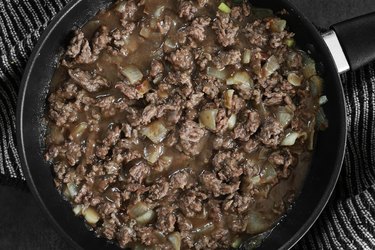 Step 4
Add the ketchup, Worcestershire sauce, and mixed vegetables. Cook for another 1 minute.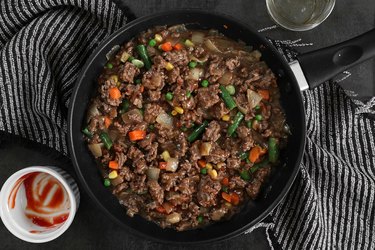 Step 5
Cut the pie dough into 3.5 to 4-inch wide circles. You can use a cookie cutter, mason jar lid, or drinking glass. Press the dough circles into a cupcake tin, making sure to press the dough up and towards the edge.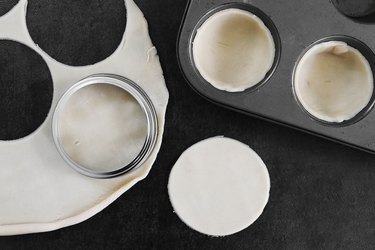 Tip
To save time, prepare the pie dough as the ground beef cooks.
Step 6
Bake the pie dough for 8 to 10 minutes or until golden brown.
Spoon the meat mixture into each cavity.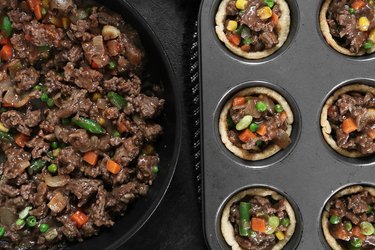 Step 7
Add a heaping spoonful of mashed potatoes on top of each mini pie. If you'd like, garnish the mashed potatoes with a sprinkling of ground black pepper.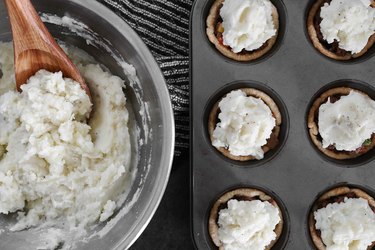 Step 8
Return to the oven and bake for 15 for 20 minutes, or until the potato topping is light golden brown. The pie crust should be slightly darker, too.
Your mini shepherd's pot pies are ready to enjoy! Depending on the size of your dough circles, this recipe yields 16 to 18 mini pies.