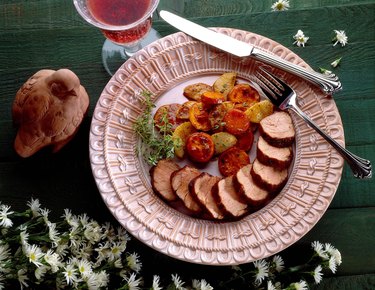 Treat a special man in your life to a homemade birthday dinner as a thoughtful gift. A delicious dinner featuring the birthday celebrant's favorite foods is an ideal way to show him how much you care. Consider the man's allergies or food restrictions prior to planning the birthday dinner menu. To make the dinner even more festive, decorate the table with items that reflect the celebrant's favorite colors and interests.
Meat-Lover Menu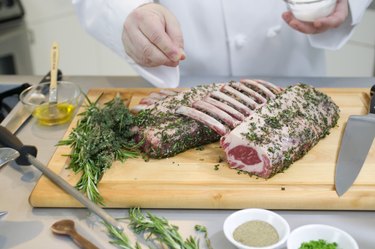 If your husband loves meat, treat him to gourmet dinner featuring his favorite food. On your husband's special day, pass on everyday meatloaf or hamburgers and treat him to a fancy restaurant-quality meal. Prepare a roasted leg of lamb, grilled steaks or an eye-catching crown roast, depending on his tastes. Start the dinner with a taste-temping salad featuring mixed spring greens, Gorgonzola blue cheese crumbles, crunch walnuts and orange slices tossed with a citrus vinaigrette dressing. Complement the meaty main course with a side dish of garlic mashed potatoes, roasted red potatoes or a creamy green bean casserole. Top of the meal with your husband's favorite decadent dessert, such as chocolate raspberry mousse, Boston cream pie or red velvet cake.
Vegetarian Feast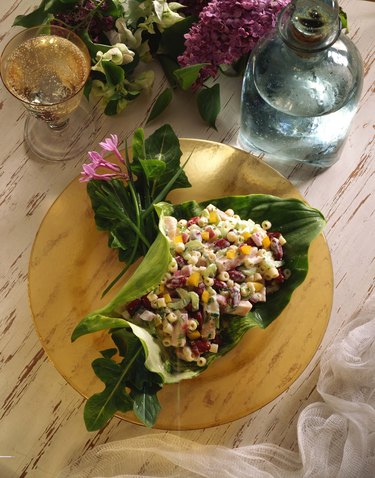 Treat a vegetarian birthday boy to a fresh and healthy vegetable-inspired dinner. Start by serving the celebrant a creamy butternut squash or rich homemade lentil soup. Create a Caesar salad complete with a garlic and lemon-infused creamy dressing and bake or buy a crusty loaf of French bread. As a main course, prepare juicy, marinated portobella mushrooms on a grill and serve them with roasted root vegetables, such as fingerling potatoes, carrots, beets and radishes. Rice and vegetable-stuffed Swiss chard is another creative side dish idea. If the celebrant loves Italian food, treat him to cheesy vegetable lasagna or spinach and ricotta-stuffed ravioli in a creamy sauce topped with shaved Parmigiano-Reggiano cheese. Finish the meal with a fresh fruit tart or baked pears topped with vanilla ice cream and drizzled with caramel sauce.
Picnic Dinner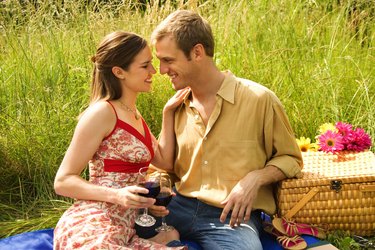 If your boyfriend or husband is an outdoors lover, surprise him with a romantic picnic dinner. Fill a woven basket with essentials such as wine glasses, plates, silverware, a candle and a soft blanket. Fill the basket with a rotisserie chicken, homemade potato salad and fresh vegetables and dip. Include gourmet cheese, such as brie or sharp white cheddar and water crackers, along with a selection of fresh fruit and chocolate truffles for dessert. Don't forget to include a bottle of the celebrant's favorite white or red wine.