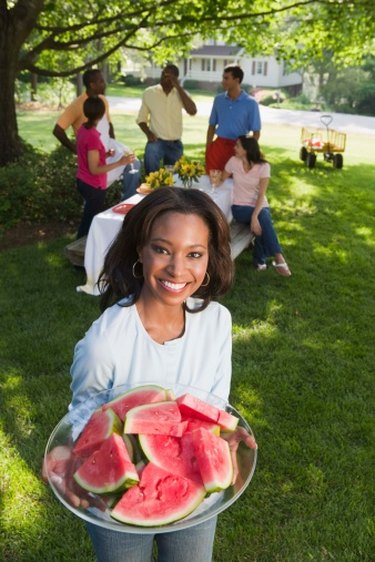 Emancipation Day, also known as Juneteenth, dates back to June 19, 1865, when the slaves of Galveston, Texas, first learned of their freedom. Traditional foods, usually served outdoors in an all-day meal, have always been a central focus of Juneteenth celebrations and continue today. Traditional Emancipation Day food, with its roots in the slave cuisine of the Old South, seeks to both commemorate the past and celebrate time spent with family and friends.
Meats
Just as the turkey has become synonymous with Thanksgiving, barbecue takes center stage in traditional Emancipation Day festivities. In early celebrations, men dug large pits and roasted pork, beef or lamb on a spit overnight. While the pit may not be present at today's Juneteenth parties, barbecue such as pulled pork, chicken, ribs and hot links remains a favorite. Other traditional meats include fried catfish and smothered chicken.
Side Dishes
Similar to the best Sunday dinners, traditional Juneteenth celebrations featured a variety of special foods. Vegetables such as collard, turnip and mustard greens, friend green tomatoes, fried okra, potato salad, green beans and New Orleans red beans and rice graced tables. Traditional breads include sweet potato biscuits, cornbread and fresh-baked loaves.
Drinks
Strawberry or red soda pop has been the traditional drink of Juneteenth since the original Emancipation Day. Former slaves celebrated their freedom by indulging in novelty strawberry sodas that they had previously been banned from drinking. Today, many people substitute the soft drink Big Red for strawberry pop but the tradition of the Juneteenth red beverage continues.
Desserts
Red plays an important role in Juneteenth and can be seen in the drinks and desserts served. Jelly cake, yellow cake soaked with raspberry jam and red velvet cake, an old Southern favorite, frequented many Juneteenth party tables. Pies such as sweet potato, peach and blackberry and watermelon, easily available to former slaves in Texas, also continue to remain popular.