Things You'll Need
Large pot

Skillet

13" x 9" casserole dish

1-1/2 pounds Yukon gold potatoes, chopped into 1-1/2-inch rounds

½ cup buttermilk

½ teaspoon sea salt, to taste

2 large carrots, peeled and chopped

1 large yellow onion, diced

2 tablespoons olive oil

3 cloves garlic, minced

1 pound ground lamb

2 teaspoons dried oregano

1 teaspoon dried thyme

1 tablespoon all-purpose flour

3 cups beef broth
Shepherd's Pie is a traditional Irish dish and commonly served in the U.S. to celebrate St. Patrick's Day. Ground lamb is slow cooked with carrots in gravy, topped with mashed potatoes, and baked in the oven to form a rich and flavorful savory pie. While some people use the terms interchangeably, there is a difference between Cottage Pie and Shepherd's Pie. Although very similar, Shepherd's Pie calls for lamb, whereas Cottage Pie calls for beef.
While Shepherd's Pie is a bit time-consuming, it is isn't very difficult to make! Follow these steps for an incredibly delicious crowd-pleasing meal.
Instructions
Step 1
Bring a pot of water to a full boil. Add the chopped potatoes and cook at a full boil for 15 to 20 minutes, until potatoes are very soft when poked. Strain water and allow potatoes to cool slightly.
Step 2
Saute the onions and carrots in oil over medium heat until softened but still al dente, about 8 to 10 minutes.
Step 3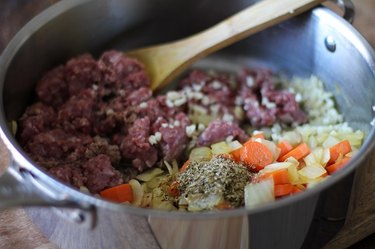 Add the ground lamb, minced garlic, dried oregano and thyme and continue cooking just until lamb meat has browned, about 2 minutes.
Step 4
Stir in the flour and cook for 1 minute.
Step 5
Pour the beef broth into the skillet and bring to a full boil.
Step 6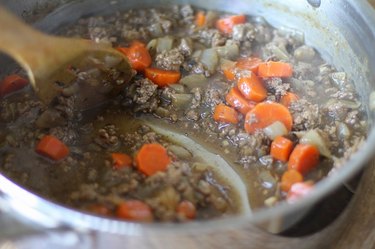 Cook un-covered for 15 to 20 minutes, stirring occasionally, until mixture is very thick. Taste the mixture for flavor and add sea salt if desired.
Step 7
Add the cooked potatoes, buttermilk and salt to a blender. Blend until smooth. Note: you can also mash the potatoes with the buttermilk and salt using a potato masher.
Step 8
Preheat the oven to 400 degrees F. Pour the lamb mixture into a 13" x 9" casserole dish (or a casserole dish that holds at least 1.5 quarts).
Step 9
Spread the pureed potatoes on top of the lamb mixture. Place casserole dish on a baking sheet and bake on the center rack for 30 minutes, until shepherd's pie is bubbly and the potatoes are golden brown on top.
Step 10
Remove shepherd's pie from the oven and allow it to cool for at least 10 minutes before serving. Note that the longer the pie sits, the thicker it will become.
Step 11
Serve heaping portions of Shepherd's Pie with Irish Soda Bread and butter or your favorite rustic bread.
Tip
Make this recipe gluten-free, replace the all-purpose flour with gluten-free all-purpose flour.
Make this recipe dairy-free, replace the buttermilk with 1/2 cup of the hot water used to cook the potatoes.
Get creative with the mashed potatoes by adding cheese (such as Gruyere, Parmesan, or Asiago), fresh or dried herbs, truffle oil, or sauteed garlic.
Vegetarians and vegans can replace the meat with lentils and other vegetables, or their favorite ground meat substitute.
Warning
When using a blender to puree the cooked potatoes, be sure to leave the lid cracked so that steam can escape.
Always place a cookie sheet underneath the casserole dish to catch any liquid that spills over during baking.