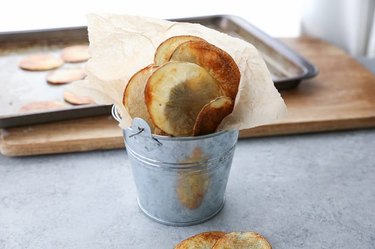 If there's one thing we've learned from traveling and adventures on the road, it's that it can be challenging to eat well when away from your normal routine. So, we're sharing some of our favorite on-the-go, good-for-you snacks to take with you, whether you Go RVing for summer vacations or are making a quick weekend trip out of town. And don't let the "good-for-you" part dissuade you from exploring these recipes – they're perfect road trip treats. We're sure all your fellow travelers will agree.
Oatmeal Protein Muffins
Keywords for this recipe: one-bowl, low in sugar, protein packed, delicious. A container full of these muffins is a must for those early morning departures when you're hitting the road as soon as the sun is up. What we love the most is that these muffins include three sources of protein (nut butter, chia seeds, and flaxseed), and you can top with your favorite flavors like chocolate chips or dried banana chips. Kids love these, and you'll be happy knowing that everyone's appetite will be satiated from the protein blast.
Baked Potato Chips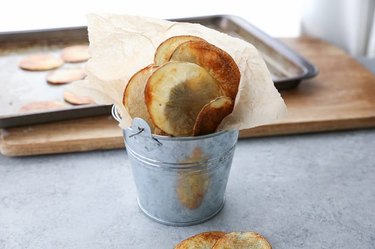 Everyone likes a crunchy, salty potato chip – and did you know that if you eat chips while out on the road, calories don't count? OK, not true. But you really don't have to worry about that anyway with this healthy baked version. We do recommend that you use a mandolin slicer with this recipe – it'll make the process so much easier. And worth it, too, because once you taste these, you won't miss the kind you normally would pick up at a pit stop.
Homemade Energy Bar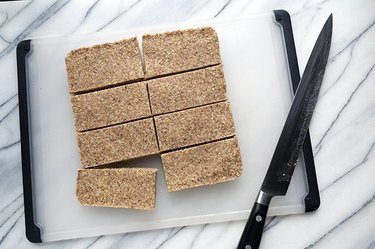 When you start to feel a little lethargic during your drive, reach for one of these bars. They supply a nice energy boost, minus the caffeine. Plus, you'll save yourself from store-bought bars that are full of unsavory ingredients that you can't even pronounce. These homemade bars only have 6 ingredients, including almonds, coconut, and dates. Natural sweetness. Wrap them individually to keep them fresh, and you'll find that these treats will satisfy everyone, big or small.
Peanut Butter Cookies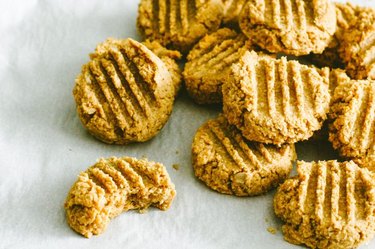 I don't know how we can make this any easier, but all you need are four (4!) ingredients to make these cookies. The author of the recipe claims we can get away with eating half a dozen and not feel too terrible because they aren't loaded with processed sugar, they're wheat-free, and are filled with good-for-you fat. If you're feeling especially adventurous, you can add in some chocolate chunks for that extra "yum" factor. Hmmm, that half a dozen sounds about right.
Hardboiled Eggs
Sometimes when you're on the road, you don't know when or where you might be stopping next for food. So it's always good to have a hardboiled egg on hand for a quick protein-filled snack that will keep you satisfied. With this recipe, you can make a big batch at a time in your oven. (Yes, your oven. Check it out!) Peel them before you go and store in an airtight glass container placed within a mini cooler that you can keep close to you for when you need a quick bite.
Rice Krispie Treats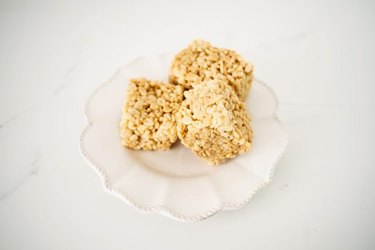 OK, you caught us. This recipe isn't exactly "good for you"… but it's so good! So we had to include it. (And you gotta live a little.) Personally, if I don't bring homemade rice krispie treats with me when I travel with my family, I will have some unhappy campers on my hand. It's a classic! Not to mention that these are crazy-easy to make since they're no-bake. Take these out when backseat drivers start to get a little antsy and all will be well.