The ultimate no-bake dessert, rice krispie treats are a much-loved classic. Laden with a few additional ingredients, such as peanut butter chocolate chips, extra marshmallows and vanilla, the recipe for these rice krispie treats yields the most soft, chewy and delicious edibles imaginable.
Things You'll Need
6 cups puffed rice cereal

6 cups marshmallows

4 tablespoons unsalted butter

1 teaspoon vanilla bean extract

1/4 teaspoon sea salt

2 cups peanut butter chips (optional)

Tip
If you aren't a fan of peanut butter, feel free to experiment with other additions. Some of our faves include Oreo cookie crumbs, crushed malt balls, potato chips, sprinkles, dark or milk chocolate chips, nuts, or cut up candy bars... even crumbled bacon!
Step 1: Prepare Your Ingredients
Begin by preparing your ingredients. Grease and line the top and sides of a 9 inch (or 22 centimeter) square baking dish and set aside.
Step 2: Prepare the Dry Ingredients
Place the cereal in a large mixing bowl and set aside.
Step 3: Melt Butter and Marshmallows
In a medium sized saucepan set over a low heat, combine the butter and marshmallows. With a rubber spatula, stir continuously until the mixture is combined, smooth and shiny then remove from the heat and stir in the vanilla extract and salt.
Step 4: Combine With the Cereal
Pour the melted mixture over the cereal, stirring to uniformly combine, and then fold in the peanut butter chips or your choice of additions if you are using them.
Step 5: Pour Into the Pan
Pour the mixture into the prepared baking dish and press down with the spatula to create a firm and even layer. Place the dish in the refrigerator and let chill for 15 minutes.
Step 6: Cut and Serve
Once the rice krispie treats are set, cut them into your desired size and thickness before serving and enjoying.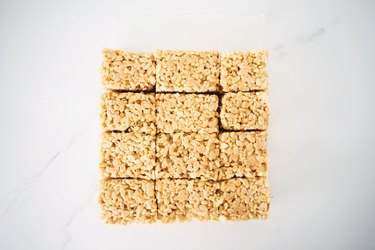 Storing Tips
Rice Krispie Treats are best eaten as soon as possible after being made, though they can be stored and covered in an air tight container for up to three days.