If you're short on time during the busy holiday season (and really, who isn't?), we have a secret short cut for making "gingerbread" houses. Use graham crackers instead. Fast, easy and just as festive as the real thing, building these holly jolly houses is the kind of holiday moment that makes magical memories for kids and adults alike.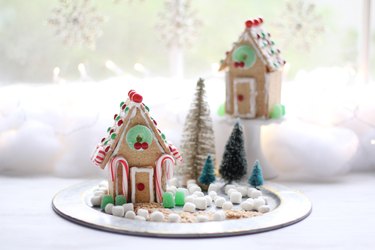 Things You'll Need
Graham crackers

Serrated bread knife

Store-bought white cookie icing (fine tip bottle)

Assorted candy

Plate or charger
Step 1
For each house, you'll need five graham crackers. To create the two side pieces of the house, use a serrated knife to slice one graham cracker in half.
Tip
Saw the cracker very lightly, and don't apply too much pressure or the cracker will break. You'll probably break a few along the way, but the broken ones just make for good snacks.
Step 2
To create the front and back pieces of the house, slice pointed ends on two of the graham crackers.
Step 3
To create the two roof pieces, slice the bottom 1/4 off of two crackers.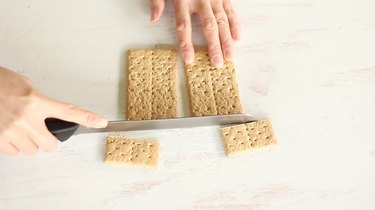 At this point, you should have six pieces: two side pieces, a front piece, a back piece, and two roof pieces.
Step 4
Build your "gingerbread" house on a plate or charger, so you can move it around easily when it's done. It doesn't have to be anything fancy -- a piece of cardboard wrapped in tin foil or a cake circle would also work. Begin by piping a line of cookie icing on the plate and then stick one of the side pieces into the icing.
Step 5
Next, pipe icing along the sides of the front piece to "glue" it to the side piece.
Step 6
Now attach the second side piece to the front piece.
Step 7
Attach the back piece to the two side pieces.
Tip
Pipe icing on the plate along the bottom of each piece to make the house stand sturdier.
Step 8
Attach the two roof pieces to the house.
Step 9
Now for the fun part -- decorating the house! Use icing to "glue" various candy pieces to the house and roof. I used a variety of candy types: gum balls, peppermints, sugared gum drops, mini M&Ms, mini candy canes and mini marshmallows. I also used one graham cracker segment as a "door"and hung a gummy wreath above it.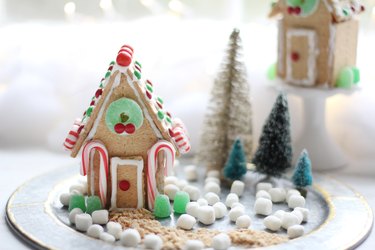 Dust a little powdered sugar over the entire plate when finished to create a "snowy" scene. Have fun personalizing the house to your own taste and enjoy the merrymaking! (And don't forget to sample the candy while you're at it.)