Things You'll Need
3 cardboard sheets, 24-by-24-inch

Utility knife

Cutting mat

Straight edge

Cardboard sheet, 36-by-24-inch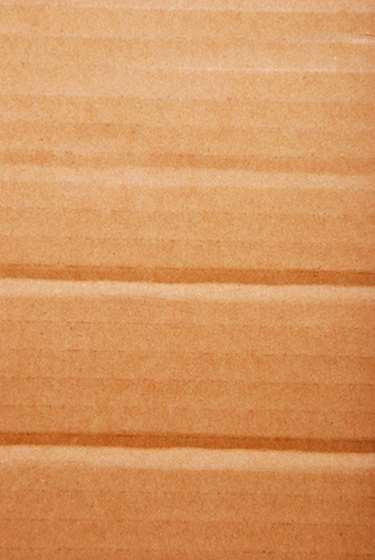 We deal with large quantities of cardboard throughout the year when new items are purchased. Most of the time the cardboard is broken down and sent off to be recycled. But the next time you have a cardboard box lying around the house, save it and try your hand at making a cardboard chair. A cardboard chair can be made without any glue or other fasteners and a single cardboard box, depending on the size, of course. Turn something that most people consider junk into a functional and interesting furniture piece.
Step 1
Cut two parallel slots in one 24-by-24-inch cardboard sheet. The slots should be on one side of the sheet. Space the slots three inches in from each edge. Make the slots 12 inches long, and wide enough to accommodate the thickness of the cardboard sheets you are using. This is the back of the chair. The slots will interlock with the slots on the sides of the chair.
Step 2
Cut one slot from one edge of the two remaining 24-by-24-inch cardboard sheets. The slots should be made on the front side and go in towards the middle of the sheet so that they are parallel to the line of the floor. The slot should be 18 inches long and at a width of twice the thickness of the cardboard that you are using. These are the side pieces. The slots are for the seat piece.
Step 3
Cut another slot on the two side pieces that is the width of the thickness of the cardboard that you are using. Locate the slots on the top corner of the side opposite to the seat slots. The slot should be 12 inches deep. Angle the slot inwards slightly so that the end of the slot is approximately six-inches from the outside edge of the cardboard piece. These are the slots for the chair back.
Step 4
Place the sides parallel to each other so that they are approximately 18 inches apart. Align the slots in the bottom of the back piece with the angled slots in the top back corner of the sides. Slide the back into place so that it interlocks with the sides.
Step 5
Fold the 36-by-24-inch cardboard sheet in half so that the sheet measures 18-by-24-inches. These are the seat pieces. Slide the seat into the slots on the front of the side pieces until it hits the back piece.
Step 6
Cut a three-inch slice down the top of the sides where they intersect with the back of the chair. Fold the sliced part of the side downwards to form a simple arm rest.
Tip
Paint the cardboard prior to assembly for a more decorative furniture piece.
Warning
Use caution when cutting with a utility knife. The blade is razor sharp. Cut in a direction that is clear of your body.